The Apprentice
Skills training immediately after school boosts employment prospects across sectors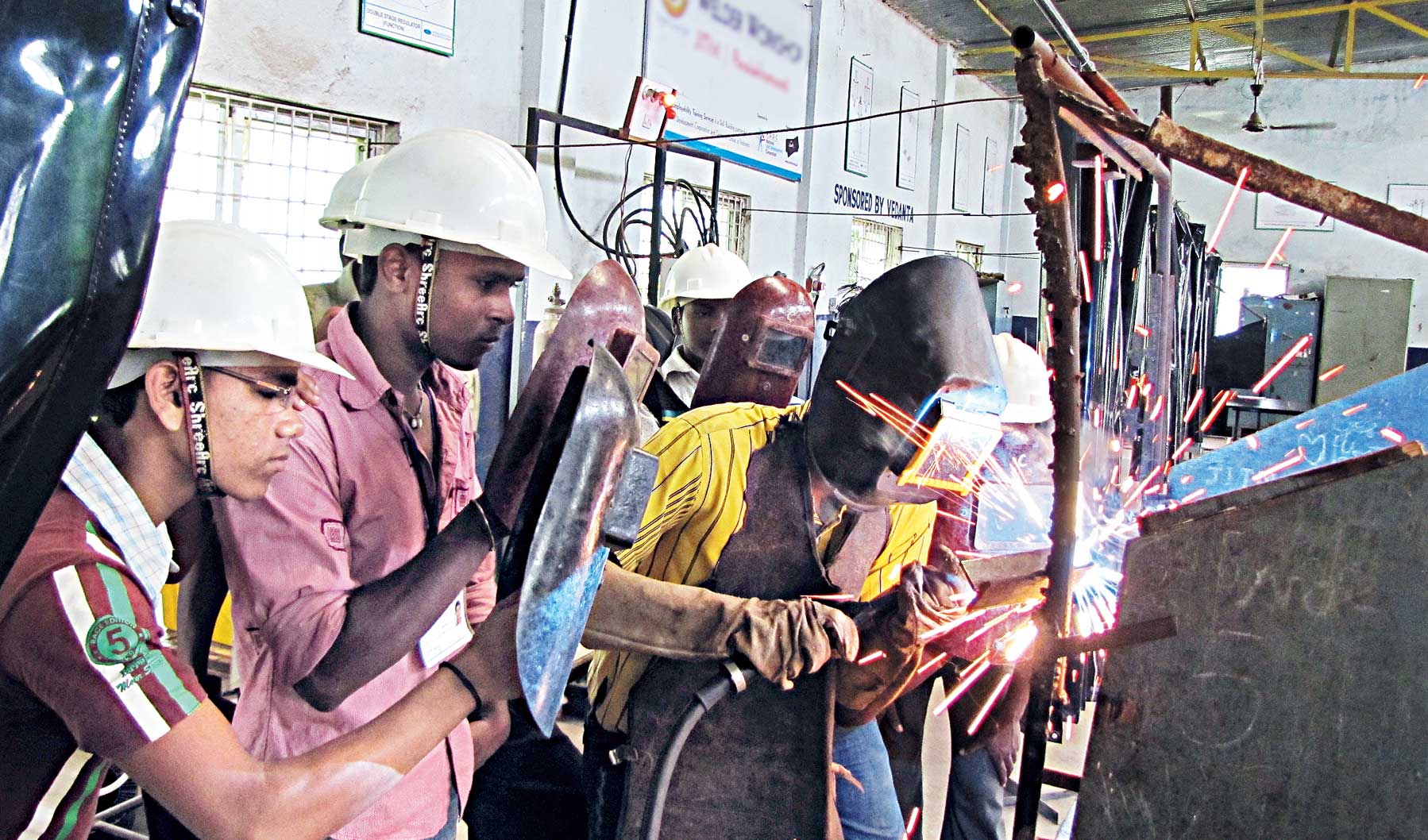 Reports aplenty draw attention to the rising level of unemployment across the country and jobs are getting scarce in many domains, but there is no dearth of jobs for skilled workers, especially in the manufacturing and service sectors.
Picture: Prasun Chaudhuri
---
Published 19.03.19, 04:43 PM
|
---
Recently, 25-year-old Bikram Ray from Chinsura, a small town 45 kilometres north of Calcutta, got a job at the Indian Ordnance Factory in Hyderabad. It was no mean achievement for the elder son of a vegetable vendor who got a Bachelor of Arts degree from Burdwan University in 2014 but could not find any employment immediately after. In 2016, inspired by a friend, he joined the Industrial Training Institute (ITI) in Bandel in Hooghly district, to get trained as a welder.
Immediately after completing skills training, he came to know of a job opening for technicians like him — there was a newspaper advertisement — in the Indian Ordnance Factories that manufacture goods for the military, especially weapons and ammunition. He applied online and appeared for the recruitment exam held across the country. In the meantime, he also got the chance to work as an apprentice at the Gun and Shell Factory at Cossipore, Calcutta. But before he could join, he got the offer from Hyderabad and took up the central government job that pays him quite well. "I am happy that I joined the ITI for skills training, albeit a bit late," says Ray. His younger sister joined the ITI at Chinsurah for training in electronics right after her Plus Two exams.
Tanima Das knew her degree in Bengali was of no use in the shrinking job market. That is why she joined an evening college in 2009, reserving her days for a two-year skills training in electronics mechanic trade from ITI Gariahat. "After my ITI training, I got the opportunity to take practical training for six months in a private company at Santoshpur [southern Calcutta]. I also apprenticed at BSNL." After completing her apprenticeship, she joined Eureka Forbes, where her job is repairing PCBs (printed circuit boards) of water filters.
Curriculum
Reports aplenty draw attention to the rising level of unemployment across the country and jobs are getting scarce in many domains, but there is no dearth of jobs for skilled workers, especially in the manufacturing and service sectors. For most of these positions, employers prefer that new recruits go the classical route of apprenticeship — on-the-job training under the guidance of a master of trade.
In the last few years, the definition of employability has been changing. Traditional academics can no longer prepare students for the future. Says Sumit Kumar, vice-president, NETAP (National Employability Through Apprenticeship Program), Teamlease Skills University, Vadodara, Gujarat, "Apprenticeships are a powerful tool to create talent. India has a well-established and regulated apprenticeship system. However, it is highly underutilised." According to him, "Apprenticeship has a strong bearing on shaping career — be it on gaining competencies, growth and even remuneration."
Employers in the skilled trades put more premium on capability than academic qualifications. It is not necessary that apprentices have to be absorbed in the company where they are undergoing on-the-job training. "Many apprentices get jobs with other employers," says Kumar. "Employers look for domain knowledge, creativity, decision-making skills, attitude and the ability to scale up."
Says Abhaya Kumar Mahapatro, general manager (human resource and administration), Garden Reach Shipbuilders and Engineers Ltd (GRSE). "This is why, apart from on-the-job training, we teach apprentices to face an interview, to behave professionally. In other words, we teach them soft skills. They become well-acquainted with the industrial environment."
Trades
The ITIs — constituted under the directorate general of employment and training, ministry of skill development and entrepreneurship, Government of India — have been playing a key role in helping youngsters get apprenticeships and employment in a wide range of engineering and non-engineering technical fields. The long list of trades include welder, fitter, motor mechanic, electrician, machinist, turner, plumber, carpenter, diesel mechanic, refrigerator mechanic, electronics mechanic, wireman, sheet metal works, auto body repair, auto painting and computer operation programing, among others. These courses can run for one to two years. After the training, one has to apprentice for another one to two years. For technical trades, there is a well-defined process and campus recruitment.
Says Saibal Sengupta, deputy director of ITI, Tollygunge, "Companies often want the best trainees from us. After passing the final examination, ITI students are required to register their names in a webportal for apprenticeship." ITI Tollygunge, established in 1957, is one of the oldest government training institutes in India.
Recruiters
Indian Railways, the defence services, Steel Authority of India Limited, Bharat Sanchar Nigam Limited, Oil and Natural Gas Commission, Paharpur Cooling Towers, Garden Reach Shipbuilders and Engineers Ltd and several automobile companies hire apprentices from ITIs. Some companies collaborate with specific ITIs by donating modern machinery as well as by providing special training and industry exposure to students. On completion of training, they give direct employment to students.
"Apprentices are paid a monthly stipend of Rs 7,000-Rs 8,000. In ship building, welders, electricians, fitters, diesel mechanics and draftsmen are in high demand," says Mahapatro of GRSE.
Unlike some European countries and even China, which have apprenticeship-linked degree programmes, India has none. Therefore, apprenticeships are still perceived as poor cousins of traditional academics by a majority of the youth here.
While thousands of BTech graduates are jobless today, the apprentice market has matured considerably and pays handsome stipends followed by jobs (see box). The return on investment on skills training in ITI is far better than any fancy education and degrees from most private institutes.
Says Kumar of Teamlease Skills University, "We need active participation from employers, youth, regulators and academia to scale up the apprenticeship ecosystem. We hope this initiative of ours will translate into building human capital for the country, bridging skill deficit in industry and enhancing youth employability."