The Gig-Saw Puzzle
The Telegraph on the features of a growing work trend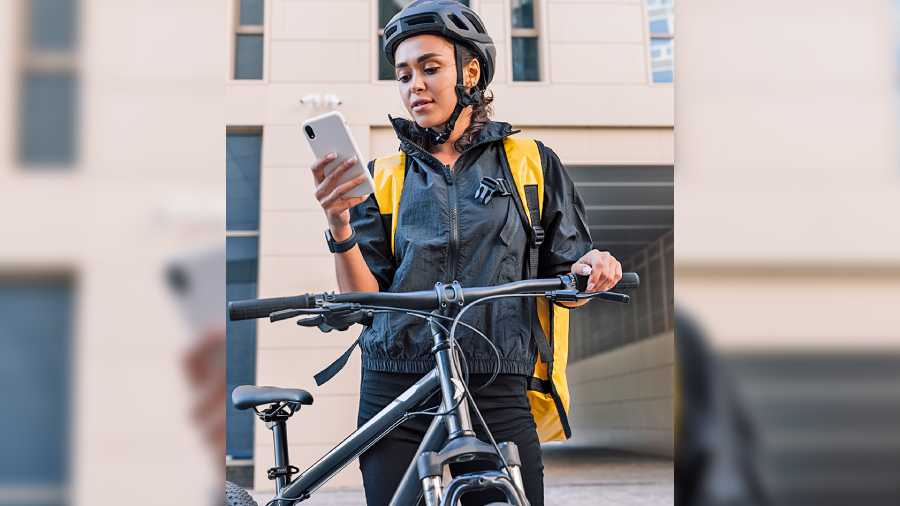 ---
Published 30.08.22, 04:23 AM
|
---
There is a massive shift in work culture in India and abroad. Many alternatives have come up to the classic 9-to-5 full-time jobs. Instead, people are taking on short-term work options that allow for more flexible and efficient work. This essentially is the gig economy, where the labour market is characterised by short-term contracts or freelance work instead of permanent jobs.
Although freelancing and contractual work is not entirely new, advancement in technology, digital platforms and remote working has elevated the gig economy to a new level. A lot of this work is platform-based, but many companies have also started functioning on this model, especially after the pandemic, hiring freelancers or individuals on contract bases for specific roles. Start-ups too actively participate in the gig economy and hire freelancers to do much of their work. 
So what are the features of a gig economy?
First, variety and flexibility. A gig worker gets to work on a range of projects from a variety of clients. The diversity of clients provides richness in project experience and assignments, making it challenging and exciting. Additionally, a gig worker can choose the amount as well as the kind of work, allowing for lifestyle choices, unlike most conventional jobs. 
Second, specialisation. A freelancer has the choice of focussing on his specialisation without being "distracted" by tasks not related to one's core work. For example, a software developer may wish to grow in the technical track, deepening his expertise in a particular technology or application. In a conventional full-time role, he would be expected to take on associated responsibilities of people management, budgets and other duties unrelated to his technical work, but not so when he is doing a gig job.
Third, career progression. For some, a career need not be all about linear progression but one with twists and turns, each having its own milestones of new skills learnt, different clients serviced and deeper exploration of one's passion and interests. For example, an individual starting in a typical function — say human resources — within an organisation could later move into the gig economy as a freelance coach, trainer or recruiter. One can also "test drive" other options while holding a regular job. 
Ravi Jagannathan, an account executive at an advertising firm in Bangalore, conducts weekend courses on graphic design for students. "UI/UX and graphic design are my areas of expertise. I enjoy training students in this area and do it in my free time. Maybe I will shift to this full-time in future," he says.
So what are the qualities and skill-sets required to succeed in the gig economy scene? A gig economy has many benefits, but work can be unpredictable — as one may not know when the next gig will come or the scope of it and scale of assignment. Often, this leads to uncertainty around income and management of time, leading to stress. These are inherent challenges of gig work.  
Gig workers must keep themselves updated and at the leading edge of their specialisation in terms of skills and knowledge. Unlike employees who receive the support of learning and development departments in their organisations, gig workers have to find their own solutions. For example, they have to enrol in courses and programmes, routinely subscribe to industry and professional journals, participate in seminars, identify mentors and continuously benchmark themselves with those at the frontier of their profession. 
Gig workers must also think up promotional activities at regular intervals to attract new clients and deepen engagement with existing customers. While equity is built through word of mouth, this can be supplemented with digital communication as well as presence in industry fairs and networking events. 
The gig economy in India is growing at 17 per cent. Currently, it stands at 15 million, whereas in countries like the US, it has already surged, with 36 per cent of the workforce engaged in it, according to a 2021 ASSOCHAM report. Attempts are being made to modify labour laws to accommodate this new class of gig workers worldwide. In India, recently drafted labour codes bring the gig workers under the ambit of labour laws for the first time, providing for some clauses intended to enhance their welfare. 
The gig economy will be a key element as India works towards its goal of becoming a $5 trillion economy by 2029- 30, bridging the income and unemployment gap.
Workscape
Some functions that seek gig workers
Content Creation
Graphic Design
Coding
Digital Marketing/ Social Media
Education and Training
Photography/Videography