Students join pandemic fight
In focus: Masks for hospitals, disinfection system, district-wise virus tracker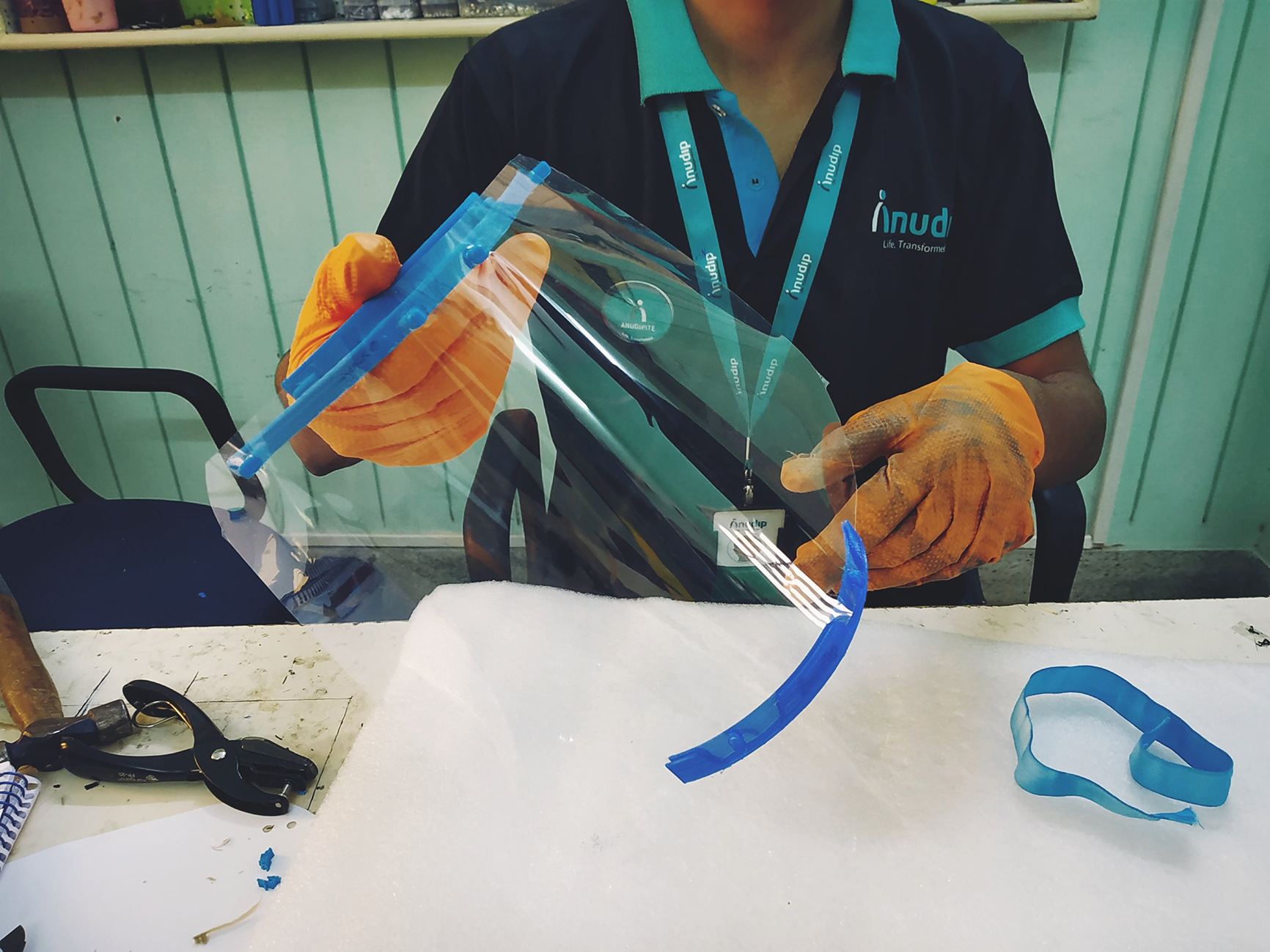 ---
---
Masks for hospitals
Healthcare workers attending to Covid-19 patients require personal protection equipment (PPE) including masks and face shields. A severe shortage of protective equipment is putting India's frontline fighters against the coronavirus at grave risk. That is why Anudip Foundation for Social Welfare, a Calcutta-based non-governmental organisation involved in skill development of youth, has decided to redirect 3D-printing resources from its prosthetics programme to produce the much-needed PPEs for healthcare workers fighting the pandemic in Bengal. The 3D4D, or 3D printing for development, programme creates customised, lightweight, 3D-printed, reasonably-prized prosthetics for needy amputees.
In association with multinational company Capgemini, Anudip has already manufactured and handed over more than 400 3D-printed face shields to the additional health secretary of the government of West Bengal. These face shields provide clear advantage over available re-usable face shields in the market. About 70 per cent of the 3D4D staff are Anudip alumni. They plan to supply another 600-plus 3D printed face shields for medical professionals to the state government soon.
A disinfection system
The Indian Institute of Technology Guwahati has developed a low-cost disinfection system to fight the coronavirus outbreak in the country. The institute is also trying to address the critical need for waterproof material required for personal protective equipment or PPEs.
The disinfection system is based on UVC LED, a technology proven to sanitise microorganism-infected non-porous surfaces. To adopt this technology to porous surfaces, the design is being improved by integrating UVC with an ozone system. Incidentally, the sanitisation system is equipped to identify moving objects so that the human skin is never exposed to the system. Three such sanitisation machines have been designed for household use and one for sanitising much bigger spaces such as hospital wards, buses, metros and railway compartments.
A team from the institute has also provided technical support to identify the best possible waterproof material for a sample PPE that will now undergo further testing.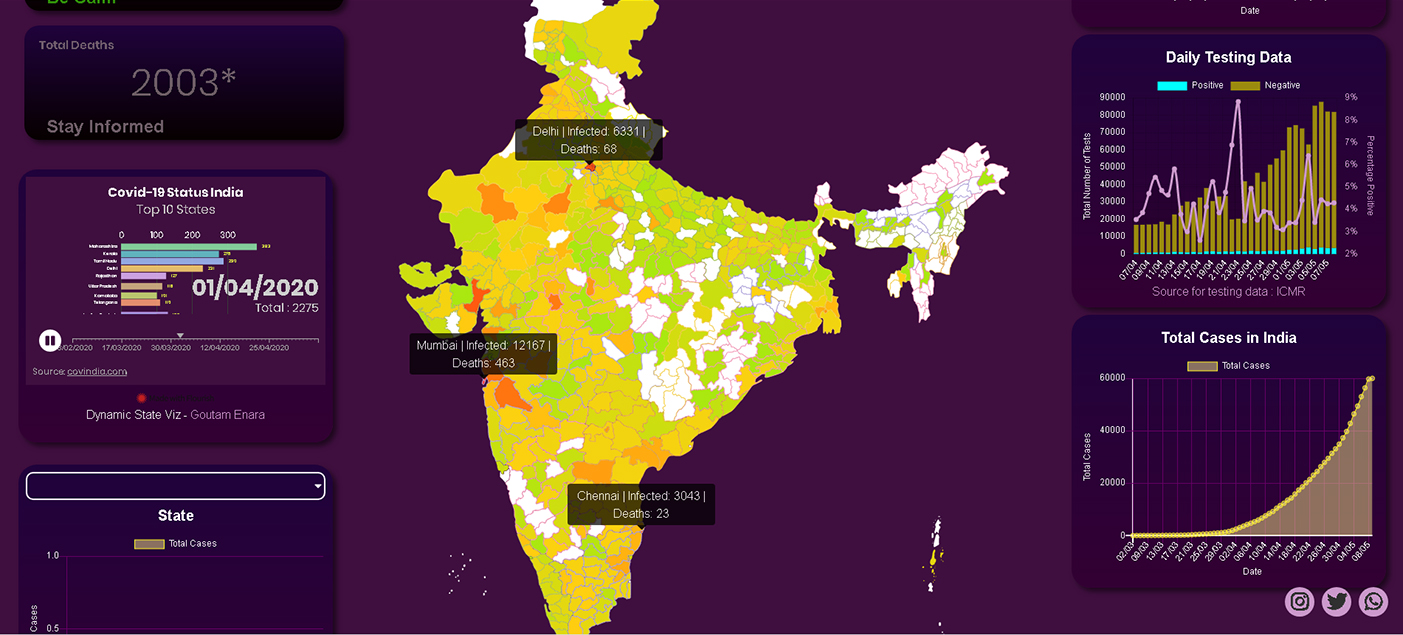 District-wise Covid-19 tracker
Students of the Mahindra Ecole Centrale College of Engineering in Hyderabad have, under the guidance of faculty, developed a live district-wise tracker for Covid-19 cases in India. The tracker can be found at https://covindia.netlify.com. The college, set up in 2014, is a joint venture between the Mahindra Educational Institutions and Ecole Centrale Paris (recently renamed Centrale Supélec), one of the oldest and most prestigious engineering institutions in France.
The data for the tracker is obtained from credible sources such as the Union ministry of health and reputed news outlets. A dedicated team of students has been assigned to pull out data from relevant sources and update the map on the tracker after thorough cross-checking and verification.
This is probably the only district-wise tracker in existence. It will prove helpful for people travelling in the country who want to avoid virus-prone zones and would also help the authorities to mobilise resources more efficiently. The tracker can also be installed as an app on any smart phone.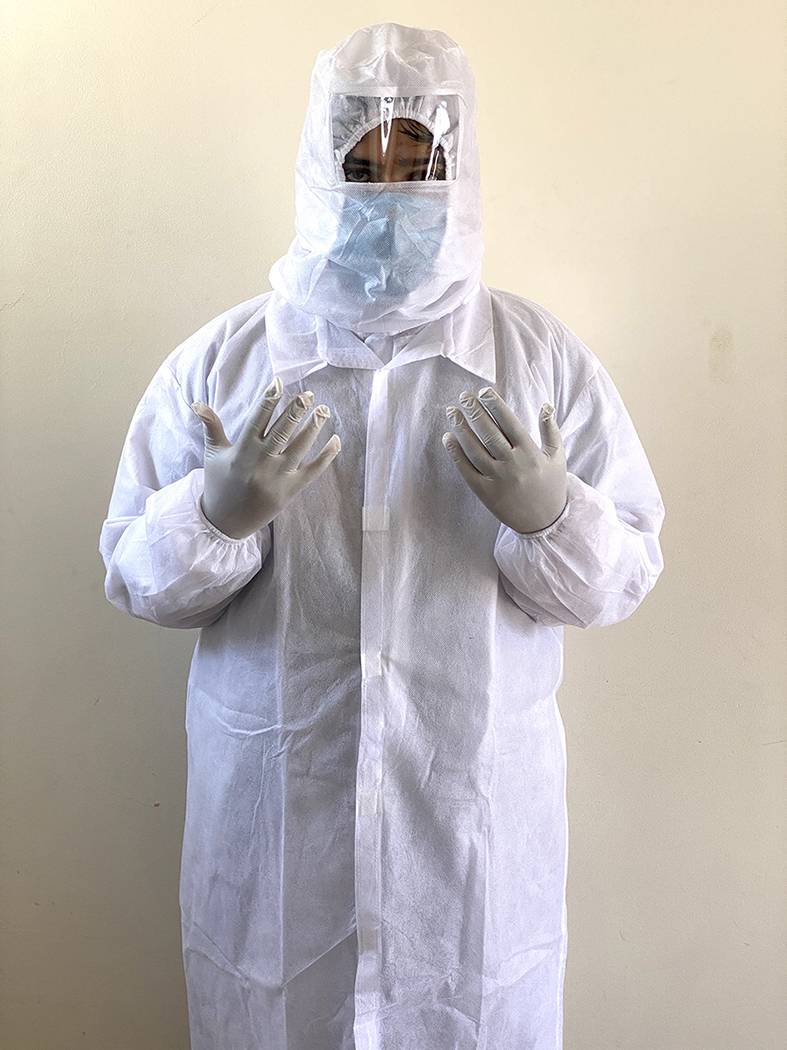 Face shields and intubation boxes
Start-ups supported by the Indian Institute of Technology Madras have developed personal protective equipment (PPE) such as face shields and intubation boxes. Initial batches have already been supplied to frontline healthcare workers. These were developed by IIT Madras-incubated Fabheads Automation, which specialises in manufacturing parts from plastics and fibre-reinforced plastics and Axis Defence Labs, a start-up founded by second-year student Sathvik Batte and supported by the IIT Madras pre-incubator which helps convert students' ideas into products.
Weighing less than 50gm, the Fabheads' 3D-printed face shields use a flexible plastic frame to fit individuals without need for elastic bands and are perfect to be worn for long hours. The face shields made by Axis have been manufactured with simple stationery items. Production processes of the PPEs are now being scaled up to meet the demand.
Help for migrant labourers
The Indian Institute of Technology Gandhinagar has decided to take care of the 800 migrant labourers who are working on construction projects at the institute. Volunteers regularly sensitise the workers about preventive measures against Covid-19, such as frequent hand washing and social distancing. The institute has also launched a fundraising drive to provide support for the workers and their families. IIT Gandhinagar will match every rupee donated and double the funds raised. A free screening test was also done of all workers and their mobile phones recharged (see pic) for 28 days. They were provided cloth masks and the institute ensures that soap and water is available in the toilet blocks and washbasins of the worker colonies at all times.