All about India's twinning and joint education programmes
Good, bad or overwhelming? The Telegraph tries to gauge popular opinion about the UGC's latest decision on joint and dual degree programmes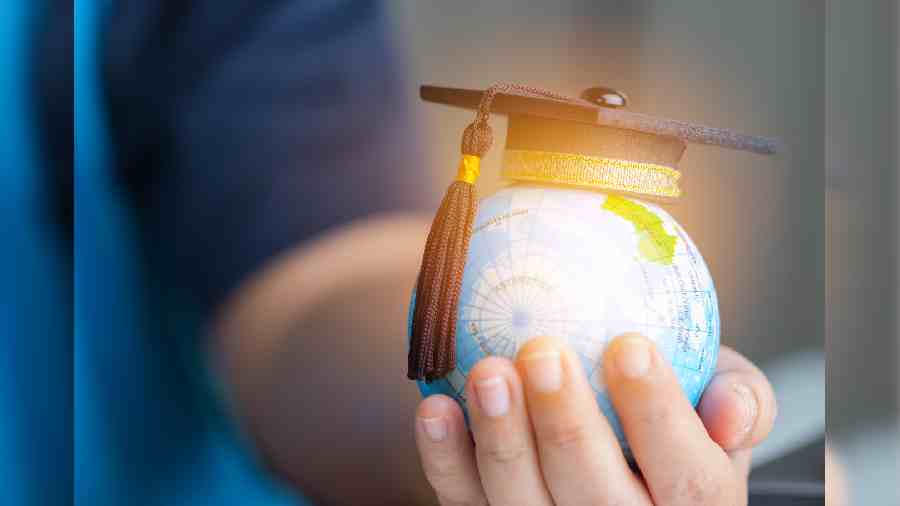 Representational image
Shutterstock
---
Published 31.05.22, 03:01 AM
|
---
The University Grants Commission, or UGC, has come out with several new reforms in the higher education space. According to one such guideline, students can now pursue joint and dual degree programmes with multiple entry and exit points at universities in India and abroad. In India, students can pursue two offline degrees, or one offline and one online or open distance learning (ODL) degree, or two online or ODL degrees.
The whole point of multiple entry and exit points is flexibility. A certificate will be awarded if a student exits at the end of the first year, a diploma if he or she exits at the end of the second year and a bachelor's degree at the end of the third year. On successful completion of Year 4, a student is to be awarded an honours or research degree. Students can re-enter and complete a degree programme within seven years.
The reforms are also meant to dislodge rigid boundaries between the arts and sciences, vocational and academic streams, and create new possibilities. A student pursuing a bachelor's in computer science or physics can now enrol in a course in psychology, history or linguistics at the same time. The idea is that students will have a more varied education, learn to think critically, communicate effectively and be ready for traditional as well as new-age careers.
Some educationists, however, feel that pursuing two full-time degrees will be too much for students to handle. Jaswinder Singh, principal of Sri Guru Tegh Bahadur Khalsa College, Delhi, says, "In Delhi University, a student has to complete 148 credits in three years, and we have proposed 176 credits over four years — so even now, with a single degree, it is a huge burden. But maybe once students have the flexibility — through multiple entry and exit points — there is a chance that it may work."
Satyabrat Sinha, assistant professor of political science at Calcutta's Presidency University, says, "Practically speaking, if you look at the kind of engagement and classroom sessions that students have during the day at Indian universities, it would seem impossible to do two full-time offline courses. I think one physical and one online degree might be more feasible."
Students want to supplement their degrees with additional programmes and courses these days. Some take up online courses on Coursera or Udemy, learn a foreign language, do internships, while others are already attempting more than one degree.
Modhura Dasgupta, second-year student of BA in economics at O.P. Jindal Global University in Sonipat, was keen to do something related to computer science. She took up an online course, BSc in data science, at IIT Madras. When asked how she managed to cope with two tough degrees, she replied, "The self-paced nature of my second degree makes it quite manageable. I have five years to complete it and I take on more courses in the data science programme during vacations. While I am on campus, I take just one or two courses."
The joint and dual degrees also extend to collaborations between Indian and foreign universities. In other words, a student can pursue a course in the same discipline, partly in India and partly under a university abroad.
Twinning and joint programmes were allowed even under the old regulations and some colleges have partnerships with universities abroad for exchange programmes, research opportunities and faculty visits. However, to make it more appealing for universities to collaborate, the UGC has eased regulations that govern these collaborations and reduced its own supervisory role.
These programmes can only be done in the physical mode, and a student will have to complete at least 30 per cent of the credit requirement in the chosen foreign university. The partnering institutions are to work out the fee structure.
The cost of studying abroad in a twinning programme is usually reduced significantly to be in tune with Indian standards. Sometimes, when students attend a semester abroad, they may not have to pay an additional tuition fee.
Uttara, a student of Ashoka University, Sonipat, who will do her next semester at the University of British Columbia, Canada, says, "They have a huge range of courses in creative writing, film and media studies, which is exciting. I have to pay just my usual Ashoka fee, not the UBC fee, which is much higher."
Joyeeta Dasgupta, principal at a Techno India Group school in Calcutta, says, "Many good practices, such as approach to curriculum development and industry-centric practices could be imbibed by our universities as well. This is a chance to liberalise Indian education." She also cautions, "There is a danger of universities that do not have much value abroad wanting to partner with Indian universities."