Lessons from the pandemic
Research scholars in the US have banded together to find safe, virtual ways to teach the principles of microbiology and epidemiology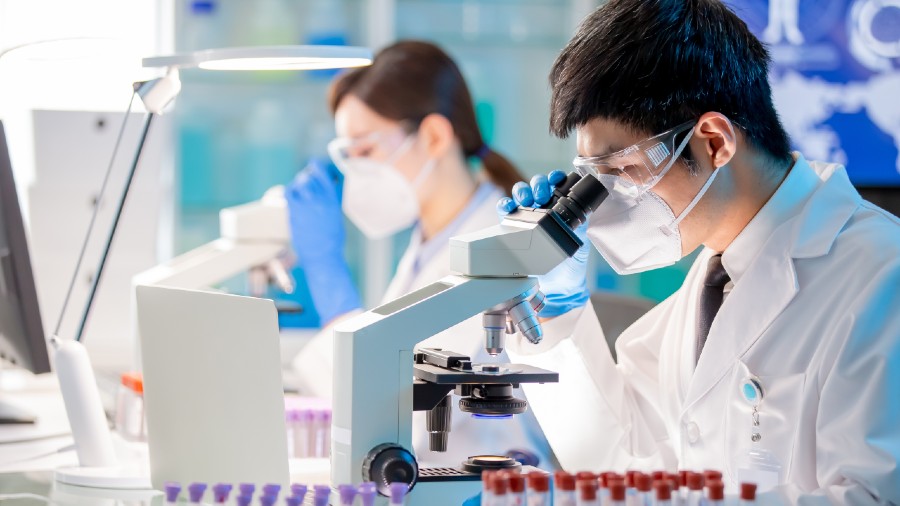 ---
Published 20.04.21, 12:47 AM
|
---
On a crisp afternoon in November, Teresa Bautista ventured into Van Cortlandt Park in the Bronx, New York, US, on the lookout for faeces. It didn't take long for Bautista, 17, to hit some serious pay dirt. Speckled all across the park's grass was the greenish glint of goose droppings, which Bautista eagerly swabbed and swirled into a tubeful of chemicals. "This was my first time digging into poop," she said. "It was really fun."
Over the next few months, Bautista and four other New York area high school students will continue to gather samples from the city's birds as a part of the Virus Hunters programme, hosted by the non-profit science outreach organisation BioBus. Their goal is to catalogue the flu viruses that often lurk in urban fowl, some of which might have the potential to someday hop into humans.
The surveillance programme, which was developed in partnership with virologists at the Icahn School of Medicine at Mount Sinai, is one of several outreach efforts that has emerged in recent years to equip young scientists with hands-on experience in outbreak preparedness — a quest that has only gained urgency since the new coronavirus started its tear across the globe.
For many months to come, Covid-19 will continue to shutter schools and thwart attempts to gather. The changes have forced educators and researchers to change their teaching tactics.
In Cambridge, Massachusetts, a team of computational biologists designed an outbreak simulation that eerily portended the stealthy spread of the coronavirus and is now fighting the spread of Covid-19 in real-time. In Tucson, Arizona, an immunologist has led an effort to include young, underrepresented scientists in microbiology research, even while the pandemic rages on. And in New York, the effects of these efforts are already starting to take shape.
The Virus Hunters programme was borne of a collaboration among BioBus, a wildlife rehabilitation centre called the Wild Bird Fund and a group of researchers led by Mount Sinai virus expert Florian Krammer. "There is very little information on influenza circulating in birds in New York City," Krammer said. "I wanted to know what's in my backyard." The project was awarded funding in early 2020, said Christine Marizzi, chief scientist at BioBus. Weeks later, the coronavirus began to pummel the nation, and the team was forced to shift its plans. But Marizzi, who has long specialised in community-based research, was undeterred. For the remainder of the school year, the team will train its virus hunters through a mix of virtual lessons, distanced and masked lab work, and sample collection in the field.
The students of Sarasota Military Academy Prep, in Sarasota, Florida, have also had to make some drastic changes. But a select few of them may have entered 2020 a bit more prepared than the rest.
These are the graduates of Operation Outbreak, a researcher-designed outreach programme that has for the past several years simulated an annual viral epidemic on the school's campus. Led by Todd Brown, Sarasota Military Academy Prep's community outreach director, the programme began as a low-tech endeavour that used stickers to mimic the spread of a viral disease. With guidance from a team of researchers led by Pardis Sabeti, a computational biologist at Harvard University, the programme quickly morphed into a smartphone app that could ping a virtual virus from student to student with a Bluetooth signal.
Sarasota's most recent iteration of Operation Outbreak was uncanny in its prescience. Held in December 2019, just weeks before the new coronavirus began its rampage across the globe, the simulation centred on a viral pathogen that moved both swiftly and silently among people, causing spates of flu-like symptoms. Sabeti and her colleagues have been building online tools, curricula and games that can make available the lessons of their programme to anyone who wants them.
After some careful finagling, the team was also able to engineer a handful of in-person outbreak simulations at college and high school campuses using an updated version of their smartphone app. One simulation, followed a group of more than 350 students as they mingled during their normal routines. Unsurprisingly, an increase in interactions fuelled the spread of the fictional virus — the same dynamic that was causing outbreaks of Covid-19 on campus that same semester.
The Operation Outbreak app has since grown more sophisticated. Eventually, schools and other organisations might be able to use the simulations as guides as they prepare to reopen for business. "Beyond being an education tool, it's a tool to get real-world data," Sabeti said. "It's an exercise in preparing public health teams."
In Arizona, microbiologist Michael D.L. Johnson has also taken advantage of the pivot to virtual learning prompted by the pandemic. Last summer, he led an effort to enrol 250 students from underrepresented backgrounds in the National Summer Undergraduate Research Program, matching them to more than 150 mentors with expertise in microbiology. All the projects were remote.
But, Johnson said, that obstacle most likely also created opportunities for students who might otherwise have been excluded from science because of geographical or socioeconomic restrictions. And mentors who had old data sets lying around or heavily computational projects that needed an extra pair of hands found themselves partnered with eager new collaborators.
"The pandemic has made us adapt," Johnson said. "We're learning that there are some better ways of doing this."
NYTNS