Higher Education post COVID-19: A Vice Chancellors' round table on May 30
Don't miss the date and time: May 30, 3 PM. Get the free registration link here...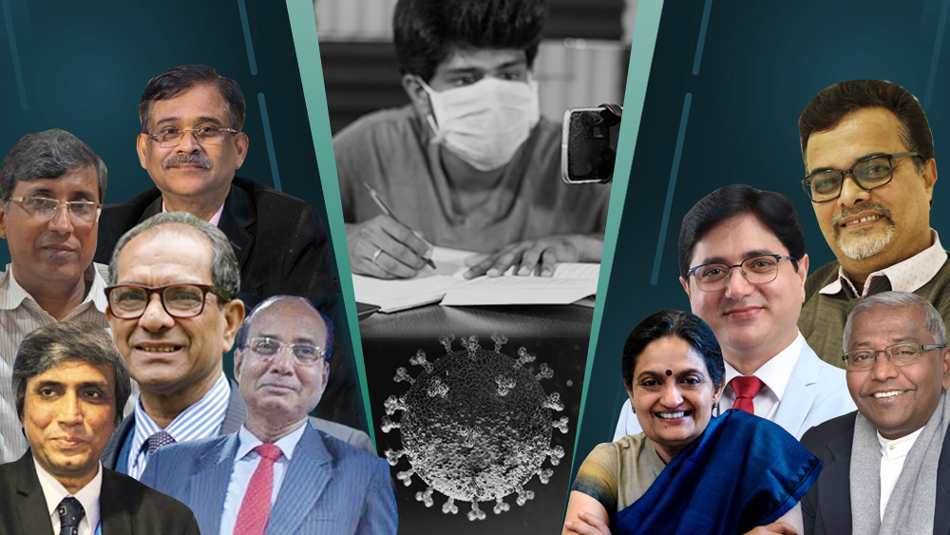 A key point of discussion includes how to discover the right blend between online and offline methods of education post COVID-19 outbreak.
Graphic: Saubhik Debnath
---
Calcutta
|
Published 27.05.20, 07:10 AM
|
---
The spread of the COVID-19 pandemic has disrupted the education sector like never before. Universities and students alike are under pressure to not lose academic time and re-invent their teaching-learning in the only way possible – go completely online. What does this mean for the institutions, academic leaders and students in the long run?
Before one could answer that, we also have the digital divide problem to address. And apprehensions don't just end here. There are also concerns among students and educators alike on how their campuses will ensure health safety norms, once they reopen post lockdown.
Clearly, there are questions galore. To seek these answers for you, ABP Education brings to you a Vice Chancellors' round-table, via a Live Webinar on May 30. Register here for free 
Meet the Vice Chancellors in this Round Table:
Prof. Suranjan Das, Vice-Chancellor of Jadavpur University: Prof. Das would be speaking on the theme - Indian Higher Education after Covid 19: Opportunities and Challenges. He believes that online communication is poised to become the rule rather than the exception in teaching, research, admissions and job applications and the universities will be required to adapt themselves to the new scenario in a very short period of time.
Prof. Anuradha Lohia, Vice-Chancellor of Presidency University: Prof. Lohia sees the basic tenet of how higher education is imparted being threatened by the presence of a person to person transmissible virus that causes severe morbidity and mortality. How are we going to pursue knowledge and learning as we learn to live with this constant threat to our lives? She believes that innovative and dynamic methods must evolve as we learn to live with a new level of complexity.
Rev. Fr. J. Felix Raj, SJ, Vice-Chancellor of St. Xavier's University: Father Felix Raj believes that we need to be optimistic about the post COVID-19 period. The crisis has created havoc on the one hand and also posed a challenge to the world. Many institutions are already moving towards online - digital mode of teaching, learning and research. We need to discover a right blend between online and offline methods of education.
Prof. Nirmal Kanti Chakrabarti, Vice-Chancellor of WB National University of Juridical Sciences: Prof. Chakrabarti will be speaking on the theme - Challenges and opportunities in Professional Legal Education beyond COVID-19.
Prof. Saikat Maitra, Vice-Chancellor of Maulana Abul Kalam Azad University of Technology (MAKAUT): Prof. Maitra will throw insight on how higher emerging technology can help in getting education better delivered post COVID-19 outbreak.
Prof. (Dr.) Deependra Kumar Jha, Vice-Chancellor of Adamas University, Kolkata: Prof. Jha will be sharing with us his insights on how Outcome Based Education (OBE) is going to become a bigger need in the post COVID-19 times.
Prof. (Dr.) Dhrubajyoti Chattopadhyay, Vice-Chancellor of Sister Nivedita University: Prof. Chattopadhyay will be speaking on how practical based courses and professional courses will evolve in our near future.
Prof. (Dr.) Bimal Chandra Mal, Vice-Chancellor of JIS University
Meet the Moderator of the VCs' Round Table:
Prof. Ujjwal K Chowdhury, Pro Vice-Chancellor of Adamas University will moderate this ABP Education Webinar.
Don't miss the date and time: May 30, 3 PM. Register here for free