FASHION JOURNALISM
What do I have to do? What should I study? What next?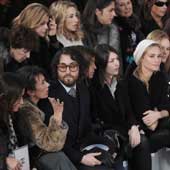 ---
Published 08.03.07, 12:00 AM
|
---
Ramp view: Fantasy and aspiration are what the fashion world is built on
The world of fashion holds high appeal to men and women alike. Spending all day surrounded by beautiful costumes and attending glittering showbiz parties is exciting, but it's not all parties and fun. The fashion industry spans many sectors, from retail and boutique management to pattern cutting and design.
Fashion journalists write about fashion trends, fashion shows, fashion collections and cover newsmakers in the field. They may also be asked to provide photo features of the particular beat they cover. The most obvious examples of fashion journalism are fashion features in magazines and newspapers but the term also includes books about fashion, fashion-related reports on television as well as online fashion magazines, websites and blogs.
A broad knowledge of designers, both local and international, is essential. The key to becoming a successful fashion journalist is to combine professionalism with passion, dedication with determination.
What do I have to do?
Fantasy and aspiration are what the fashion world is built on. The element of make-believe is what drives it and your readers want to believe that they can find themselves somewhere in those beautiful costumes and images. It is your job, therefore, to translate the designer's dreams into a reality for the reader.
The typical job profile of a fashion journalist includes writing or editing articles, or helping to formulate and style a fashion shoot. A fashion journalist spends a lot of time researching and conducting interviews. So, it is essential that he or she has good contacts with people in the fashion industry, including photographers and designers.
Some responsibilities of a fashion journalist involves communicating the changing fashion market to a wider audience; checking out and keeping abreast of new ranges, designers and trends; visiting public relations companies; attending press conferences and trade shows; researching; interviewing designers; organising and attending fashion shoots; writing and editing features and news stories.
Fashion journalists are also sometimes referred to as fashion writers, fashion critics or fashion reporters. Some experience in fashion designing and merchandising is an added advantage. A good fashion journalist must be able to comment knowledgeably on the fashion scene, trends etc.
For this, you must have a solid background in fashion and be able to research and develop an understanding of global business. In other words, you have to understand how the designer and his or her work connects around the world.
What should I study?
For most of the courses offered in India, you should have passed your Plus Two exam from a recognised board. Training in journalism helps to acquire expertise in reporting and editing. You must keep track of the trends in contemporary lifestyle media. Emphasis is placed on developing an analytical understanding of the commercial marketplace as well as on the rigours of practical journalism.
What next?
The fashion industry is one of the fastest changing industries in the world today. Prospects in the fashion industry are extremely encouraging. There are attractive openings at various levels, not only for professionals but also for talented and skilled graduates. Fashion journalism has a bright future as there is a need for exclusive articles.
Fashion journalists are either employed full-time by a publication or are employed on a freelance basis. They may work for newspapers and magazines or freelance for fashion publications, fashion houses of repute, advertising agencies specialising in fashion, event management organisations, or for fashion show organisers.
You could also work with fashion magazines like Vogue, Glamour, Elle, InStyle, Cosmopolitan, Femina, Gladrags, Marie Claire, Calvin Klein, etc. Television channels also show the latest fashion from around the world. FTV, Zoom TV and Fashion TV are some channels that can help boost your career as a television fashion journalist.
where to study
National Institute of Fashion Technology, New Delhi, Mumbai, Calcutta and Bangalore.
Queensland University of Technology, Brisbane, Australia.
The University College for the Creative Arts, Epsom, Surrey, UK.
London College of Fashion, London, UK.
Central Saint Martins College of Art and Design, London, UK.