Computer science skill wake-up call in study
Although India produces the world's largest number of Computer Science graduates, those in the US are more skilled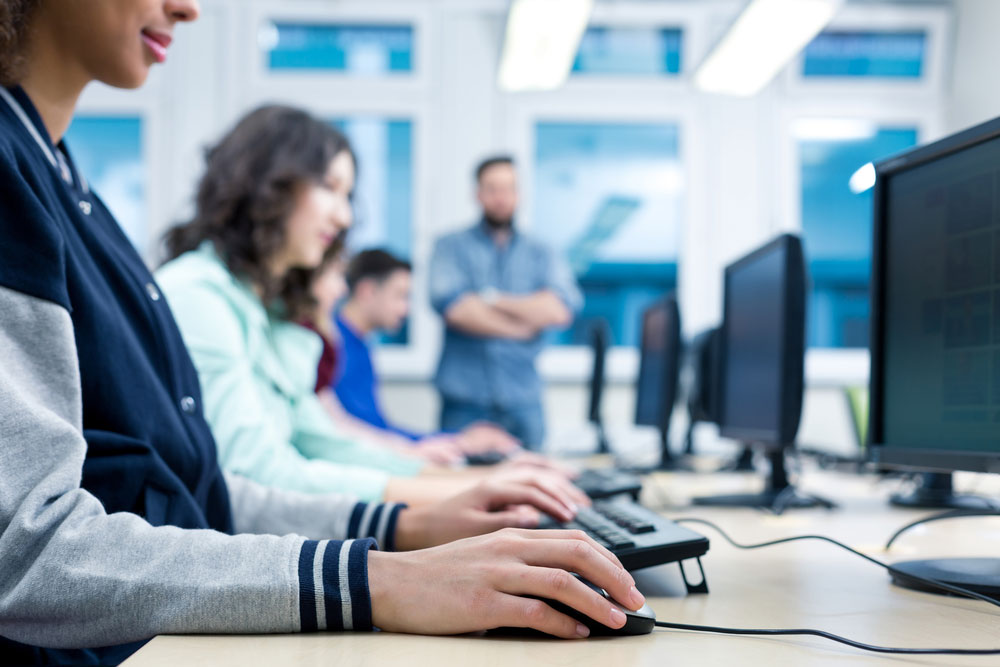 American Computer Science graduates have no competition at all from India in terms of jobs that require proper Computer Science skills
(Shutterstock)
---
New Delhi
|
Published 18.03.19, 09:33 PM
|
---
The average final-year undergraduate computer science student in the US, assessed for subject skills, outperforms his counterparts in China, India and Russia, according to research released on Monday.
The research also found that final-year students from elite institutions in China, India and Russia perform as well as the average student in the US.
However, the study, described as the first large-scale, multi-country comparison of computer science (CS) skills, found no differences in skills between students in China, India and Russia, although those in India start with lower levels of mathematics and science skills.
The findings, published in the US journal Proceedings of the National Academy of Sciences, suggest that India, among the three countries, has the highest quality of CS programmes.
"Contrary to public opinion, colleges in India are doing relatively well at training students — the gaps in learning are likely due to what happens before college," Prashant Loyalka, assistant professor at the graduate school of education at Stanford University and the man who led the research, told The Telegraph.
"Elite colleges in India do a remarkable job in helping students catch up and be globally competitive."
Loyalka and his collaborators offered a two-hour, computer-based examination, developed by the US Educational Testing Service, a testing agency, to assess fourth-year CS students in the four countries for skills in algorithms, programming, software engineering, computer architecture, operating systems and networking, among other topics.
They sampled 36 universities in China, 15 institutions in India — one Indian Institute of Technology, one National Institute of Technology, one elite private engineering college, and 12 non-elite government and private colleges — and 27 universities in Russia.
The study has been described as the largest effort yet to assess computer science skills in the four countries, which together produce almost half the world's computer science graduates every year.
The researchers believe their findings have implications for the global supply of CS professionals at a time an additional five lakh CS-related jobs are expected to be created over the next decade.
Although India produces the world's largest number of CS graduates (2.15 lakh) each year, followed by China (1.85 lakh) and Russia (17,000), the 65,000 CS graduates in the US are much more skilled, the study said.
US graduates "only face competition from a much smaller cadre of elite graduates" — estimated to be about 33,000 in China, 8,000 in India and 4,000 in Russia, the researchers wrote.
A senior computer science teacher in India said the findings were not surprising. "The results may be unpleasant for India, but completely on expected lines — industry has been pointing out for a long time that over 90 per cent of computer science graduates can't even write code," said Dheeraj Sanghi, professor of computer science at the Indian Institute of Technology, Kanpur.
Sanghi is among those who had expressed concern in the past that only small fractions of CS graduates in India were competent in the subject at graduation.
"American CS graduates have no competition at all from India in terms of jobs that require proper CS skills," he said. "They only have competition in low-end jobs."
Loyalka, however, asserted that it was important to look not just at the skill levels but also at the gains in skills.
"We can't make inferences about the quality of college programmes from skill levels alone, which are measured at one point in time. Gains in skills over the four years would be a better measure of the institution's contribution," Loyalka said.
The study found differences in gains in skills across India, China and Russia. "CS students in India in general start college with lower scores in maths and science than CS students in the other two countries," Loyalka said.
"But the comparable scores in the fourth year implies that CS programmes in India are helping students develop skills at a faster rate."
While international rankings are one way of assessing institutions, the researchers said these ranking exercises don't take the students' skills into account.