As You Like It
Are you a high school student with a special love for biology? The Telegraph helps you navigate the choices available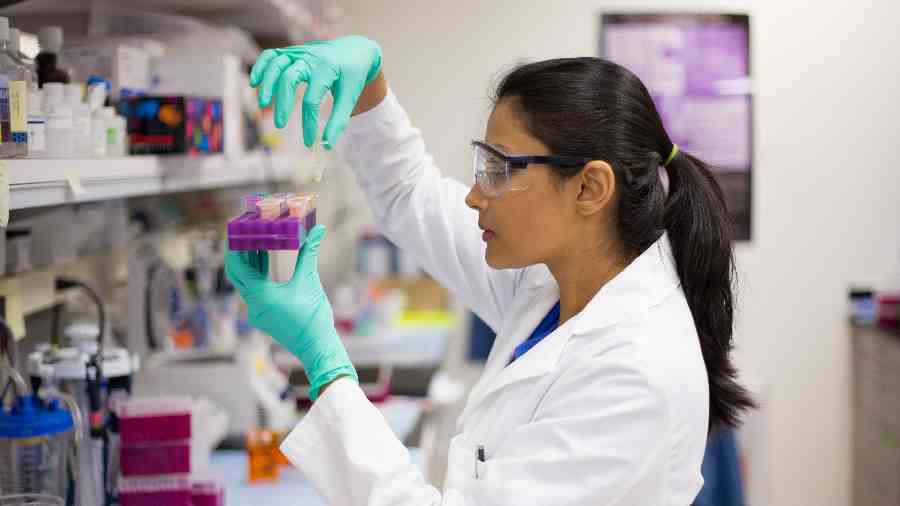 Representational image
Shutterstock
---
Published 06.09.22, 03:57 AM
|
---
Having a liking for biology typically means preparing for the medical entrance exam. That apart, the general understanding is that studying biology is the way to general disciplines such as botany, zoology and physiology. Fact is, apart from these there are other applied fields that one might want to consider.
Microbiology mostly has to do with the workings of viruses, bacteria, protozoans, fungi and other minute organisms. There are different aspects to it — medical microbiology, food microbiology, environmental microbiology. The SARS-CoV-2 pandemic, tomato flu and monkeypox have taught us how important it is to know about these intruders that have the potential to wreak havoc once inside the body. 
Teesta Bhowmick, a secondyear student of microbiology at St. Xavier's College, Calcutta, says, "Biology has always been my favourite subject. At first, I had decided to go for medicine but I wanted to know more about the functioning and making of different drugs and vaccines. Staining cells, preparing slides and observing them under a microscope — discovering the minute details of microorganisms which we cannot see otherwise is magical and fascinating." 
But microbiology is not just about microbes; the curriculum includes diverse subjects such as immunology, cell biology, molecular biology, genetics and biochemistry. Although one can venture into the industry after a first degree, this field has wider opportunities in research and might warrant a doctoral degree for better future prospects.
"Microbiology has always been relevant to health sciences and has spawned various medical advances. I wish to go into research and pursuing microbiology will give me abundant opportunity," adds Teesta, who did her Plus Two from Apeejay School in Calcutta.
Biochemistry is another related field where one gets to study the different chemical processes inside living organisms. It is an amalgamation of the principles of chemistry and biology and covers varied topics like metabolism, immunology and neurobiology.
One can dig deeper into the workings of lipids, proteins, carbohydrates, nucleic acids within the living system. "I had dreamt of a career in biology since high school. The details of biological systems attracted me and I wanted to delve into their mechanistic aspects," says Saikat Banerjee, a senior research fellow at Calcutta's Indian Institute of Chemical Biology. 
Biology is a dynamic field involving effortless blending of principles of biology, chemistry, physics, mathematics and computation. There exists ample scope to switch between different streams of biology. While one can take up biochemistry at bachelor's and master's levels, there are cases aplenty of students with a BSc in chemistry, microbiology or zoology majoring in biochemistry for master's.
"A subject like biochemistry keeps many a door open so that one can choose between research, industry, clinical labs, diagnostic labs or even innovation centres and research and development units of pharma and biotech companies. The willingness to learn is the key to survival here," says Saikat, who did his bachelor's and master's in biochemistry from Calcutta's Asutosh College and the University of Calcutta, respectively.
Depending on the college, you can do a BSc or BTech. This discipline also encompasses topics like molecular biology, cell biology, biochemistry, cancer biology with emphasis on genetic engineering, recombinant DNA technology and harnessing engineering sciences for biological systems.
"I selected biotechnology specifically for its course design. We had different courses each semester and these helped me figure out my strengths and weaknesses," shares Ahana Mazumder, a former student of Patha Bhavan who has just graduated from the SRM Institute of Science and Technology in Chennai.
Soumalee Basu, head of the department of microbiology, University of Calcutta, says, "Biology is a broad umbrella with many interesting areas. It is very important for a student to build a strong foundation on any one of the basic subjects of biology and then specialise." 
Bioinformatics is a new discipline and right now in great demand. With the rise in big data analysis, drug designing and screening, the need to apply computational tools to a biological problem has skyrocketed. The demand for skilled personnel exists both in industry and academia. "Taking up bioinformatics after Class XII is not recommended. Training in mathematical reasoning to strengthen the logical aspects of things is preferable; knowledge of biology can be acquired later as necessary," says Basu.
Remember one thing. This is a research-dominated field and if you are looking to start work right after your bachelor's and hoping for quick promotions, this is not for you.