Career options for designing professionals...
Trying to comprehend this relatively new field in India and its wide variety of job options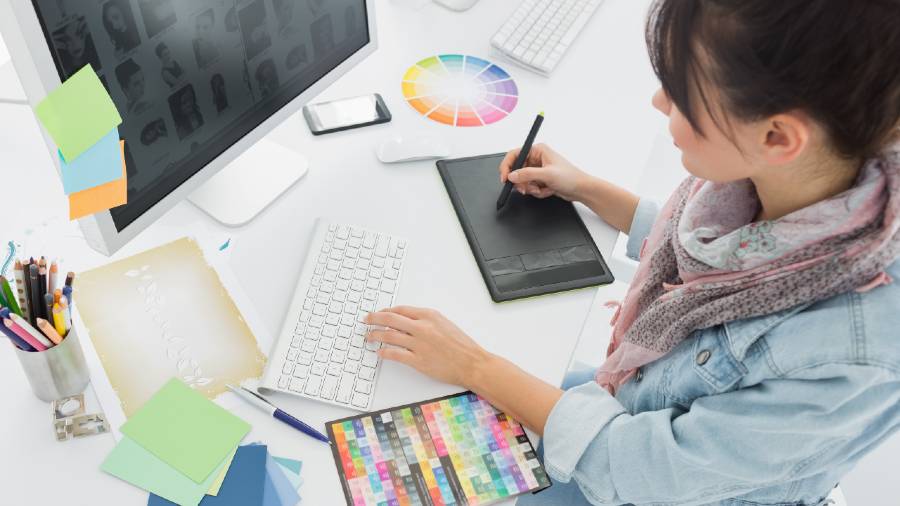 Many streams and specialisations have emerged and there is a huge demand for design professionals.
Shutterstock
---
Published 15.02.22, 02:10 AM
|
---
We see it all around us — in the design of a cellphone, the curve of a chair making it stylish yet comfortable, the shape of a doorknob that fits comfortably in the hand or the iconic curves and grooves of a soft drink bottle. Design permeates every aspect of our lives. 
Many streams and specialisations have emerged and there is a huge demand for design professionals. 
UI/UX and Graphic
UX designers ensure that navigating a website or mobile application feels intuitive, smooth and logical, while UI and graphics designers are responsible for the visual appeal of the interface — colour schemes, buttons, fonts and other visual elements. Together, they are responsible for improving users' overall experience while using the site or app. IT firms, advertising firms, media companies and start-ups require these designers.
Some interface designers are self-taught, but many courses and certifications are available now. "One can do a bachelor's in UI/UX design from a design school, or study art in college and then get a diploma or certification. A person from art will have a background of how design flows," says Paresh Jodhawat, associate creative director at Wunderman Thompson, Mumbai. "HCI or human-computer interaction is gaining importance. It is a multidisciplinary course at the intersection of computer science, cognitive sciences, psychology and human factors engineering," he adds.
Product and Industrial
Product designers conceptualise and create tangible inventions and products. The designer's role is to combine science, art and technology to design products that people can use. Product design is often confused with industrial design. Though there is some overlap, industrial design essentially brings artistic form and usability to mass-produced goods, e.g. home appliances, cars, computing devices.
Shyam Kumar studied fashion and lifestyle accessories design at the National Institute of Fashion Technology (NIFT). He is an intern at Intel Corporation even as he pursues his postgraduation in industrial design at IIT Guwahati. "I am involved in designing computing devices — the physical design, colour, tactile aspects are what I work on as part of my job. A designer has to enjoy solving problems and be detail-oriented," he adds.
Transportation
Analysts have observed that the exterior of a car has an instant impact on the consumer. Interior design and ergonomics must also follow suit. Transportation designers work on the exterior and interior design of all types of vehicles. And it has become even more challenging for these designers as they have to stay updated with emerging vehicular gadgets like GPS navigation, satellite radio and smartphone interfaces while designing a vehicle.
Animation & Motion Graphic
Animation designers play a crucial role not just in movies and video games but in almost every industry in this digital age. Most companies use animation for their social media posts, and marketing and advertising initiatives.
Motion design, a newer subset of animation, has become very popular over the last few years. Motion graphics take static graphic design and give it animation and movement — for example, a logo that spins . "At its core, motion graphics is communication using animation and design principles. A very specific message using text elements, animation and imagery is imparted," says Prakash Sampath, a freelance video and motion graphic designer from Mumbai.
Fashion 
Fashion designers specialise in clothing, accessory or jewellery design. Some work on costume design and create wardrobes for television and movie productions. Some work for established designers and well-known brands. Fashion communication and styling are subfields that have grown in the last few years. One can also work as an image consultant, stylist, fashion journalist or blogger, or brand manager. 
National Institute of Design (NID); NIFT; IDC School of Design, IIT Bombay; MIT Institute of Design, Pune; United World Institute of Design, Karnavati; and Symbiosis Institute of Design, Pune are some well-known design schools of India. Some, like NID and NIFT, have multiple campuses.
Students get to explore different courses before choosing their design stream. Vinayak Kulkarni, associate dean at MIT Institute of Design, shares, "The first year in any design institute is a common foundation programme. Students get to explore various materials and processes. They try out skill-oriented processes like sketching, model-making, wood crafting and metalworks. This way, they're in a better position to decide on their design specialisation in the second year."
Most colleges have their own entrance exams, including a design aptitude test, a studio test and an interview. If the student has a portfolio to show, that is an added advantage.