Battlelines, Online
As conflicts over Israel and the Palestinian territories have migrated online, technology has scrambled the debate at US colleges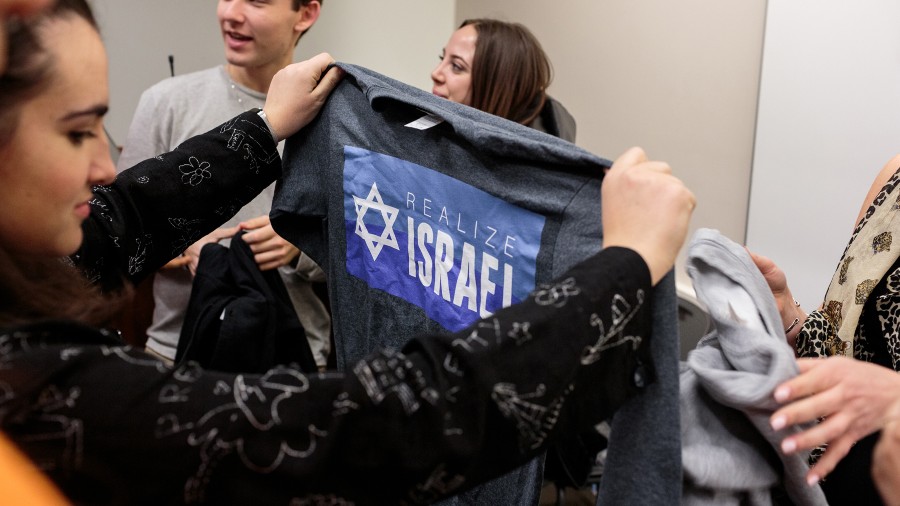 ---
Published 16.02.21, 06:05 AM
|
---
Leila Khaled is a two-time hijacker, a member of a Palestinian group on the US State Department's list of terrorist organisations. So it came as a shock to Javier Cohen, a senior at New York University, US, to find her speaking on an NYU webinar. In the video, Khaled calls Israel an "apartheid state" that practises terrorism against Palestinians and vows to pursue "all means of struggle, including armed struggle" against it.
Cohen leads a student group called Realize Israel, whose complaints about anti-Semitism on campus prompted a civil rights investigation and drew the attention of the Trump administration. But this school year, with students scattered around the globe, Cohen thought the heat on campus had died down. Then he saw the clip of Khaled, introduced by Andrew Ross, a professor of social and cultural analysis and a proponent of the movement for boycotts, divestment and sanctions on Israel, known as BDS. Ross described Khaled, 74, as revered "for the role model she established as a female freedom fighter".
For Cohen, it was too much. He reported the video to the administration, asking it to condemn the webinar for condoning violence against Israel and to discipline Ross.
Ross saw a different problem: Zoom. The platform deleted the link to the webinar without notice. In a conflict that has divided campuses in recent years, here was a new dimension: a technology company, under pressure from pro-Israel groups, was controlling content at a major American university. "We're usually not in the position of having campus speech being adjudicated by outside agents," said Ross, arguing that criticism of Israel was being labelled anti-Semitism. "But Zoom is in the position of doing that right now."
It had previously cancelled a webinar with Khaled at San Francisco State University. The NYU webinar, titled "We Will Not Be Silenced," was a response to that cancellation. A recorded version ran on YouTube but, for Ross, it was an unwelcome imposition on campus speech. "As scholars, we interrogate policies," he said. "If that kind of inquiry is chilled, you're taking away a large part of the lifeblood of the university."
A spokeswoman for Zoom, Colleen Rodriguez, said Khaled's association with a terrorist group violated the company's terms of service. The company also banned three other colleges' webinars featuring Khaled.
As schools have shifted to virtual learning, the battles over Israel and the Palestinian territories — with opponents accusing one another of anti-Semitism or suppressing free speech — have migrated, from campus demonstrations and fliers to social media and Zoom.
One side contends some criticism of Israel has crossed into anti-Semitism; the other side says charges of anti-Semitism are being used to silence legitimate criticism. Lines can get fuzzy: Ross is the son of a Holocaust survivor, and some of the activism labelled as anti-Semitic comes from the group Jewish Voice for Peace. This past fall, even with most students away from campus, disputes flared at colleges in and around New York City. Students at Columbia College passed a referendum calling on the university to divest from companies that "profit from or engage in the State of Israel's acts toward Palestinians". A week later a swastika appeared outside the central library — the fourth appearance on campus in 2020.
"A lot of Jewish students attributed it to the referendum," said Ofir Dayan, who leads the group Students Supporting Israel at Columbia. For Dayan, whose father Dani Dayan is a former Israeli consul general and an advocate for Israeli settlements in the West Bank, the virtual campus was already a precarious place. When she hosted a webinar about growing up in the West Bank, activists doctored her online flyer to assail her "genocidal father". The International Court of Justice has said the settlements on the West Bank violate the Fourth Geneva Convention.
At the City University of New York law school, a Palestinian student activist named Nerdeen Kiswani received death threats after a video surfaced of her holding a lighter up to a friend wearing an Israel Defense Forces hoodie, pretending to threaten to set him on fire. The video was posted by a website called StopAntisemitism.org, started by a Connecticut woman who became a social influencer under the name "Jewish Chick". The site named Kiswani "2020 Anti-Semite of the Year".
The BDS movement attracts a range of progressive groups, which see Palestinians as an oppressed minority battling the American and Israeli right. Thirty-four student groups joined Columbia's campaign to divest from Israel, including the Black Students Organization and Native American Council.
Columbia's president, Lee Bollinger, reaffirmed the school's commitment to free speech but vowed to disregard the student referendum on divestment. NYU's president, Andrew D. Hamilton, expressed "consternation" to Zoom over its cancellation of the webinar, but he also chided the professors who sponsored it.
For now, though, the virtual campus makes it easy not to listen to one another, to refuse to "normalise" an opposing point of view. Instead, both sides dig into their own moral narratives, said Kenneth S. Stern, director, Center for the Study of Hate at Bard College in Annandale-on-Hudson.
"The reality is that both arguments are true. Both people have indigenous claims." The history is "messy", he said, with "justice on both sides, and injustice on both sides". Even without remote learning, students have little incentive to see the other view. Stern said, "That makes conversations very difficult."
NYTNS