It's Not Too Late
A growing chorus of young people on social media is focussing on climate solutions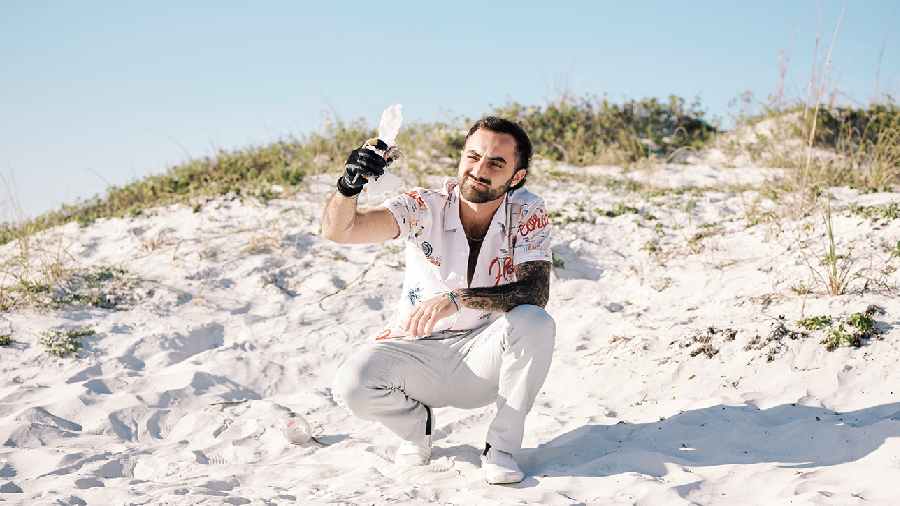 Caulin Donaldson posts videos of his daily beach clean-ups.
NYTNS
---
Published 26.04.22, 12:27 AM
|
---
Alaina Wood is well aware that, planetarily speaking, things aren't looking so great. She's read the dire climate reports, tracked cataclysmic weather events and gone through more than a few dark nights of the soul.
She is also part of a growing cadre of people, many of them young, who are fighting climate doomism, the notion that it's too late to turn things around. They believe that focussing solely on terrible climate news can sow dread and paralysis, foster inaction and become a self-fulfilling prophecy.
With the war in Ukraine prompting a push for ramped up production of fossil fuels, they say it's ever more pressing to concentrate on all the good climate work, especially locally, that is being done.
"People are almost tired of hearing how bad it is; the narrative needs to move onto solutions," said Wood, 25, a sustainability scientist who communicates much of her climate messaging on TikTok, easily the most popular social media platform among young Americans.
Via social media, she and her fellow "eco-creators" present alternative narratives that highlight positive climate news as well as ways people can fight the crisis in their everyday lives. Along with allaying their own eco-anxiety, they have found a growing audiencehungry for what they have to say.
In the summer of 2021, Wood, whose handle is @thegarbagequeen, began creating TikTok videos debunking extreme examples of climate doomism — among them that all of humanity will perish within decades — and relaying news of assorted climate wins: the creation of North America's first whale sanctuary, a planned treaty to curb plastics pollution, the construction of a huge wind farm off the coast of the United Kingdom.
After making that shift, she said her follower count tripled from about 1,00,000 to close to 3,00,000 today. Wood also helped form a TikTok group of like-minded climate advocates called Eco-Tok, and said their hashtag #ecotok has more than 200 million views. Caulin Donaldson, 25, whose handle is @trashCaulin, joined TikTok in December 2019 to chronicle his daily pilgrimage picking up garbage from the beaches near his home in St. Petersburg, Florida, US. His short videos were upbeat and playful: in December he posted a "Twelve Days of Trashmas" series. He also furnished his new apartment using secondhand goods, framing it as a scavenger hunt. By October 2020, he had 1 million followers. Today, it's up to 1.4 million.
Wood and Donaldson say their followers are taking environmental action themselves, online and off. Wood, who lives in Tennessee, said she has helped prompt thousands of people to sign environment-related petitions and to join climate strikes. On TikTok, Donaldson highlights videos of his followers, who he says are largely kids seven to 14, picking up garbage themselves, along with beach clean-ups he inspired. By painting sustainability and climate action as positive and fun "rather than this corny or lame thing adults do", Donaldson aims to be a gateway for youngsters to take bigger action down the road.
"I hate when people say one person can't make a change," Donaldson said.
"It takes a whole group, but it takes one person to start. One person to inspire. One person to raise a voice."
Yet, presenting the climate crisis as too massive or intractable can cause people to go numb and check out, said Sarah Jaquette Ray, chair of environmental studies at California State Polytechnic University, Humboldt, US, and the author of A Field Guide to Climate Anxiety. To fight the sense of powerlessness, she encourages people to see themselves as part of a collective groundswell of environmental groups working around the world, and to resist going down the rabbit hole of climate horror stories.
Like many climate advocates, Kristy Drutman went through her own dark period of eco-despair. Drutman, 26, is of Filipino and Jewish descent, and for her, the crisis hit home during her freshman year at the University of California, Berkeley, US. That's when Typhoon Haiyan struck the Philippines, leaving 7,300 dead. Not long after, as an anti-fracking activist on campus, Drutman became dismayed when university and state officials did not seem to share her sense of urgency.
She began airing her frustration on social media under the handle browngirl_green, and soon concluded that many communities of colour, already affected by climate change and environmental devastation, lack "the time or privilege to get lost on climate doom", she said.
Philip Aiken, 29, who hosts the podcast "Just to save the world", said that privilege is also baked into the attitude of "it's too late".
"'It's too late' means 'I just want to be comfortable for as much of my life as possible, because I'm already comfortable,'" Aiken said.
NYTNS