Tejashwi's '1947 to AK-47' jab at Nitish
In 1947 India got freedom, today Bihar got its freedom to use AK-47 freely, says Lalu's son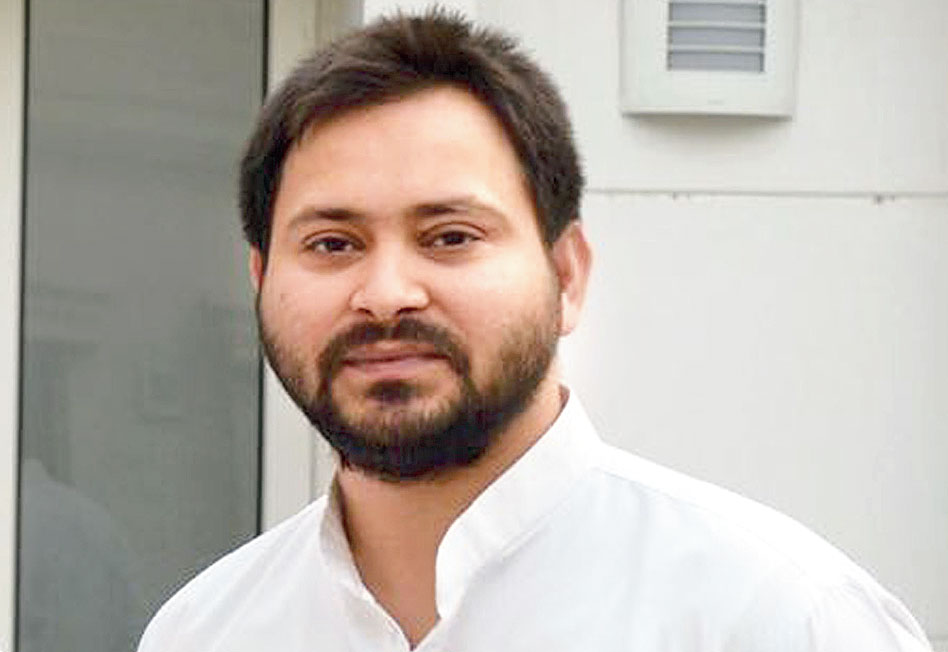 ---
|
Patna
|
Published 05.10.18, 06:18 PM
---
Tejashwi Prasad Yadav on Friday accused chief minister Nitish Kumar of protecting criminals, slamming his former boss over law and order situation in the state.
In a statement issued on Friday, former deputy chief minister Tejashwi said India got freedom in 1947 but Bihar has today got the freedom to use AK-47 freely.
"1947 to AK47. In 1947 India got its freedom to be a sovereign country. Today Bihar has got its freedom to use AK-47 freely. Thank you Nitishji for letting your MLAs blatantly use AK-47 for self-claimed good governance. Bihar has truly seen AK-47 terror under your continuous watch for 13 years," Tejashwi said in the statement released on Friday afternoon.
Since late August, 20 AK-47 semi-automatic rifles have been found in Munger district. Most recently, 12 rifles were found from a well, besides spare parts of the weapons later, from Mirzapur Bardhe village in Munger, 225km east of Patna.
Former Muzaffapur mayor Sameer Kumar and his driver were also murdered with an AK-47.
Tejashwi called Nitish leader of the dreaded criminals, claiming two JDU MLCs and one MLA are involved in murders of Opposition leaders. He even claimed one JDU MLA is involved in the AK-47 business, apart from charging at the government over the Muzaffarpur shelter home.
"The rapists are protected by the government and the minor girls were buried after being raped. A minister of Nitish Kumar is involved in the case and in spite of strong evidence, the CM is protecting him. The main accused, Brajesh Thakur, is the blue-eyed boy of Nitishji. I want to ask Nitishji, who is Patna wale sir? Tejashwi asked, referring to the statement given by the shelter home girls.
The JDU, in turn, attacked Tejashwi and alleged that criminals were given protection in the 15 years of his parents' regime. Chief spokesperson Sanjay Singh said: "Tejashwiji should know that crime activists used to get protection from his father and mother. The criminals even used to get accommodation. It is really funny that Tejashwi is raising finger at our government. It is the biggest joke of the present era. He should know that in Nitishji's regime, only social activists are promoted and a crime activist goes to jail."