Stay connected with Wi-Fi at Patna Eco Park
Sushil Kumar Modi announced that ten Wi-Fi points would be set up at the Eco Park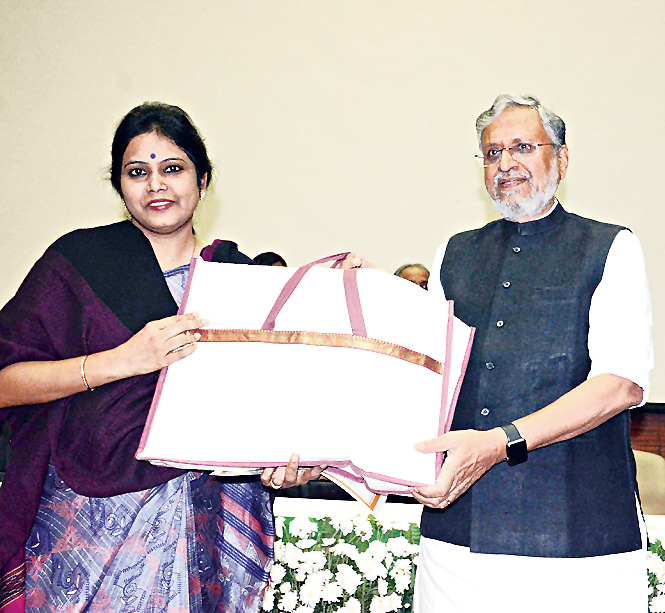 Deputy chief minister Sushil Kumar Modi felicitates animal and fish resources principal secretary N. Vijayalakshmi during the seminar on Government e-Marketplace at Adhiveshan Bhavan in Patna.
Nagendra Kumar Singh
---
Patna
|
Published 24.11.18, 08:16 AM
|
---
Visitors to the city's Eco Park would be able to enjoy free Wi-Fi soon.
Deputy chief minister Sushil Kumar Modi made the announcement here on Friday at an event organised by the finance department in which government departments, universities and urban local bodies were awarded for using GeM (Government e-Market) portal for procuring items.
"Ten Wi-Fi points would be set up at the Eco Park using which users would be able to get free Internet access for an hour on each login. Based on the experience gained, similar facility would be launched in other parks too," Modi said, while speaking about the Bihar government's move to use technology in a big way to keep pace with the changes taking place across the globe.
The deputy chief minister, who holds the additional charge of information technology and environment and forest departments in addition to finance and commercial taxes, said work had started on a Rs 126-crore project to connect all 58 jails, 62 lower courts, office of IG prisons and Patna High Court through video-conferencing so that transportation of prisoners and witnesses would not be required to record statements in courts.
Modi said chief minister Nitish Kumar would soon launch Sahaj Taqniq Yojana that would allow people to know about various welfare schemes they were entitled to.
The Telegraph had reported about the plan in October this year. Under the scheme, individuals would have to provide details such as name, address, age, educational qualification, caste category among other things online. After it is processed, one also needed to categorise oneself on the basis of vocation such as agriculture, business, student and the details would be processed and the individual would get details about all the schemes he is entitled to.
Modi also announced that the government was planning to introduce biometric attendance in all government offices to use technology to keep tab on the presence of employees in offices.
Speaking about the use of GeM in Bihar, he said since its actual beginning was in May this year, various government departments, universities and urban local bodies had procured goods worth Rs 127 crore so far and the state stood tenth in the country in terms of value of goods procured through this platform. "Though I am not setting any target for officials, I hope that by the end of the current fiscal Bihar would be positioned several places up in terms of value of items procured through GeM," Sushil Modi said.