China ramps up diplomatic offensive amid growing US tensions
China has accused the US of trying to 'contain' Beijing's development, and hosted several unprecedented summits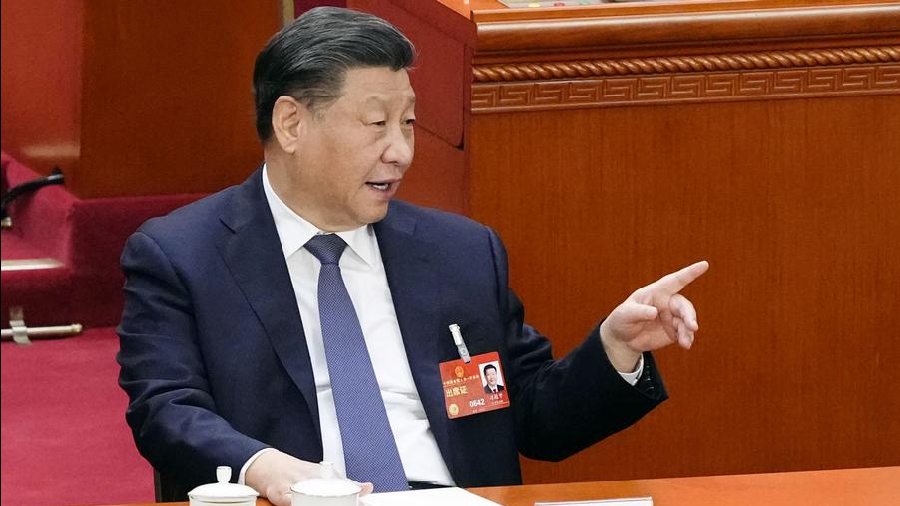 Tensions with the US are causing China to change its diplomatic focus
Deutsche Welle
---
Published 16.03.23, 12:25 PM
|
---
Following a series of recent diplomatic spats, China and the US seem to be heading into another downward spiral. Last week, during the annual legislative meetings, China's top leadership accused Washington of launching a comprehensive "containment" and "suppression" of Beijing, causing bilateral ties to continue worsening.
"Western countries led by the United States have implemented all-around containment, encirclement, and suppression of China, which has brought unprecedented severe challenges to our country's development," Chinese leader Xi Jinping said.
Foreign Minister Qin Gang also warned of possible conflict between the two countries. "If the United States does not hit the brakes, but continues to speed down the wrong path, no amount of guardrails can prevent derailing, and there will surely be conflict and confrontation," Qin said during his first press conference as China's foreign minister.
The ongoing tensions between China and the US have directly affected the direction of Beijing's diplomacy, pushing China to try to strengthen relations with traditional allies in the developing world while repairing relationships with Western democracies like Australia and Germany, said Zhiqun Zhu, a professor of international relations at Bucknell University in the United States.
"Xi had summits with leaders from Iran, Belarus, and Turkmenistan, but he also welcomed German Chancellor Olaf Scholz to Beijing, while French President Emmanuel Macron and Australian Prime Minister Anthony Albanese are likely to visit China later this year," he told DW. "All of these [summits] are part of the diplomatic strategy to push back the US-led effort to counter China," he added.
China as peace provider?
China believes its external environment will be filled with uncertainty and unpredictable factors, especially in light of the ongoing war in Ukraine.
Sari Arho Havren, a visiting researcher at the University of Helsinki, said the challenging external environment has forced Beijing to realign its foreign policy in multiple areas.
"One important element of the realignment of its foreign policy is Beijing's increasingly assertive push to control the international narrative, presenting China as the peaceful global security provider and balancing actor, while portraying the US as the aggressor that fuels and provokes conflicts rather than trying to prevent them," she said.
China also successfully brokered a deal last week to restore relations between Iran and Saudi Arabia.
Following the agreement, Beijing now appears set to take on a larger role in the Middle East and potentially challenge US dominance in the oil-rich region.
Una Cerenkova, head of the China Studies Center at Riga Stradins University in Latvia, said that China wants to boost its global role and influence by essentially engaging with any country that may not be on board with the US or has negative views about the existing international system.
"China is trying to talk to everyone and their approach is more pragmatic than ideological," she underlined. "What China can get out of these efforts is to become an important player in other countries' heads, letting them think China can be at the table and they can influence global security."
On Ukraine and the Global Security Initiative
On Ukraine, Chinese Foreign Minister Qin recently reiterated that conflict and sanctions won't end the war there, and suggested that the process of peace talks should take place as soon as possible.
His comments came after Beijing issued a 12-point statement to lay out its position on the ongoing war, but China's attempt to present itself as a broker of peace has met with skepticism among some top US officials.
Additionally, China released the concept paper of the Global Security Initiative (GSI) earlier this month. Chinese state media said the document laid out Beijing's core concepts and principles regarding global peace and security.
Drew Thompson, a China expert at the Lee Kuan Yew School of Public Policy at the National University of Singapore, describes the GSI and China's statement on the war in Ukraine as "statements of aspiration and preferences" rather than strategy documents.
"It's designed so Chinese stakeholders have a better sense of China's security and political priorities, and it's left up to Chinese officials to determine how they use these broad-framing documents to implement and conduct Chinese statecraft," he said.
Zhu from Bucknell University noted that while the GSI concept paper and the 12-point statement on Ukraine contain many general principles that could promote peace in Ukraine and elsewhere, the problem is that the GSI is not actionable.
"It reiterates China's commitments to respect the sovereignty and territorial integrity of all countries and to take the legitimate concerns of all countries seriously," he told DW. "This is not an actionable plan."
Close ties to Russia will continue
Havren from the University of Helsinki said that, under the current geopolitical context, where competition between China and the US continues to intensify, China will likely maintain closer ties with Russia, as Beijing sees Moscow as a "valuable multilayer partner" in the rivalry with the US-led Western bloc.
"China acknowledges Russia's role as an influential military and nuclear power, and Beijing understands Russia's security concerns and is sympathetic to its security spheres of interests," she told DW. "Their interests in transforming the global order are aligned. One year after Russia's invasion of Ukraine, China and Russia's relations have only become closer."
As for how countries in the Indo-Pacific may respond to an increasingly ambitious China, Sana Hashmi, a postdoctoral fellow at the Taiwan-Asia Exchange Foundation in Taipei, said that the region has entered a "collective initiative period," where more countries are becoming potential partners for ensuring regional security.
"The US is not seen as the only country responsible for providing security, and countries like India are increasingly becoming potential partners for security," she told DW. "There is a shared responsibility of creating security initiatives and creating an environment of peace and stability."