Workers of shut Raipur tea estate bare their plight
The garden was shut back in 2003 owing to a slump in the tea sector, reopened in January 2018 after a new tea company took over before it was closed again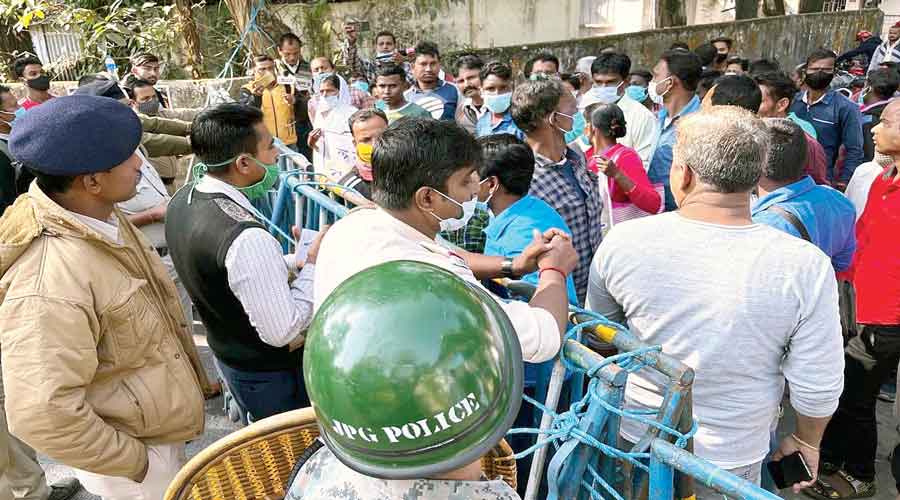 Workers demonstrate in front of the DM's office in Jalpaiguri on Friday.
Biplab Basak
---
Jalpaiguri
|
Published 18.12.21, 12:45 AM
|
---
A group of workers from the closed Raipur tea estate on the outskirts of Jalpaiguri town went up to the district magistrate's office on Friday and resorted to a protest, demanding the garden be immediately reopened.
The garden was shut back in 2003 owing to a slump in the tea sector, reopened in January 2018 after a new tea company took over, but the management representatives left the site in September 2018. In January 2019, the state government announced closure.
"We have been suffering for years now and can't survive on the meagre amount we earn by selling green tea leaves. Even ration supply is irregular and health facilities are in a shambles. The state government should immediately find a new investor and facilitate the reopening of the garden," said Pradhan Hembram, a worker and also the chief of the Trinamul-led Patkata village panchayat of Jalpaiguri Sadar block.
Hembram, who led the protesters, said that in the past two months, eight persons of different ages died in the garden. "Most families find it tough to arrange two decent square meals. People are suffering from malnutrition in the garden," he added.
Rajani Ghosh, an employee of the garden, said he attended at least 40 tripartite meetings convened by the state labour department. "But the garden has not reopened," Ghosh said. "It is disappointing that the MLAs and MPs are not sincere in addressing our problem. That is why we are at the district magistrate's office and we want the officials to act."
He said there were some 550 permanent workers in the garden. Most workers' quarters were in a deplorable condition, but jobless workers have nowhere to go, he added. 
"The state government has launched the free housing scheme (Cha Sundari) for tea workers and their families. Considering our pitiful existence, the government can implement the scheme in our garden," said worker Guru Munda.
After the demonstration, a delegation met Jalgaipuri DM Moumita Godara Basu. 
"The garden is closed but its lease is with a tea company. We do not have any authority to cancel the lease. We asked officials of the labour department to see to it that the workers get all possible benefits from the state. Also, we will forward the workers' demand to authorities concerned," said the DM.
Another official said they were implementing the housing scheme in some tea estates of the district based on instructions from Nabanna.
"The project can start in Raipur only if approved by the state government," the official said.