Woman tied up, dragged and beaten
A video of the purported attack circulated in social media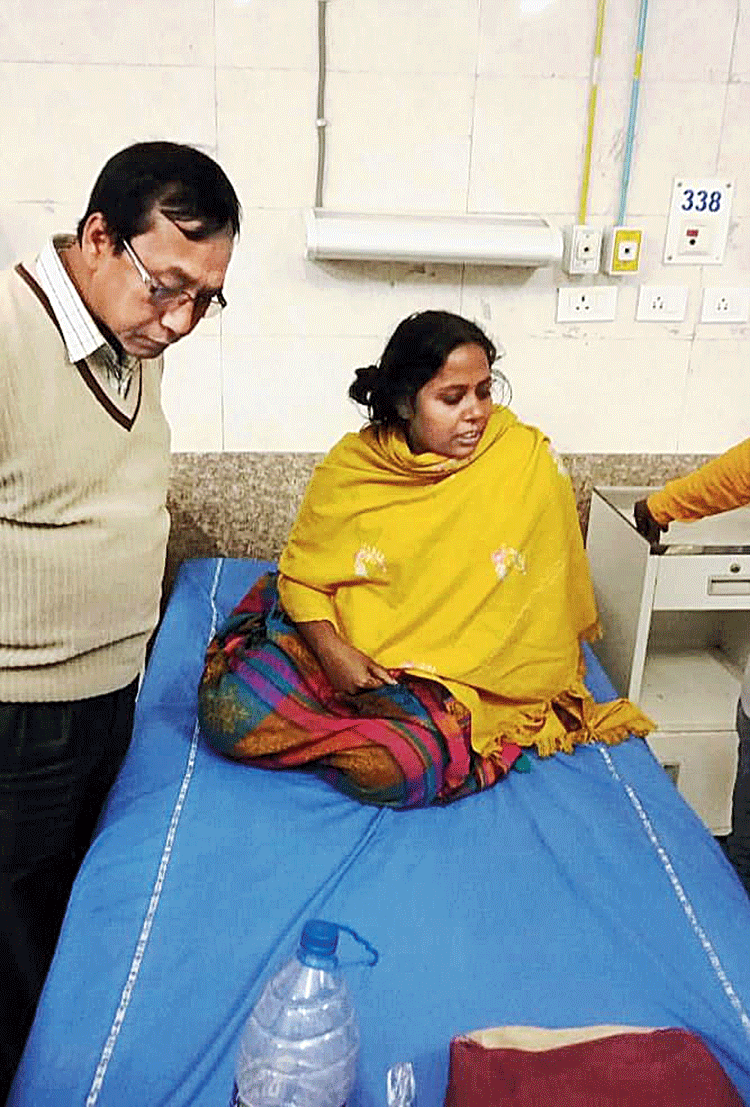 Smritikana Das at the hospital in Gangarampur
Telegraph picture
---
Raiganj
|
Published 02.02.20, 07:31 PM
|
---
A group of alleged Trinamul Congress supporters led by a panchayat member tied the hands and legs of a high school teacher, dragged her for 30ft, rained blows on her and locked her up at a house after the woman resisted a bid to acquire her land forcibly for a village road.
Apart from Smritikana Das, a BJP supporter, her mother and siblings were also assaulted at Nandanpur in the Gangarampur block of South Dinajpur district on Friday.
A video of the purported attack is circulated on social media.
The district Trinamul leadership on Sunday expelled Nandanpur panchayat upa-pradhan (deputy chief) Amal Sarkar who was accused of leading the assaulters.
Sources said Smritikana taught at Sayrapur KMB High School in Gangarampur on contract and resided at Nandanpur with the mother. Her sister and brother are married and stay separately.
The panchayat had recently taken up a project to build a road that would pass by the teacher's homestead land.
"The panchayat needed a portion of our land for the road. The panchayat administration started the work without our consent. Even then, I was ready to part with the land required for a 12ft-wide road without compensation in the interest of the village. However, I came to know on Friday that they were planning to build a 24ft-wide road and encroached further on land. When I went to the spot and protested, upa-pradhan Amal Sarkar and his associates attacked me," said Smritikana, 32.
The video shows Sarkar and some others hitting the teacher with an iron rod. She collapsed on the road but went on arguing with them. The attackers then tied her hands and legs and dragged her along the ground for around 30ft while raining blows on her. They then locked Smritikana up at a Trinamul supporter's house.
Her sister Soma, who had been to her mother's home on Friday, came out to rescue Smritikana.
"The attackers did not spare Soma either. She was also slapped and kicked. The attackers tied her limbs and detained her. Amal Sarkar and his men then beat up my mother, brother and his wife," Smritikana said.
A section of villagers gathered and rescued the sisters. They were taken to the subdivisional hospital in Gangarampur. Soma was released
after being administered first aid but Smritikana was under treatment till Sunday morning.
South Dinajpur district BJP chief Binoy Burman and other party leaders visited the hospital.
After her discharge from the hospital, Smritikana went to Gangarampur police station and filed a complaint against Sarkar and four other Trinamul supporters.
"The chief minister and other Trinamul leaders always lay emphasis on the safety of women in Bengal. But the reality is different. Trinamul workers were involved in the barbaric attack on a woman teacher and we want police to arrest all accused persons," Balurghat BJP MP Sukanta Majumdar said.
Arpita Ghosh, the district Trinamul president, said the party had expelled Amal Sarkar.
"We are collecting details of the incident," she added.
Purnendu Kundu, the inspector-in-charge of Gangarampur police station, said: "A case has been registered on the basis of the complaint. We are into investigation."