Woman superhero to inspire kids
The third book of the Priya's Shakti series was launched at Alliance Francaise in Calcutta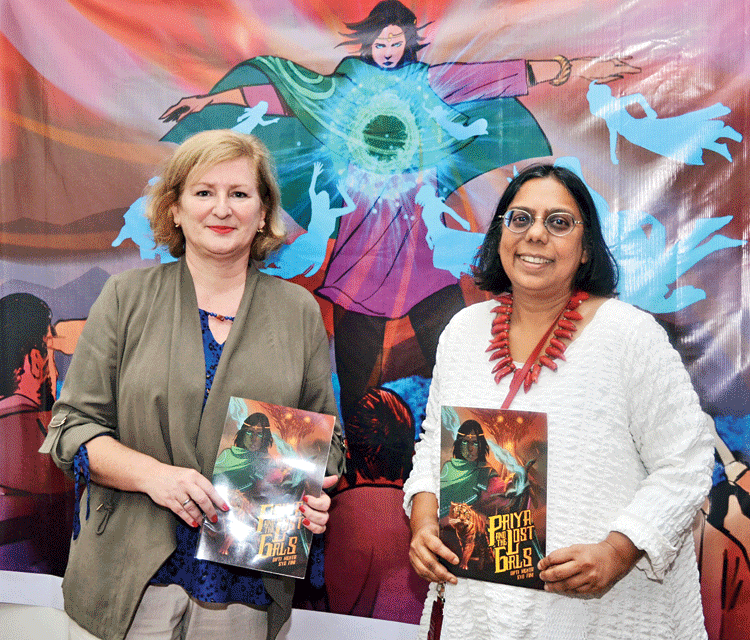 ---
|
Calcutta
|
Published 07.02.20, 08:04 PM
---
She is a rape survivor, rides a flying tiger called Sahas and helps girls from her village stand up against abuse and sexual violence. Meet Priya, the superhero protagonist of a comic series.
The third book of the Priya's Shakti series written by US-based writer-actor Dipti Mehta and Ram Devineni was launched by NGO Apne Aap Women Worldwide at Alliance Francaise in the city on Thursday.
The book is largely based on the experiences of Apne Aap founder Ruchira Gupta.
"I always missed having a woman superhero in my childhood. I loved reading comics, especially Tintin, but even he was male. Having a female superhero breaks gender bias in a big way. Priya's adventures are similar to mine in this book. Most of the characters she encounters here, as she tries to save trafficked girls, are based on real-life ones," Gupta said at the launch.
The book, funded by the Jerome Foundation and the New York State Council on the Arts, among others, was launched in the US in December.
"The comic series was planned soon after the Nirbhaya gang rape in 2012. The incident had left us all enraged. Since then, Apne Aap has also been trying to teach young girls to stand up for their rights," Gupta said.
The book reaches out to schoolchildren to sensitise them about trafficking and gender bias. "We need to give young girls a hero they can identify with and teach them that women are as strong as men. We plan to hold workshops in city schools and encourage children to draw female superheroes," Gupta said, in conversation with Virginie Corteval, the French consul general, on Thursday.
Corteval read out the first page of the new comic that had Priya and Sahas back in their village after a brief hiatus to realise that many young girls were missing. Priya asks after Laxmi, her sister who has gone out to "work" and is told there has been no news of Laxmi. In the course of the story, the girls are found trapped under a volcano, a figurative representation of a brothel.
Corteval also welcomed a woman superhero. "We have none in Europe. It's time we had more. The book has a mythological feel to it that will make it appealing to both boys and girls," she added.
The free online version of Priya and the Lost Girls has already had 500,000 hits since December. The book has been translated into Hindi as well.