Woman in 50s gives birth to twin boys
Read more below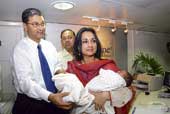 ---
Published 14.05.08, 12:00 AM
|
---
The hospital authorities with the twins
Sital Das Pal, 60, and Sarbani, 52, had been trying to have a child since they married 35 years ago. The couple finally became parents on April 29 when Sarbani gave birth to twins.
"The process was long and difficult, but the mother and the babies are doing well. This is the first such case in India," said Ranjit Chakraborty, a consultant gynaecologist at Bhagirathi Neotia Woman and Child Care Centre.
The couple from Durgapur had approached the hospital's fertility clinic, Genome. "The woman had her menopause and her husband had low sperm count because of his age," said Rohit Gutgutia, the doctor in charge of the clinic.
A 31-year-old woman was selected as egg donor. Both she and Sarbani were put on medication. Once ready, the eggs were retrieved from the donor and semen samples were collected from the husband. Sperms were injected into the eggs and the embryos transferred to Sarbani's uterus.
After 32 weeks, Sarbani developed pregnancy-induced hypertension and jaundice, which made the doctors perform an emergency Caesarean section. The baby boys are now in the hospital's special care section.
"The birth of our babies was the best moment in our lives," said Sarbani.
"A woman's ability to bear a child goes down by half after 40. She cannot bear a child naturally after menopause. Hence, the birth of the twins is special," said Chakraborty.
"It is rare for a woman in her 50s to give birth. However, we have to keep in mind the social aspect of bearing children at an advanced age," said city-based gynaecologist Bikash Banerjee.