Bengal polls 2021: Why the BJP is avoiding Raja Rammohan Roy's homes
Political scientists cite the Father of the Bengal Renaissance's direct opposition to the Hindi-Hindu-Hindustan school of thought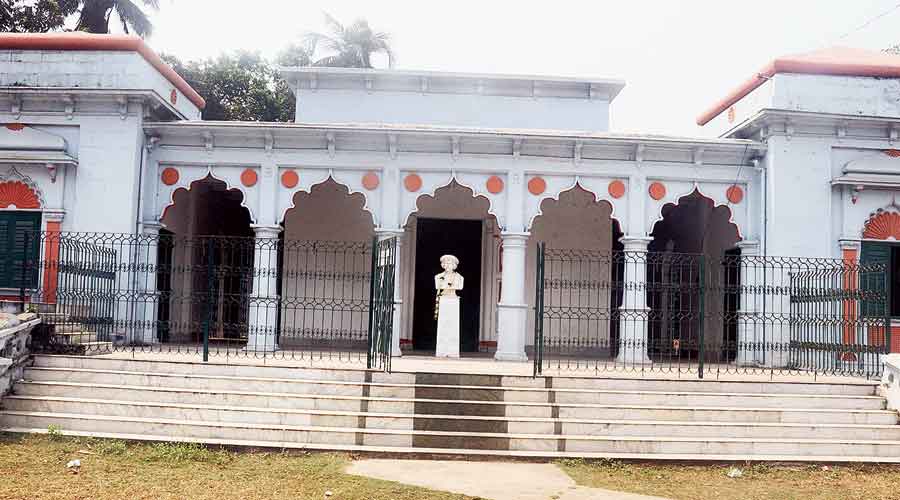 Rammohan Roy's birthplace at Radhanagar village in Hooghly's Khanakul.
Ananda Adhikari
---
Hooghly
|
Published 08.04.21, 01:41 AM
|
---
The orthodox Hindus of Bengal in the early 19th century and the Hindutva hardliners of Nagpur now are united in their distaste for one of the state's most glorious icons — Raja Rammohan Roy.
The Father of the Bengal Renaissance, who was instrumental in the enlightenment of south Asia and had taken a firm stand against religio-social evils such as the Sati, polygamy, child marriage and the caste system, had rhymes of ridicule composed against him by the orthodox lobby led by the likes of Raja Radhakanta Deb of Sovabazar.
One of them read: "Byatar bari Khanakul/ Byata shorbonasher mool/ Om Tatsat boley byata baniyeche ischool (That gink from Khanakul/ He's the root of this ruin /Citing the Bhagavad Gita, he has set up schools)."
Cut to the 21st century, Roy is now at the receiving end of social media vitriol. Former Bollywood starlet and Hindutva hardliner Payal Rohatgi has this to say about Roy: "No he was a chamcha to Britishers who used him to defame the Sati tradition. Sati tradition was not compulsory but was introduced to prevent the prostitution of Hindu wives at the hands of Mughal invaders. It was the woman's choice. #FeministsofIndia Sati was not regressive…."
In the political race to usurp the culture and traditions of Bengal, when BJP leaders have hopped from the hearth of one icon to another, Roy's birthplace in Radhanagar and his ancestral home in Raghunathpur — both under Khanakul I block of Hooghly — have been ignored by the saffron camp. The Pursurah Assembly constituency, under which Khanakul falls, went to polls on Tuesday.
Roy (1772-1833) was a founder of the Brahmo Sabha — the precursor to the Brahmo Samaj — a socio-religious reform movement in south Asia. The polymath's influence was notable in diverse fields, such as politics, administration, education and religion.
Since December last year, top BJP leaders began visiting ancestral homes and workplaces of several Bengal icons in a desperate bid to shed the "outsider" label. But Radhanagar and Raghunathpur did not make the cut.
The Trinamul Congress has tried turning this into yet another plank to corner the BJP over its alleged lack of understanding of and respect for Bengal and its complex ethos.
BJP chief J.P. Nadda had attended a roadshow in Pursurah on March 31, less than 18km from Radhanagar, and Union home minister Amit Shah had come to Arambagh for a roadshow, around 22km from Roy's ancestral home.
"The senior BJP leaders visited these places several times since January but they never stopped by the birthplace or ancestral home of Raja Rammohan Roy…. They have been avoiding his legacy as he had fought superstition to eradicate social evils. The saffron camp wants to restore the nation to the dark ages before the Bengal Renaissance," said Trinamul's Hooghly chief Dilip Yadav, also the party's Pursurah candidate against the BJP's Biman Ghosh.
Yadav pointed out how chief minister Mamata Banerjee almost never forgets to mention Roy or hail his contribution, especially towards the empowerment of women.
The BJP claimed that there was a plan to get Uttar Pradesh chief minister Yogi Adityanath to visit the two sites in Khanakul on Sunday, but it was cancelled over security concerns.
"Our senior leaders will certainly visit the place soon," said Asit Kundu, a BJP state committee member. Asked why Nadda or Shah didn't visit despite being in the vicinity, Kundu said: "The place had been assigned to Yogiji."
Historians said Roy was never expected to be a priority of the Sangh parivar as he had been directly opposed to its Hindi-Hindu-Hindustan school of thought.
"They cannot really stomach Rabindranath Tagore or Netaji Subhas Chandra Bose either, but given the two icons' omnipresence in the Bengal ethos, the saffron ecosystem hails them for factors other than their glorious secular, inclusive, pluralistic, even socialist vision, and go out of their way to painstakingly underscore their Hindu identities," said a Calcutta-based political scientist, unwilling to be named as he works for a central institution.
"They used to ignore Rammohan Roy and Ishwarchandra Vidyasagar for similar reasons till the summer of 2019. Then the (May 14, 2019) vandalism of the Vidyasagar bust took place on the sidelines of an Amit Shah rally during the Lok Sabha polls. They realised what an emotive issue Vidyasagar still was, and the BJP has been tripping over itself in paying homage to him," he added. 
Two centuries after Roy, Hooghly remains a pluralistic district, with the Islamic shrine Furfura Sharif — the tomb of Hazrat Abu Bakr Siddique — and Tarakeshwar — a temple to Lord Shiva — coexisting 30km from each other.
Trinamul lost some ground to the BJP in the Lok Sabha polls in 2019 when it trailed in eight of the 18 Assembly segments.
Trinamul has grown in Hooghly since the anti-land acquisition movement in Singur in 2008. "But we had trailed even in the Singur Assembly segment in 2019…. We are working hard to win from Singur this time as it is an emotive issue for our leader and the party," a Trinamul source said.
Hooghly, which borders Howrah, Bankura, East Burdwan and West Midnapore, usually sees an impact of the political crests and troughs in neighbouring districts. "Bankura and West Midnapore, for instance, have become strong bases of the BJP…. Hooghly is becoming one rapidly," said a district BJP leader.