Assembly polls 2021: Violence erupts in 5 north Bengal districts
Two persons died and some others, mostly BJP supporters, suffered injuries and loss of property in Cooch Behar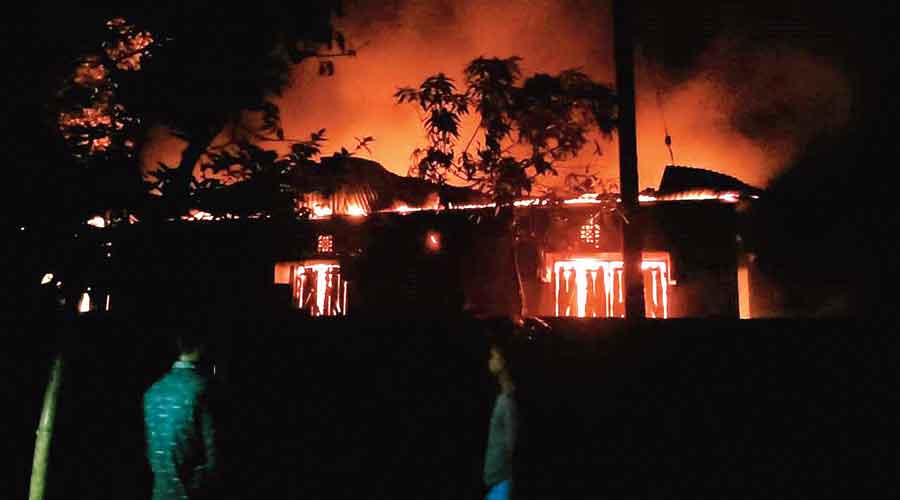 The home of a BJP supporter in flames, at Jharbari in Chopra of North Dinajpur, on Sunday night
Telegraph picture
---
Siliguri
|
Published 04.05.21, 02:06 AM
|
---
Two persons died in Cooch Behar on Monday as violence erupted in at least five districts of north Bengal, with Trinamul and BJP supporters clashing in a number of places, after results of Assembly polls were declared on Sunday.
Some others, mostly BJP supporters, suffered injuries and loss of property in Cooch Behar and elsewhere.
Haradhan Roy, 30, a BJP worker in Jamadarbos village under Sitai Assembly seat of Cooch Behar, was suspected to have been lynched on Monday afternoon.
Bharatibala, his mother, accused Trinamul supporters.
"He went out in the morning. I spoke to him a couple times later but in the afternoon I was told he was lying dead nearby. Trinamul supporters have beaten him to death," she said.
A Dinhata police team has started a probe.
Earlier in the day, Manik Maitra, 20, of Naotabas village under the Sitalkuchi seat, was hit by a bullet when he came in between raging groups of Trinamul and the BJP. Rushed to Dinhata subdivisional hospital, doctors pronounced him dead. 
In Chopra block of North Dinajpur, suspected Trinamul supporters attacked the houses of BJP supporters and indiscriminately ransacked shops in Sonapur, Daspara, Majhiali and Chopra on Sunday evening. In their frenzy, they did not even spare shops of Trinamul supporters, residents alleged.
"We are Trinamul supporters for years but goons ransacked our shops too. We want to know from Hamidul Rehman (the local MLA who has won this time too) why such incidents are happening," said Mina Saha, a shop owner.
Violence spread in some other areas of Chopra block. A BJP office was ransacked and the house of a BJP supporter was torched in Jharbari area. Police brought the situation under control.
"Since Sunday evening, Trinamul supporters are roaming around in groups and organising attacks on our people across North Dinajpur. We want the police to take steps," said Basudeb Sarkar, the district BJP president.
Priti Ranjan Ghosh, the block Trinamul president of Chopra, denied the charges.
In South Dinajpur, Gopal Ghosh, a BJP leader in Dhalpara under Hilli police station, was attacked by goons on Sunday evening. He ended up with a skull fracture. The district BJP leadership blamed a couple of local Trinamul leaders.
In Gangarampur block, BJP offices and houses of BJP supporters were ransacked in three villages of the block. On Monday, a BJP delegation met district police chief Debarshi Dutta for his intervention.
Similar attacks and arson have been reported in Alipurduar and Cooch Behar where the BJP has won most seats.
On Sunday evening, violence broke out in Dasarathpally, in ward 44 of Siliguri Municipal Corporation, one of the added wards under the Dabgram-Fulbari seat the BJP wrested from the region's Trinamul stalwart Gautam Deb.
BJP workers alleged that Trinamul supporters raided the area, damaged a couple of vehicles and attacked the houses of BJP supporters and beat up BJP worker Chinmoy Sharma. District Trinamul leaders denied the party's hand and asked the police to find out facts.