Bengal Polls 2021: North 24-Parganas villagers allege central force firing
Residents of Karalgachha in Deganga Assembly seat pointed to a hole on the ground, which they said was made when a jawan shot at the ground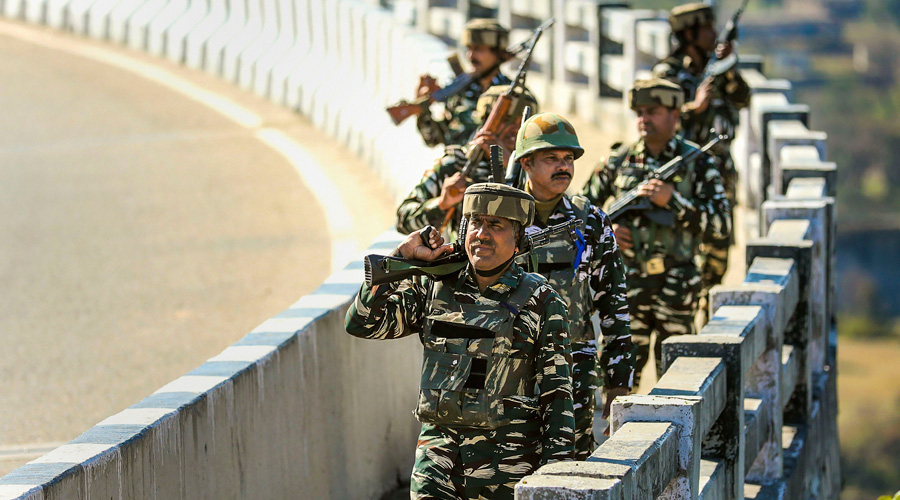 Paramilitary personnel take out a route march at Memari in East Burdwan.
File picture
---
Burdwan, Deganga
|
Published 18.04.21, 12:55 AM
|
---
A group of villagers in Deganga in North 24-Parganas accused the central forces of firing without provocation during the fifth phase of election on Saturday, a week after the April 10 Sitalkuchi firing by the CISF that had left four voters dead.
A police inquiry later failed to establish Saturday's alleged firing by the forces.
However, residents of Karalgachha village in Deganga Assembly seat pointed to a hole on the ground, which they said was made when a jawan fired on the ground.
"We were sitting in front of a camp of Sanjukta Morcha-backed ISF candidate Karim Ali. A group of jawans suddenly got out of a car and started chasing us with batons. We started fleeing...I saw a jawan firing on the ground. We ran over the paddy field to save our lives," Sheikh Sariful, a 35-year-old supporter of the ISF said.
Sariful said he had never seen such high-handedness of men in uniform and got scared thinking of the Sitalkuchi firing.
"We know no one can assemble within 100m of the polling station and we were sitting at least 200m. I heard the sound of firing and saw a jawan had aimed his gun on the ground. I saw him collect bullet shells from the paddy field," added Sariful.
ISF candidate Karim Ali filed a complaint with the Election Commission after villagers informed him about the alleged firing.
"A police team headed by the inspector-in-charge of Deganga and SDPO went to the spot and interrogated the central forces and the presiding officer of the booth but did not find truth in the allegation," said a police officer.
SP of Barasat Police district Raj Narayan Mukherjee sent a letter to the special police observer Vivek Dubey, saying the allegation is found to be "not based on facts".
Though the Deganga allegation could not be established, Trinamul on Saturday lodged at least 43 complaints with the EC, accusing the central forces of favouring BJP candidates or supporters in Nadia, East Burdwan and North 24-Parganas.
On Thursday, Trinamul MP Mahua Moitra shared a picture on social media where a BJP candidate from Ranaghat North-East seat was purportedly lunching with central force jawans.
Trinamul chief Mamata Banerjee on Saturday urged the central forces not to work for the BJP. "Jawans of the central forces are seen lunching with a BJP candidate. You may have lunch but my appeal is do it after polls. BJP leaders are maligning the image of the central forces," she said from her rally in East Burdwan's Purbasthali. "I request you to work impartially and not to follow the BJP's diktats."
"If something happens, then a case will be started against you and you will have to visit here repeatedly. It will be like Sitalkuchi where a case would be lodged against the jawans who fired...We know about your work and contribution and we respect you, but don't follow the BJP's diktats," Mamata said.