What about PM pitch for simultaneous elections?
BJP fields serving MPs as candidates for the Bengal elections
Move prompts questions on the party's bench strength in the state and triggers expressions of discontent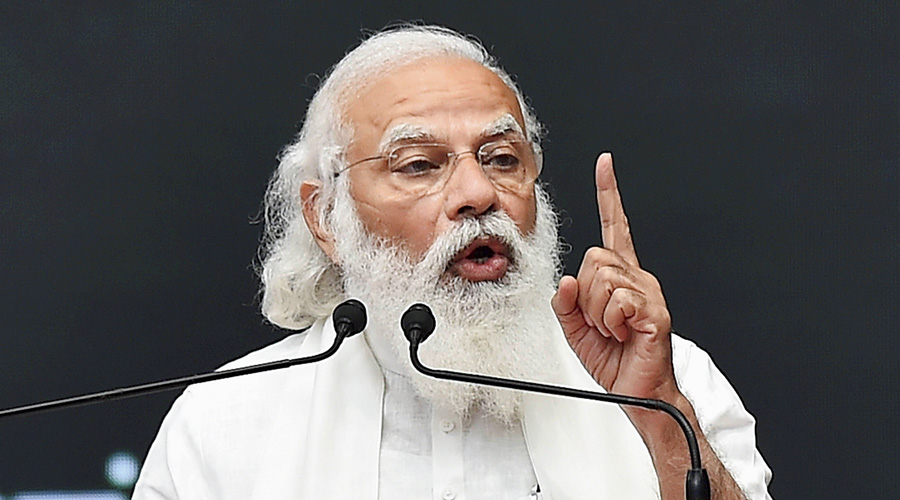 The list was announced after several days of deliberations in New Delhi in the presence of Prime Minister Narendra Modi and Union home minister Amit Shah
File picture
---
Calcutta
|
Published 15.03.21, 01:53 AM
|
---
The BJP has fallen back on a pool of serving MPs and turncoats to come up with an incomplete list of candidates for the third and fourth phases of the Bengal elections, prompting questions on the party's bench strength in the state and triggering expressions of discontent.
The list announced on Sunday features 63 names although 75 constituencies will go to the polls over these two legs, leaving 12 seats to be assigned candidates at a later date. The list was announced after several days of deliberations in New Delhi in the presence of Prime Minister Narendra Modi and Union home minister Amit Shah.
Within an hour of the names being announced, protests were reported from party workers and leaders on the ground in Singur, Uttarpara, Raidighi and Behala East.
Locket Chatterjee, MP from Hooghly, has been fielded from the Chinsurah Assembly seat; Babul Supriyo, Asansol MP and junior Union minister, from Tollygunge; Nishith Pramanik, Cooch Behar MP and Trinamul turncoat, from Dinhata; and Rajya Sabha member Swapan Dasgupta from Tarakeswar.
A name that stood out was that of economist Ashok Lahiri, who will contest from Alipurduar. A member of the 15th Finance Commission, Lahiri is known for his proximity to the Prime Minister. He is a former chief economic adviser who has served with the World Bank and the IMF.
But the challenge of hard-selling Lahiri to the electorate became apparent moments later, with the BJP district party president Ganga Prasad Sharma saying he knew little about the candidate.
Overlooked for his Behala East seat, Trinamul turncoat and former Calcutta mayor Sovan Chatterjee and his friend Baisakhi Banerjee sent separate letters to the state BJP chief, articulating their pain and informing him they were dissociating themselves from the party. But Chatterjee and his friend have been known to express displeasure in public and then fall in line.
Actress Payel Sarkar, who joined the BJP less than three weeks ago, has been fielded in Chatterjee's place.
At 89, Trinamul deserter Rabindranath Bhattacharya will contest as BJP candidate from Singur.
Other Trinamul defectors who have been given tickets are Rajib Banerjee from Domjur, Prabir Ghosal from Uttarpara and Dipak Halder from Diamond Harbour. Former CPM leader Rinku Naskar has been fielded from Jadavpur while Forward Bloc turncoat Biswanath Karak is the candidate for Goghat.
"First of all, despite so many meetings at the topmost tier of the leadership, not all the names could be announced — again. Second, fielding all these MPs does not send a message of confidence to either the electorate or the party ranks, and it will be used against us by Trinamul," a Bengal BJP functionary said.
Trinamul MP Mahua Moitra rubbed it in with a tweet: "When 'largest global political party' lacks enough faces and strength to announce 294 names in one go for a state it claims it will sweep!"
The choice of MPs also flies in the face of Modi's campaign for "One Nation, One Election", as by-elections will have to be held if these candidates win and move to the Assembly.
"Most important, fielding even last-minute Trinamul deserter Rabindranath Bhattacharya from Singur, depriving those who have served the party loyally for years, has not been well-received…. These things are already allowing Trinamul to accuse us of not having enough decent candidates of our own to field in an election we so badly want to win," said the Bengal BJP leader.
Immediately after the candidates were announced from the BJP's national headquarters, party workers in some places in Bengal took to the streets to protest the selections.
"We are still trying to figure out the logic behind fielding such people. Trinamul's Shantanu Bapuli, who has been fielded by us from Raidighi, is yet to formally join our party. Moreover, we in the BJP have accused him of corruption in handling relief after Cyclone Amphan," a BJP leader said.
Besides nominating Payel from Behala East, the BJP has fielded other actors who are greenhorns in electoral politics, such as Yash Dasgupta from Chanditala (Hooghly), Anjana Basu from Sonarpur South and Tanushree Chakraborty from Shyampur (Howrah).
"These are not easy contests, and experienced politicians would have been better suited to such seats. Unlike Babulda and Locketdi, these newbies have spent little or no time in this arena," a state BJP functionary said.