Voting in seven seats today
The Election Commission has directed officials to arrange two quick response teams for each police station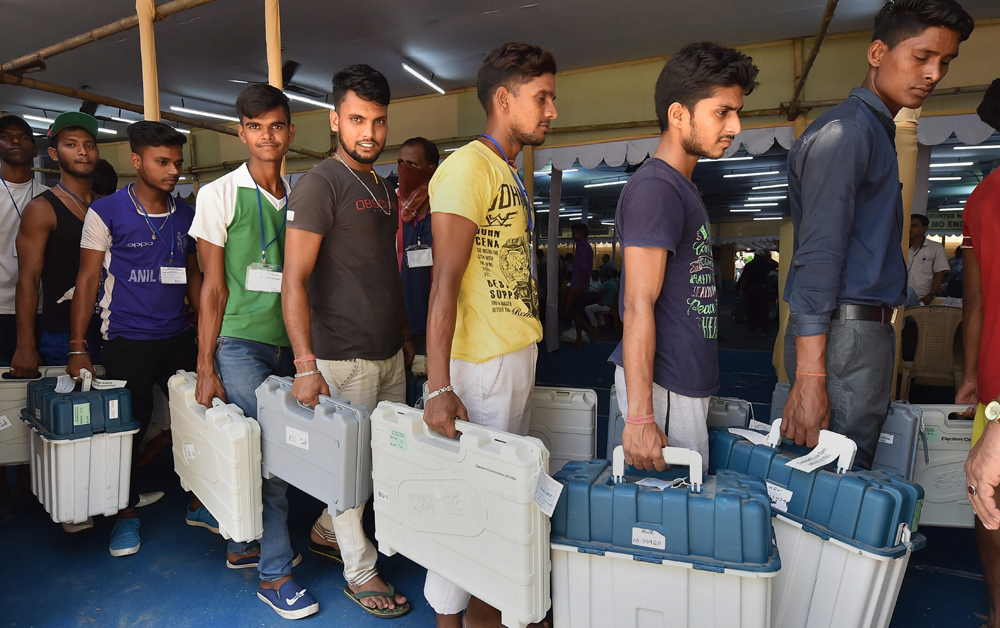 Workers carry EVM and VVPAT machines on the eve of the fifth phase Lak Sabha elections, in Howrah, on May 5, 2019.
(PTI)
---
Published 05.05.19, 08:01 PM
|
---
Seven Lok Sabha seats in Bengal will vote on Monday in the fifth phase of the general election. The Election Commission has directed officials to arrange two quick response teams (QRTs) for each police station, instead of the usual one, in the fifth phase. Each QRT will comprise eight central force personnel. 
Barrackpore
Assembly segments: Amdanga, Bijpur, Naihati, Bhatpara, Jagatdal, Noapara and Barrackpore
Total voters: 14,28,897 (male: 7,37,078, female: 6,91,789, third gender: 30)
Polling stations: 1,567
Polling personnel: 7,521
Critical polling stations: All booths
CPMF: 61 companies
Bongaon
Assembly segments: Kalyani, Haringhata, Bagda, Bangaon North, Bangaon South, Gaighata,
Swarupnagar
Total voters: 16,97,146 (male: 8,70,125, female: 8,26,996, third gender: 25)
Polling stations: 1,364
Polling personnel: 6,547
Critical polling stations: All booths
CPMF: 75 companies
Serampore
Assembly segments: Sreerampur, Jagatballavpur, Uttarpara, Champdani, Chanditala, Jangipara, Domjur
Total voters: 17,83,986 (male: 9,14,863, female: 8,59,085, third gender: 38)
Polling stations: 2,033
Polling personnel: 9,758
Critical polling stations: 160
CPMF: 61 companies
Hooghly
Assembly segments: Singur, Chandannagar, Chinsurah, Balagarh, Saptagram, Dhanekhali, Pandua
Total voters: 17,64,629 (male: 8,90,044, female: 8,74,549, third gender: 36)
Polling stations: 20396
Polling personnel: 9,774
Critical polling stations: 166
CPMF: 70 companies
Arambagh
Assembly segments: Haripal, Tarakeswar, Pursurah, Arambagh, Goghat, Khanakul, Chandrakona
Total voters: 17,62,995 (male: 9,04,546, female: 8,58,431, third gender: 18)
Polling stations: 2,058
Polling personnel: 9,878
Critical polling stations: 205
CPMF: 76 companies
Howrah
Assembly segments: Bally, Howrah North, Howrah Madhya, Shibpur, Howrah South, Sankrail, Panchla
Total voters: 16,29,133 (male: 8,51,006, female: 7, 78,104, third gender: 23)
Polling stations: 1,868
Polling personnel: 8,966
Critical polling stations: not available
CPMF: 166 companies
Uluberia
Assembly segments: Uluberia East, Uluberia North, Uluberia South, Shyampur, Bagnan, Amta, Udaynarayanpur
Total voters: 16,12,276 (male: 8,30,905, female: 7, 81, 330, third gender: 41)
Polling stations: 1,826
Polling personnel: 8,764
Critical polling stations: Not available
CPMF: 151companies