Trinamul show of strength in Falakata
North towns witness walkathons for and against CAA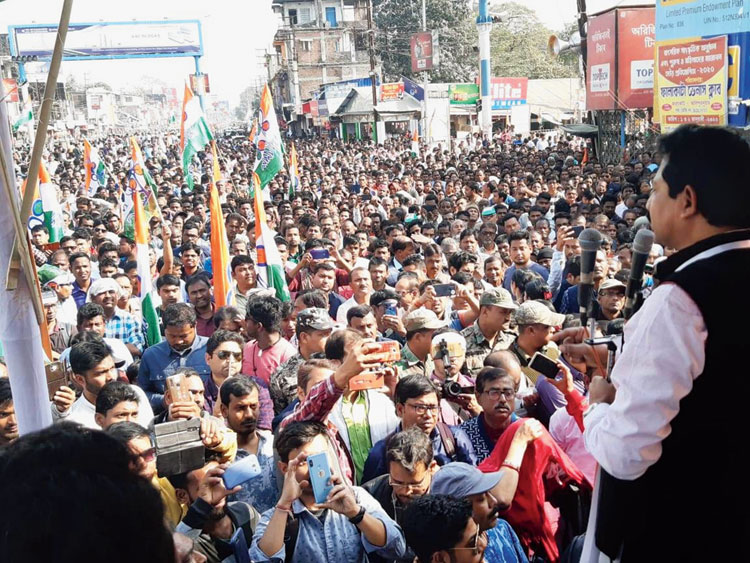 ---
---
The Trinamul Congress organised a procession and a meeting in Falakata on Wednesday to protest the Citizenship (Amendment) Act.
The event attended by around 30,000 people was held around 20 days after the BJP had held a pro-CAA rally in Falakata. Around 20,000 people had taken part in the BJP procession.
State ministers Rajib Banerjee and Purnendu Basu, along with Alipurduar district Trinamul chief Mridul Goswami and Alipurduar MLA Sourav Chakraborty, took part in the march on Wednesday.
The march that started at 1pm from Station More reached Falakata Chowpathi via Dhupguri More. It is the same route which the BJP had used for its march on January 22.
For the past few months, both Trinamul and the BJP have been focussing on the Falakata Assembly seat which is vacant following demise of incumbent MLA Anil Adhikari.
While the BJP is buoyed by its win in Alipurduar Parliament seat, Trinamul is not ready to relent and wants to revive its support base as the byelection can be held at any time.
While addressing party supporters and Falakata residents in general, Rajib Banerjee, the state forest minister and the party's observer for the Alipurduar district, made two major announcements.
"If Trinamul wins the Assembly byelection, Falakata will be declared a municipality within six months. Also, if we again win the 2021 Assembly elections, Falakata will be declared a separate subdivision," said Banerjee.
These are the two longstanding demands of the residents of Falakata.