Tea protest with Trinamul flag in Alipurduar
Around 10am, the workers and their family members blocked the road that brought traffic on the route that connects to Phuentsholing of Bhutan to a screeching halt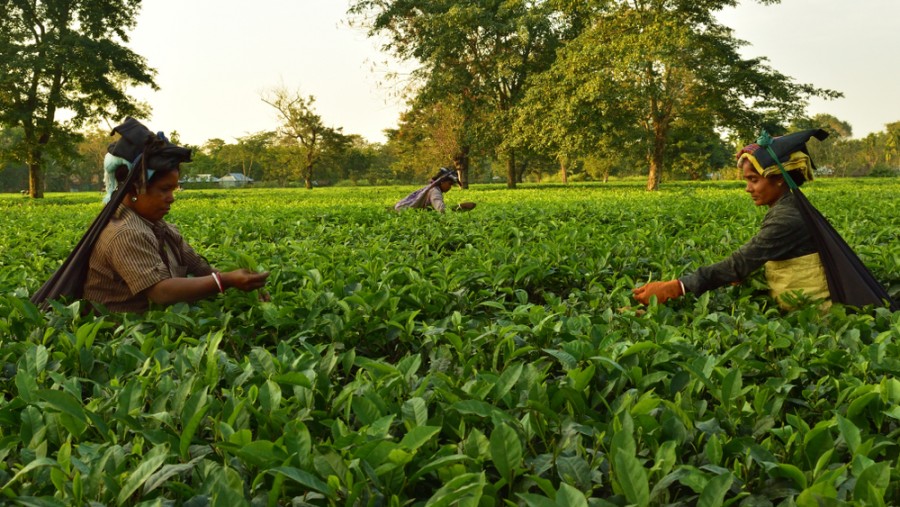 ---
---
Around 300 jobless workers of the closed Madhu tea estate in Alipurduar district on Tuesday blocked the Kalchini-Hasimara road demanding immediate reopening of the garden.
Carrying Trinamul flags, protesters were led by Mrinalini Oraon, a Trinamul member of the Kalchini panchayat samiti from the garden. In all, the garden has around 1,000 workers.
"The tea garden is closed for seven years now and \no proper initiative has been taken by the state so that it reopens. Workers are sitting jobless, some of them have migrated to other places. Being elected representatives of the ruling party, we have to face their questions time and again. That is why we thought of organising the road blockade so that the administration finally makes a move," said Oraon.
Around 10am, the workers and their family members blocked the road that brought traffic on the route that connects to Phuentsholing of Bhutan to a screeching halt.
Demonstrators started shouting slogans and waved placards in support of their demand, prompting the police and Kalchini block administration officials to the spot.
BDO Prashanta Burman spoke to protesters who demanded an immediate meeting with the district administration.
Finally, around 1pm, Burman told protesters that within the next three days, the district magistrate would hold a meeting with a delegation of tea workers on the issue.
The workers agreed to clear the road. Around 1.15pm, traffic resumed along the route as agitators headed home.
"We want to make it clear that if nothing positive comes out of the meeting, we will resume our movement," Oraon said.
The blockade with the party's flag has not gone down well with district Trinamul leaders. Mohan Sharma, chairman, Cha Bagan Trinamul Congress Mazdoor Union, called it "irresponsible".