Soham Gupta crowned Best among Best at ABP Digital's yearly award ceremony
Distinguished personalities across arts, sports and social service felicitated in a special evening at ITC Royal Bengal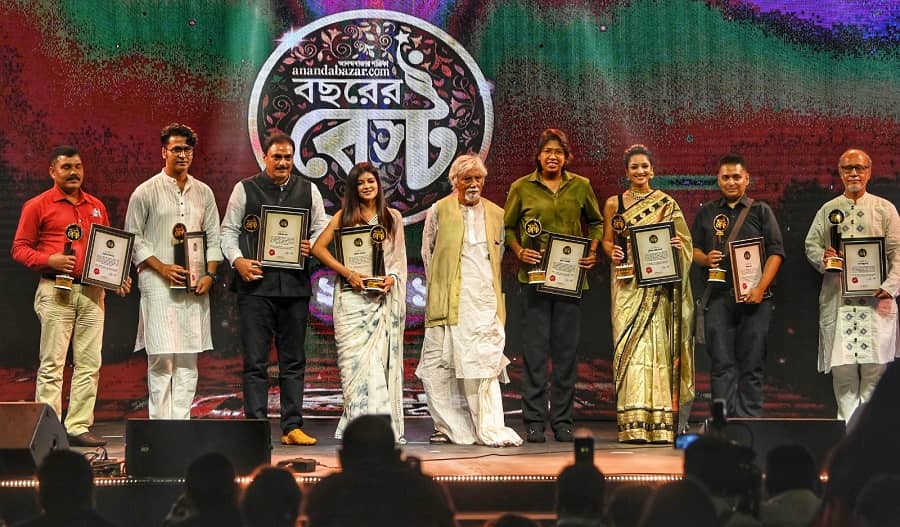 From left to right: Sukumar Upadhyay, Anirban Bhattacharya, Amitabha Ray, Madhumita Sircar, Jhulan Goswami, Susmita Chatterjee, Soham Gupta and Partha Mazumdar pose with their awards on stage alongside ABP Group's Editor Emeritus Aveek Sarkar
Amit Datta
---
Calcutta
|
Published 22.04.22, 09:23 PM
|
---
The best of Bengal and Bengalis shone bright at the second edition of the Bochhorer Best awards, organised by ABP Digital at ITC Royal Bengal on Friday. Graced by the who's who of Bengal, from Prosenjit Chatterjee to Mahua Moitra, Harsh Neotia to Jhulan Goswami, the event witnessed photographer and visual artist Soham Gupta succeed last year's winner Ditipriya Roy as the second recipient of the Shobcheye Best or Person of the Year trophy.
The one-of-a-kind ceremony, which had taken place at the Raj Bhavan last year, witnessed 11 distinguished personalities felicitated for outstanding contributions in their respective fields as part of ABP Digital's Bochhorer Best Ekadosh. Out of these 11, Soham Gupta scooped the most prestigious honour of the evening, presented to him by Ditipriya and Prosenjit. Gupta, who was an invited artist at the renowned La Biennale di Venezia in 2019 and named as one of the world's top emerging photographers by The British Journal of Photography a year earlier, has received widespread critical acclaim for his proficient portrayal of themes like loneliness, abuse and existential dilemmas. "Bengali photographers have been working for a long time, but thanks to the internet and modern technology, more of them are starting to get recognised," said Gupta.
The evening kicked off with a mellifluous rendition of Baandh Bhenge Dao by Anirban Bhattacharya, followed by a welcome address by the ABP Group's Editor Emeritus Aveek Sarkar, who described the awards as "the recognition of the quest for perfection". The first recipient of the Bochhorer Best Ekadosh award was policeman and social worker Sukumar Upadhyay, who received his memento for inspiring work in community development from Mahua Moitra and Dr Abhijit Choudhury.
This was followed by the felicitation of Partha Mazumdar, a scientist who has devoted his life to understanding diseases, including Covid-19, by delving deep into statistics. Mazumdar's award was handed over to him by Dr. Anuradha Lohia and Dr Rudrangshu Mukherjee.
Next in line as part of the Bochhorer Best Ekadosh was Priyanka Bose, an actress who features prominently in the American epic fantasy television series The Wheel of Time besides a string of films in India and abroad. Priyanka could not make it to the ceremony due to prior shooting commitments.
The next recipient of the Bochhorer Best Ekadosh award was restaurateur Anjan Chatterjee, responsible for popularising Bengali cuisine in London through Chourangi and for making Kolkata restaurants like Mainland China and Oh! Calcutta into household names. Chatterjee was felicitated by Paoli Dam and Dona Ganguly. Following this was the presentation of the Bochhorer Best Ekadosh by Manoj Tiwari and Arindam Sil to actress Madhumita Sircar, who has carved out a niche for herself in Bengali television and cinema with memorable performances in Chini and Uttoron recently.
Midway through the ceremony, the distribution of awards took a brief pause as Srabanti Bandopadhyay performed 'Amra Nuton Joubaneri Doot'. The honours resumed thereafter with Amitabha Ray, managing director of Ericsson Global Services India, presented with his Bochhorer Best Ekadosh award by Mohd Salim and Raima Sen for his exemplary leadership in business management. Jhulan Goswami, who became the woman with the most World Cup wickets earlier in 2022, was the next personality to receive her Bochhorer Best Ekadosh award from Chandrasekhar Ghosh for sustained excellence in cricket.
The eighth recipient of the Bochhorer Best Ekadosh honour was Bangladeshi architect Marina Tabassum, who has garnered international praise for her ability to capture the essence of Bangladeshi heritage and culture through her work. Marina could not make it to the ceremony due to her prior commitments as a lecturer.
Anirban Bhattacharya, an actor whose first foray into direction resulted in the resounding success of Mandaar, collected the next 'Bochhorer Best Ekadosh' from Srijit Mukherji and Rupankar Bagchi.
Lastly, actress Susmita Chatterjee, who has already worked alongside several stalwarts of the Tollywood industry, was recognised as part of the "Bochhorer Best Ekadosh', presented with her award by Hirak Bhattacharya.