P.S. Golay looks back on his college days
Sikkim chief minister was in Darjeeling to attend the alumni congress of The Federation of Jesuit Associations of India (north zone)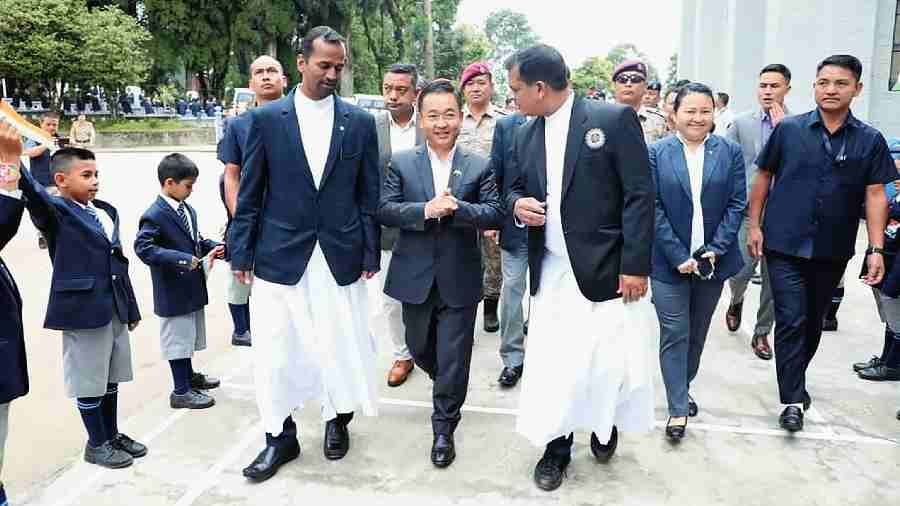 PS Golay, the chief minister of Sikkim, is all smiles at the Jesuit event in Darjeeling on Saturday
---
Darjeeling
|
Published 04.09.22, 01:06 AM
|
---
P.S. Golay shed his chief ministerial mantle before entering St Joseph's School (North Point) on Saturday morning in Darjeeling to walk down memory lane as a college boy in the hill town.
The Sikkim chief minister was in Darjeeling to attend the alumni congress of The Federation of Jesuit Associations of India (north zone).
He made it clear that he would speak as a father of Jesuit alumni and not as the Sikkim chief minister. Golay's sons Aditya and Prabhakar are former students of St Joseph's School (North Point) in Darjeeling and were also present at the event too.
Golay said he was in awe of North Point during his college days. "When I used to pass the gates of North Point then, I would think I'd be lucky if I entered the gates of this hallowed institution," said Golay.
In a nostalgic mood, he said: "I am in a WhatsApp group of friends from college and last evening (Friday) I told them I am very happy that I will be visiting Darjeeling."
The Sikkim chief minister studied BA at the Darjeeling Government College from 1985 to 1988 and seemed to know the place like the back of his hand.
"We used to go to Chowrasta and every time we used to reach the Loreto College, now called Southfield, the girls would taunt us government college boys and we would engage in a verbal duel," said Golay.
He talked about his stay at Lepcha Busty, a rural area on the outskirts of Darjeeling, and later at Ropeway near North Point School.
"At Lepcha Busty, I'd collect grass during weekends and hitch rides on trucks to attend college from there. In the evenings, I would run down tea gardens to reach home," said Golay.
He acquired a taste for alu dum and chira (beaten rice) from street food stalls of Darjeeling, he said, adding that he relishes them till date.
The chief minister said that he was always willing to help people from Darjeeling on "social issue".
Fr Stanley Varghese, rector, North Point said that the Sikkim chief minister has decided to build an over bridge to connect the school with the main playground.
"This is his contribution as a parent of Jesuit alumni. He has further promised a first-of-its-kind project for North Point, which is a secret now and will be announced during the inauguration of the overbridge," said Fr Varghese.
Vikram Rai, founder of the social outfit Vik-Run Foundation, said Golay donated oxygen concentrators and a truckload of food items and clothing to the North Point Covid centre during the pandemic.
Golay said he was once saddened when his school in Soreng did not invite him for a jubilee celebration as he was an Opposition leader. "Such was the atmosphere in Sikkim earlier," said Golay.
Things in Darjeeling seem to be changing. On Friday, political rivals Anit Thapa and Ajoy Edwards shared the stage at North Point.
Edwards, an alumnus of North Point, was also present when Golay reached the school.