Senior doctors found absent from hospital
DM visits Malda medical facility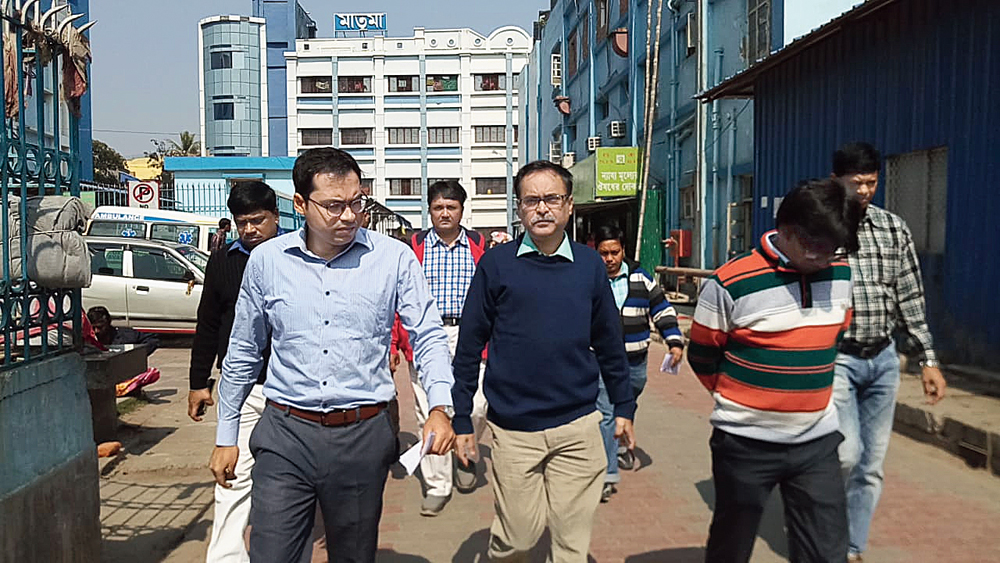 ---
|
Malda
|
Published 13.02.20, 08:20 PM
---
No senior doctor was present at the Malda Medical College and Hospital and the entire facility was being managed by junior doctors when Malda district magistrate Rajarshi Mitra made a surprise visit to the institution around 11am, considered to be a peak period, on Wednesday.
Duty-roster of doctors was also not found and sources said doctors at times fixed their duty hours through WhatsApp.
Mitra paid a surprise visit to the hospital, along with additional district magistrate (general) Ashok Modak.
"The duo were surprised that no senior doctors were found. The entire treatment was being managed by junior doctors and house-staff," said a source at the hospital which has 1,200 beds.
The principal, Partha Pratim Mukherjee, vice-principal-cum-superintendent, deputy superintendent and assistant superintendents, were absent, the sources said.
However, Mukherjee and some other officials hurriedly went to the campus and accompanied the DM to the male, female and surgical wards. The sources said the hospital officials had failed to provide the duty-roster of doctors to Mitra. "Even the principal was in dark about the roster," said the source.
The principal reportedly said the roster was prepared department-wise and it was available with various departments.
An administrative official, however, said: "In case of any untoward incident, the administration has to speak to the head of the institution (principal) and, hence, the head should be aware of the details." The principal was later summoned to the district magistrate's office and advised to maintain and monitor the duty-roster personally.
Mukherjee admitted that he was asked to maintain that duty-roster centrally.
A senior doctor of the hospital, however, said doctors should not be blamed arbitrarily. "After taking a round of the ward, I left for a personal work when the administrative team visited. Doctors should not be blamed arbitrarily," he said.
The sources said some officials, including medical superintendent cum vice- principal Amit Dan, had been on leave for the past few days.
District Magistrate, Mitra, merely said: "If there are lapses, these have to be corrected. Better services are our concern and we are trying to ensure them."
However, the sources said the DM had sought a report from the MMCH authorities and the same would be forwarded to state health officials with observatory remarks of the district administration by the end of the week.