Santiniketan holds small Basanta Utsav fairs
Restriction on festival at Visva-Bharati fails to dampen spirit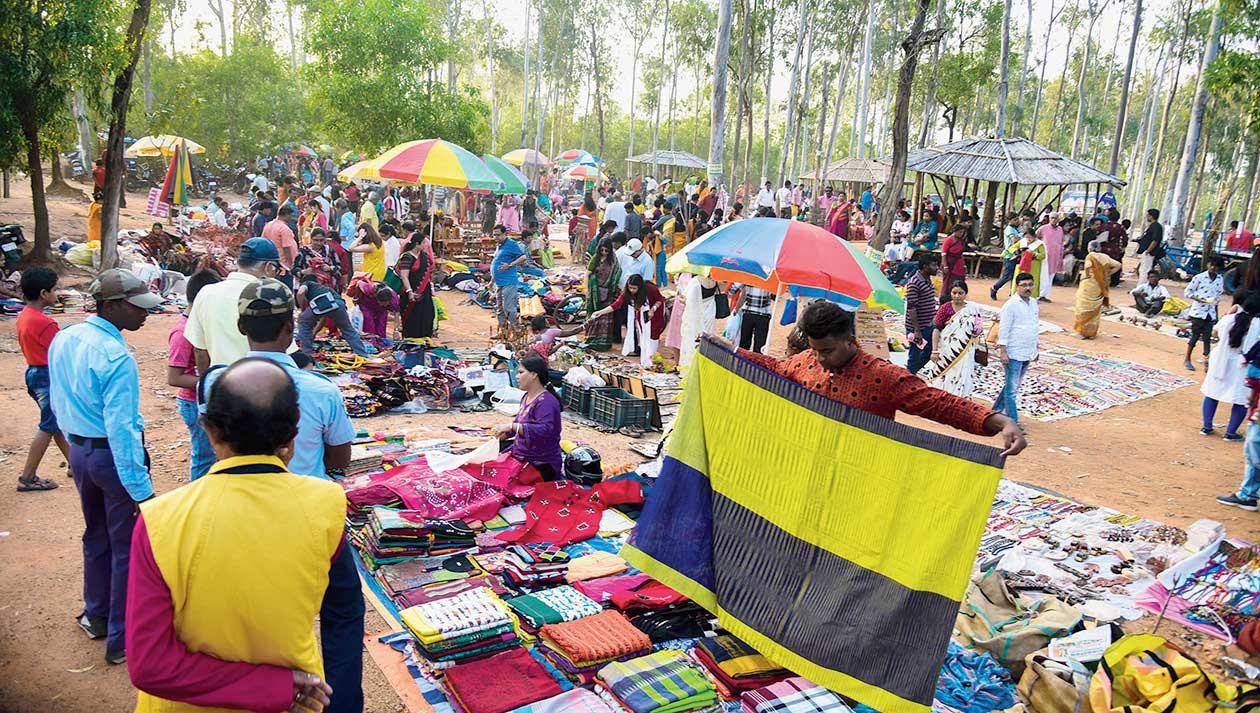 ---
---
After Visva-Bharati cancelled its annual festival of colours, Basanta Utsav, this year over University Grants Commission's guidelines that advised against the conduct of mass gatherings on campuses over fear of a novel coronavirus outbreak, dozens of smaller versions of the festival are being organised on the outskirts of Santiniketan.
This year, the Mamata Banerjee government sanctioned around Rs 82 lakh for organising the festival, after Visva-Bharati announced it could not organise such a big event on the day of Holi because of paucity of funds and infrastructure.
However, on March 6, after a four-hour long executive council meeting, the central varsity declared it would not allow the event to be held in order to avoid the mass gathering, over novel coronavirus concerns.
A group of hoteliers, students, former students and even the local folk artistes have started organising smaller festivals with the message that Santiniketan will celebrate — no matter what — in its own style.
Prabip Chowdhury, owner of a private hotel and resort in Ballabhpur, organised a programme after the mega event was called off by the varsity.
"Thousands of visitors are coming to Santiniketan for this. After a group of people from Santiniketan and Calcutta floated such a proposal, we planned our own little festival, in our resort , where we are asking all to attend the event without any entry fee. How can we let people down on Basanta Utsav?" he asked.
After cancellation of the festival, an exodus of students from hostels was reported. The students, who usually stay in Santiniketan for the festival, went home instead for the holidays.
"Basanta Utsav is an event where all students used to stay on campus, their families and friends used to visit. This time, most of the students left. A few of us who stayed back have planned a small festival outside campus," said Shreya Chakraborty, a student of Japanese.
On Saturday evening, the proctor of Visva-Bharati issued an order that no student, including its hostel boarders, would be allowed to play with colours even among themselves in the campus, as the varsity is avoiding such gatherings.
Several folk artistes are going to conduct small-scale events for Basanta Utsav.
Joga Khyapa Baul, a Baul singer in Santiniketan, has organised such a programme in his tent in the Shyambati area, where he also arranged for a cultural get-together and lunch.
On Sunday afternoon, popular tourist destination of Sonajhuri-Khoai belt was inundated with tourists. Those who had made reservations for Basanta Utsav had no option but to get there anyway, in the absence of refunds. "The hotel owners said there would be no refunds. So we came here anyway. It is delightful that mini festivals are being held all around us,"said Tanushree Roy, a state government employee from Calcutta.
Police officials said they would keep stern vigil on pockets such as the banks of Kopai and Sonajhuri, to prevent untoward incidents.
"Despite the cancellation of the main event, we are keeping a close watch in and around Santiniketan," said Shyam Singh, the Birbhum district police chief.