'Safe' cracker, fatal blow
5 year old died after a splinter of the tubri got stuck in his throat following an explosion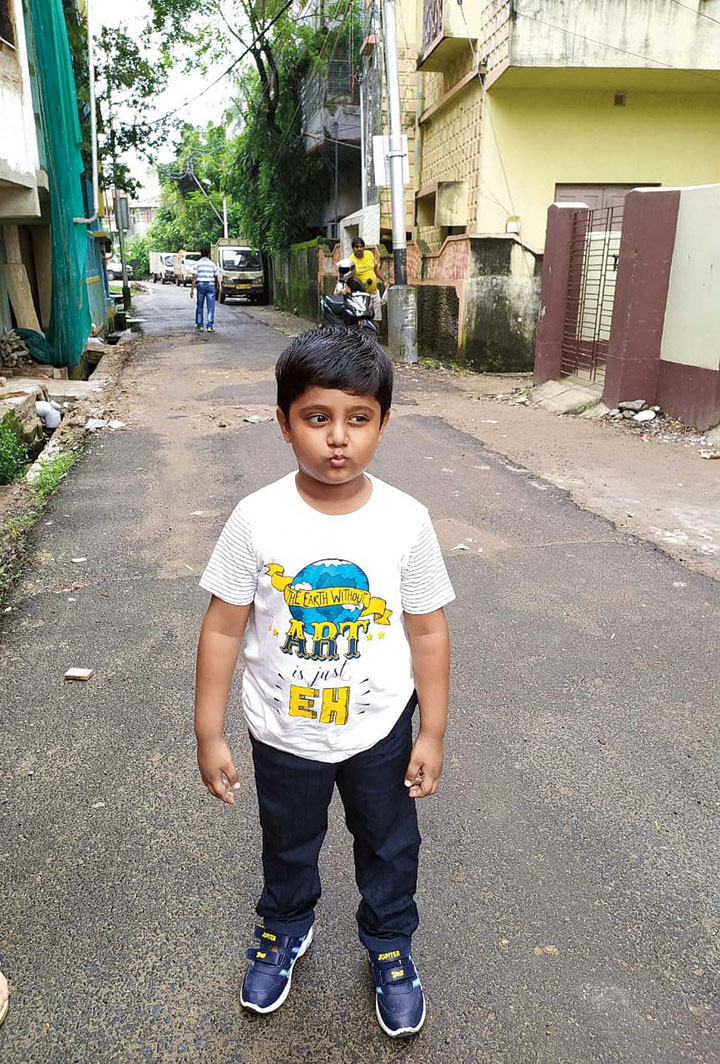 Adi Das before the tubri exploded on Sunday
Telegraph Picture
---
Calcutta
|
Published 28.10.19, 09:50 PM
|
---
Adi Das, the five-year-old from Haridevpur who died after a tubri exploded on Sunday evening, was insisting on lighting a firecracker that would fly into the air.
His guardians, however, thought such a firework would be risky and instead settled for a tubri (flowerpot).
"Adi's aunt tried to reason with him that it was not a good idea to light a cracker that would fly into the air. To assuage him I came up with the idea of lighting a tubri. I asked one of our neighbours to light it," said Champa Das, the child's paternal grandmother.
Adi died after a splinter of the tubri got stuck in his throat following an explosion.
"Had I not thought of lighting a tubri, my grandson would have been alive today," an inconsolable Champa said on Monday.
Adi was the only son of Kajal, who works as a guard at a housing complex, and Chandra, a homemaker. The family lives at a rented apartment on the ground floor of a building at Vidyasagar Pally in Haridevpur. The grandmother stays in a rented accommodation across the road.
Rumpa Dutta Ray, the neighbour who lit the tubri in front of her house, said Gopal (Adi's nickname) was standing behind Chandra.
"My younger daughter Jinia was by my side. As I lit the tubri, it exploded with a deafening noise and threw splinters all around. Kakima (Chandra) immediately looked behind to find out whether Adi was safe, only to find the child lying unconscious on the road. Blood was gushing out of his throat," recounted Ray.
Jinia, too, suffered splinter injuries, close to her right eye.
"As we raised the alarm, Kajal came rushing down and picked up his son. Someone on a bike took Adi to Vidyasagar Hospital but he could not be saved," another neighbour said.
Neighbours alleged the tubri was manufactured by Bijoy Sardar, a local vegetable vendor. He sold the firework to Barun Roy, a fish-seller, from whom Champa bought it.
The greengrocer and the fish-seller have been arrested under the explosives act — which regulates manufacture, possession, use, sale, transport, import and export of explosives — and various sections of the Indian Penal Code.
If convicted, the two can be sent to jail for up to 10 years.
"Bijoy sold tubris to 10 other vendors. There is no evidence yet that he had prepared them. An investigation is on.... There is no order that bans the sale of tubris," an officer of Haridevpur police station said.