Rajbanshis 'renew' Kamtapur pitch
Protesters block highways venting their ire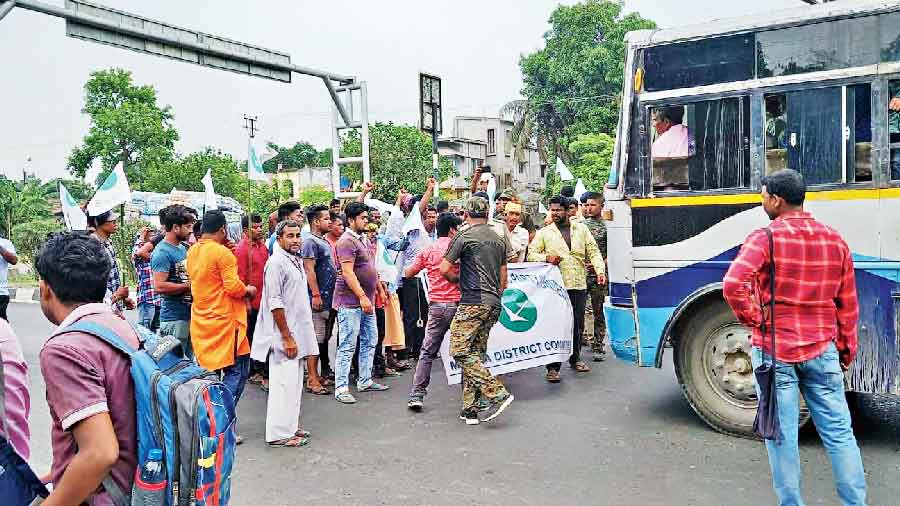 Kamtapur supporters in Malda
Soumya De Sarkar
---
Siliguri
|
Published 13.05.22, 02:05 AM
|
---
Hundreds of supporters of the Kamtapur Peoples' Party (United) hit the highways in a number of locations across north Bengal on Thursday and blocked roads to demand for Kamtapur state, the protests compounding the problems for Mamata Banerjee who is expected to visit the region later this month. 
"North Bengal has been deprived for decades in all aspects and we believe the region cannot grow unless a separate state is carved out of it. We have organised the blockade to mark renewal of our movement. Such demonstrations will continue," said SubhashChandra Barman, general secretary of the party known for its support base among the Rajbanshis.
Barman, along with 300-odd supporters, blocked NH12 at Ghaksol under Gazole police station in Malda around 10.30am. Another blockade on a state highway at Bamangola of the district was seen for a brief duration. As the blockade at Ghaksol halted traffic on the highway, police asked protesters to clear the road.
"As we went on protesting, police resorted to lathicharge and detained our leaders and workers," alleged Barman. Police, however, denied the charge and said they had pushed protesters off the highway. 
Similar protests were seen at Fatapukur near Siliguri, Dashdarga and Dhupguri in Jalpaiguri and Khagrabari, the principal entry point to Cooch Behar town. Political analysts of the region said that the blockades indicate that the Rajbanshi organisations, which want statehood, are trying to raise the pitch ahead of the chief minister's visit. "There had beena slackening in activities of these Rajbanshi outfits during the past few years. But now, they are resuming political activities. This is significant," asserted Soumen Nag, a social researcher in Siliguri.
North Bengal has been a difficult terrain for Trinamul. This is because the BJP, that advocates creation of smaller states, has emerged as a political force to reckon with in the region and has managed to win a number of seats in the Lok Sabha and Assembly. A number of BJP legislators from the region have publicly advocated for separate statehood, even despite differences within the saffron camp on the issue. "Such assertions have come as a fresh poser for the chief minister and Trinamul as many communities here have raised this demand time and again," said a Trinamul functionary in Siliguri. Over the years, Mamata has played the development card and has taken a series of initiatives to meet the demands of these communities, such as development boards, language academies and infrastructure.   
"She could make allies even in the hills because of this, and most hill parties, instead of speaking about Gorkhaland, want to take part in the GTA polls," said a senior Trinamul functionary in Siliguri.