Raj Bhavan deplores Speaker's remark
The statement was released on a day when Trinamul sources said the government was considering to move a censure motion against Dhankhar in the Assembly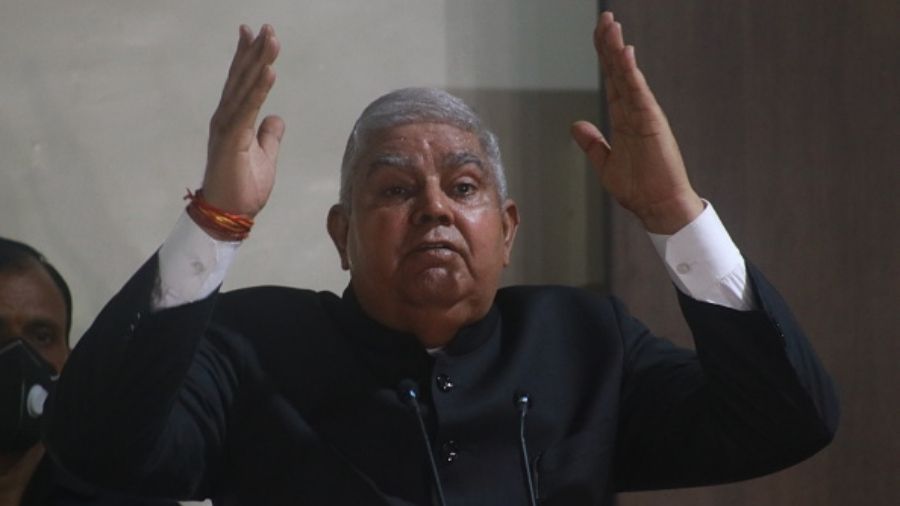 Jagdeep Dhankhar
File photo
---
Calcutta
|
Published 29.01.22, 01:17 AM
|
---
The chasm between governor Jagdeep Dhankhar and Assembly Speaker Biman Banerjee deepened on Friday with Raj Bhavan terming as "unfortunate and unconstitutional" the Speaker's remark that the governor would have to spell out the reason if he wanted to come to the Assembly on his own.
The Speaker's remark, which was made on the sidelines of the Republic Day parade on Red Road, had its genesis in Dhankhar's diatribe when he castigated the state government on the law-and-order situation in Bengal and attacked chief minister Mamata Banerjee, Biman Banerjee and senior civil servants while speaking to reporters on the Assembly premises on Tuesday.
"The situation in Bengal is so dangerous that there is no rule of law. There is the  rule of the ruler here.... There is a fear of the ruler here.
This is a cause of concern for me as the governor of the state," Dhankhar had said
on the occasion of National Voters' Day and after paying floral tributes to the statue of B.R. Ambedkar in the Assembly.
Banerjee, who was within hearing distance of Dhankhar when he made the comments, had criticised the governor, terming his statements as "unwarranted" and "extremely discourteous".
Banerjee on Wednesday said he had asked for footage of the governor's press meet held on the Assembly premises and added that in future he might seek to know the purpose of Dhankhar's visit to the House other than those mandated by the Constitution.
Reacting to Banerjee's comments, Raj Bhavan on Friday issued a statement and took on the Speaker for his stance regarding the governor's visit to the House.
"Speaker observations emanate out of ignorance or deliberate defiance of constitutional essence and spirit," the statement issued by Raj Bhavan stated.
Referring to Article 168(1) of the Constitution, the statement contended that the governor was an integral part of the legislature and added that the Speaker had "obvious ignorance" about the provision. Dhankhar said that the Speaker's "thought process" sought to "impart perception that assembly precincts are his 'fiefdom'".
Listing issues raised by the governor that the Speaker has not responded to, Raj Bhavan's statement said that on several occasions in the past Banerjee had conducted himself in an "unconstitutional manner".
Raj Bhawan's statement was released on a day when Trinamul sources said the government was considering to move a censure motion against Dhankhar in the Assembly.
Reacting to the statement issued by Raj Bhavan, Trinamul MP Santanu Sen said: "Who is the governor to say such things? He is the one who doesn't follow procedures laid down in the Constitution."
Hitting back at Sen, BJP leader Samik Bhattacharya said: "Trinamul considered itself above the Constitution. The governor's effort to show reason to the ruling party will go in vain."