Rain racks Mirik in Darjeeling district
A road that connects the town from Alley Ground remained closed for hours as landslides occurred along the route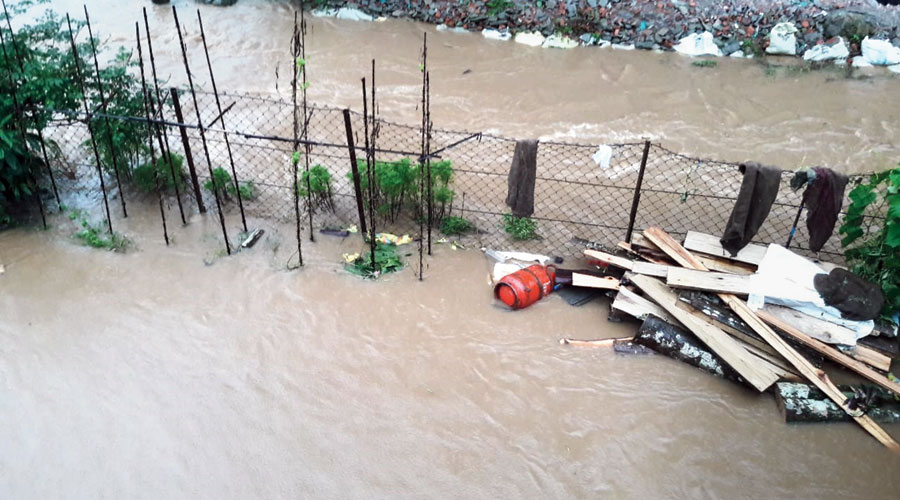 ---
Published 22.09.20, 02:05 AM
|
---
A number of localities at Mirik in Darjeeling district were waterlogged and minor landslides occurred after a sudden bout of heavy rain on Monday.
A road that connects the town from Alley Ground — a prominent area in Mirik —remained closed for hours as landslides occurred along the route.
"Around 8am today (Monday), it started raining in Mirik and the surrounding areas. Areas like Mahendragaon, Sorasaley and Krishnanagar of the town were mostly affected. At least five houses in wards 8 and 9 were damaged. We visited the affected areas and assured residents of all help," said L.B. Rai, the chairman of Mirik municipality.
"A landslide had occurred on the Alley Road. As a result, traffic came to a halt for around four hours along the road. Later in the day, the debris was cleared," he added.
The picture shows a submerged road in the town.
The waterlogging have made the residents flag issues like poor drainage system in some areas of the town like Krishnanagar that is adjacent to the famous Mirik Lake.
Along with Rai, Mirik subdivisional officer Ashwini Roy also inspected the affected spots.
"Waterlogging was reported in Krishnanagar because the drains get clogged. Later, we could drain out the water. A report on the damage will be sent to the state government," said an official.
Mirik is around 50km from Siliguri.
Outside the Mirik town, waterlogging was reported from Bunkulung and Soureni.
"The India Meteorological Department has issued an alert of heavy rain across north Bengal in the next two-three days. There are chances of landslides in the hills. We are on alert and officials posted in various blocks have been asked to be prepared," said an official of the Kalimpong district administration.