Panel to tag buildings for demolition in Bowbazar
Hydraulic lift, gateway to home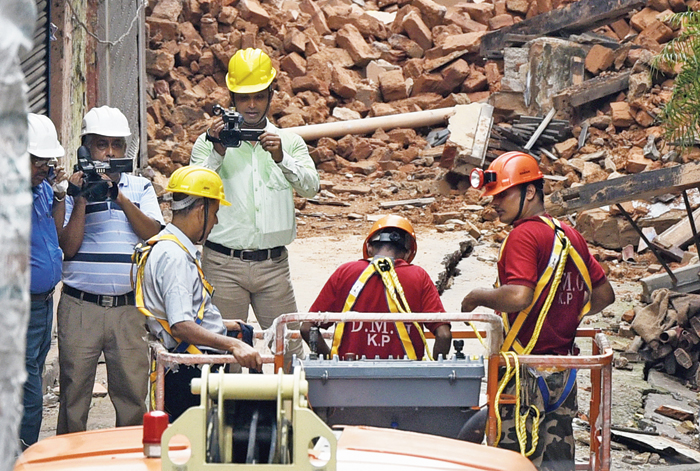 ---
|
Calcutta
|
Published 09.09.19, 09:57 PM
---
The East-West Metro authorities on Monday started preparations to pull down some of the buildings in Bowbazar that have been damaged beyond repair because of subsidence.
Highlights of the day from Bowbazar
Some residents were allowed access to what used to be their homes
Personnel moved into narrow lanes, where trucks cannot enter, to remove debris with their hands
A committee headed by an emeritus professor of Jadavpur University's civil engineering department started the process to identify the buildings that can be restored and the ones that need to be demolished.
A machine that was boring an East-West Metro tunnel in Bowbazar had hit a giant aquifer on August 31. Water from the aquifer flooded the tunnel, leading to widespread subsidence.
Officials of Kolkata Metro Rail Corporation, the implementing agency of the project, said 64 buildings had developed cracks and more than 600 people had to be evacuated.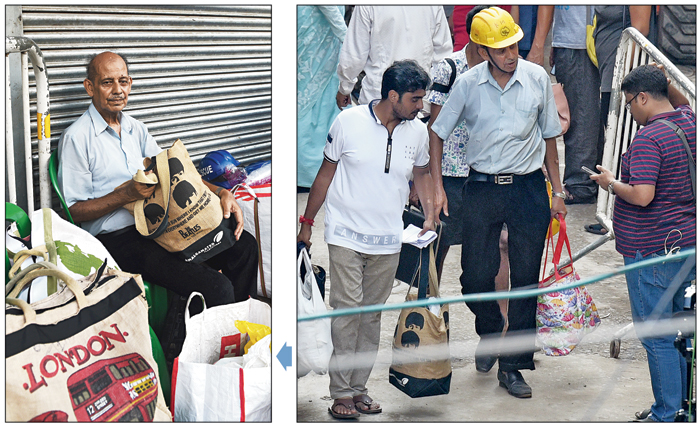 "We will decide how many buildings need to be pulled down. It is not enough to look at a building and conclude whether it is safe or not. We have to conduct tests," said Nitin Som, the emeritus professor of JU.
On Monday, some engineers positioned themselves before a hydraulic lift that was taken to Durga Pituri Lane, one of the affected roads in Bowbazar, to lift some residents so they could reach the floors where they lived and pick up their items. Most of the affected houses have their entrances blocked by debris from adjacent buildings.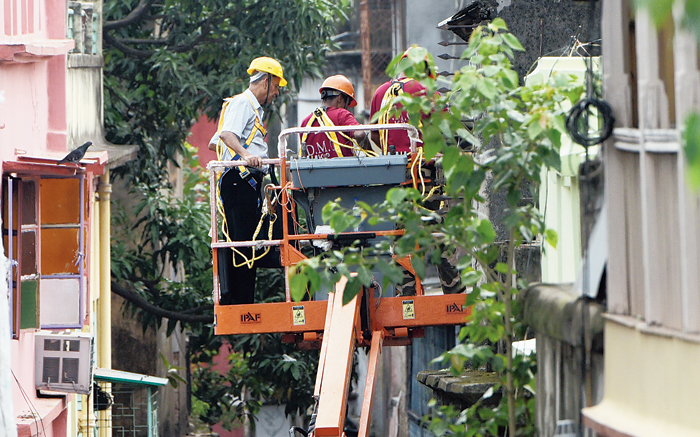 Some of the residents taking the lift-ride had harnesses fitted to them and each was guarded by two personnel from the Disaster Management Group.
"I had several sets of documents inside two almirahs. I took them out, along with some garments and utensils," said a resident of Durga Pituri Lane.