NRC fear in voter verification rush
Sources in Nabanna said the exercise is a routine one and was carried out offline so far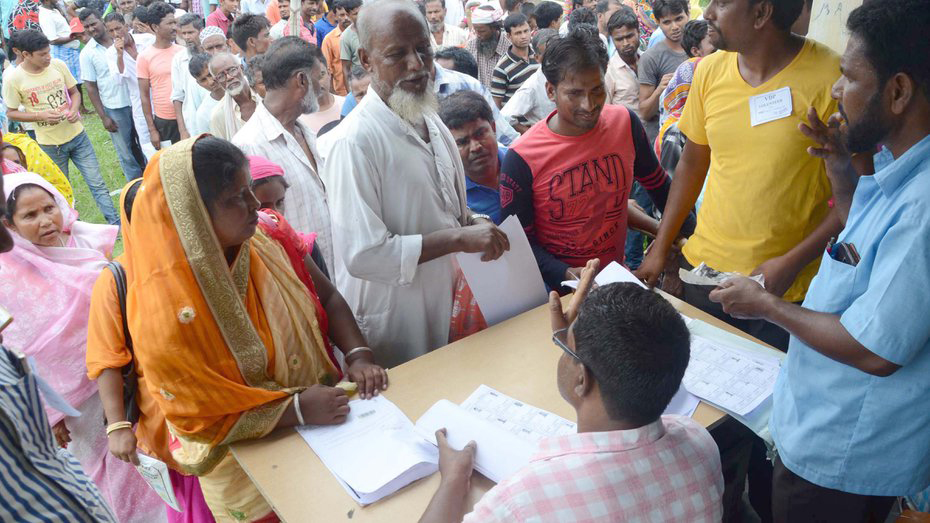 ---
|
Calcutta
|
Published 28.09.19, 07:46 PM
---
The online elector verification programme — a pre-electoral roll revision process — has evoked overwhelming response in the border districts, with people queuing up for the otherwise routine annual drill amid panic over an NRC-like exercise in Bengal.
Sources in the state administration said that so far about 45 per cent voters in border districts like North Dinajpur, South Dinajpur Jalpaiguri, Cooch Behar, Alipurduar, Nadia, Murshidabad, and North-24 Parganas had verified their names in the electoral roll by updating documents.
"Usually, people don't respond to the programme carried out every year before the electoral roll revision starts in October. This year, there has been an unprecedented spurt in the number of people updating their information in the border districts. Nearly 45 per cent voters have verified their names in these areas compared to 7 to 8 per cent last year," said a senior official.
The rush suggests that despite chief minister Mamata Banerjee's reassurances that the National Register of Citizens (NRC) would not be implemented in Bengal, people in the border districts are in panic over the population register.
"The exercise has no link with NRC… We have made it clear that the aim is to prepare an error-free voters' list but people think that if their names figure in the list, they won't face trouble in case NRC is implemented in Bengal," said a block development officer.
Under the verification programme, a voter from each family gets a username and password once the individual submits his EPIC (electoral photo identity card) and mobile number by logging into http://nsvp.in/. After receiving the username and password, the voter can check whether the information about his or her family members is correct.
If it is, the voter has to upload a picture of a photo identity card other than the EPIC to verify his or her identity. If there are any discrepancies, the voter has to upload related documents to rectify the errors. "The voter can rectify the discrepancies by uploading relevant documents or submitting Form 8 during the electoral roll revision to be carried out next," said a district official.
Sources in Nabanna said the exercise was routine and carried out offline so far. This year, the process has gone online. "BDO offices have set up centres for people who cannot do the verification online. There is a mad rush at these centres," said a source.
Sources in the districts said people from all walks of society had queued up to verify names in the voters' list at the BDO offices where the exercise is being carried out since September 1 to help people who don't have access to Internet connections.
"They want to know whether all the information like the spelling of names, sex or address of their family members are properly updated in the voters' list. They stand in long queues for hours to ensure they are verified in the voters' list. Many of them told our officials that they want to ensure the information is correct as they apprehend that NRC would be implemented in Bengal," said a district magistrate.
According to Nabanna officials, 42 per cent voters in Nadia have already verified themselves. The figure is more than 32 per cent in North 24 Parganas and about 41 per cent in Murshidabad. Almost 47 per cent voters in the north Bengal districts have verified themselves.
"This is unprecedented," said a senior government official. With people responding to the programme in large numbers, the top brass of the government has asked officials to ensure that no voter faces problems in verification.
"The chief minister has urged people to update their names in the voters' list… Officials have been asked to make arrangements. Private cyber cafes have been roped in to help voters in some districts," said an official.