North Bengal University alumni glare on Partha Chatterjee doctorate
Vice-chancellor Subires Bhattacharyya urged to form a committee to investigate the process adopted to confer a degree to the former education minister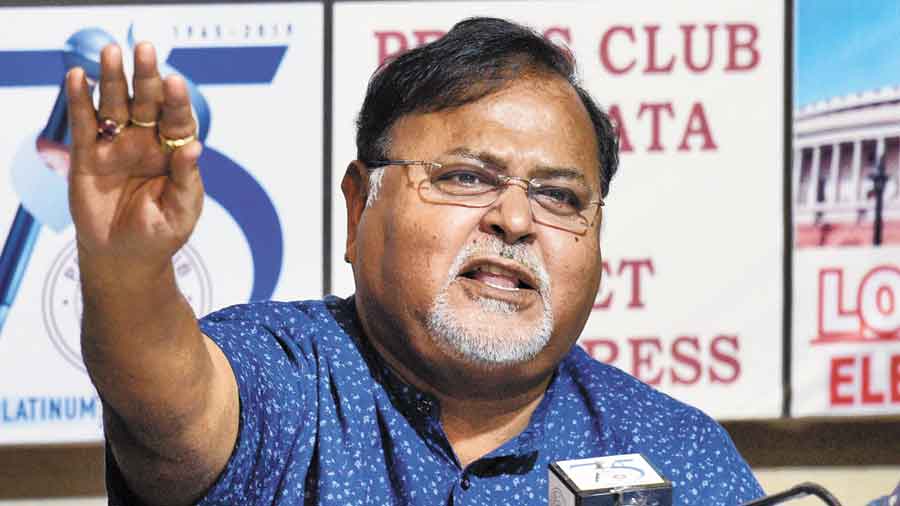 Partha Chatterjee
File Photo
---
Siliguri
|
Published 11.08.22, 01:25 AM
|
---
Alumni members of North Bengal University on Monday wrote to the vice-chancellor seeking a committee to investigate allegations of wrongdoing in conferring a doctorate degree on Partha Chatterjee, the former minister who is currently under arrest in a teacher recruitment controversy.
In 2014, then minister Chatterjee had submitted his thesis titled "Transforming Indian economy into knowledge economy: the role of human resources with reference to India", under the supervision of Anil Bhuimali, a professor in the NBU's department of economics, for his PhD.
Tapas Chatterjee, the secretary of the alumni association said that they have written a letter to the vice-chancellor, Subires Bhattacharyya, to form a committee to investigate the process adopted to confer a degree to the former education minister.
"It is alleged that there are procedural lapses while awarding PhD degree to Partha Chatterjee. Several rules and regulations need to be followed like an entrance exam, 75 per cent attendance in the classes and so on," said the secretary.
The alumni member added that there were allegations that many procedures were not adopted.
"It has been alleged that the former minister did not follow any of the rules and submitted his thesis in 10 months, a process which generally takes years. We want the truth to be out," he said.
Fifty alumni members of the NBU have put their names in the letter to the VC stating that the controversies that have been reported in the media has "caused severe dismay among the stakeholders of higher education".
"We earnestly request you to kindly constitute a committee to investigate the matter, let the truth come to light and take appropriate action against the persons involved in corrupt practices," the letter states.
Alumni members in the letter added that reports of discrepancies in awarding process of the degree questions seriously damages the image of the university and that they "feel hurt by such propaganda and (would be) ashamed if the allegations are found true."
"Our association wants a clear picture through an investigation and wants to protect the image of the university as well. This kind of controversy also questions the integrity of the teachers involved in the process," a source said.
The NBU was set up in 1962 with affiliation from 50 colleges of the region. This is not the first time that the former minister has been embroiled in a controversy over his doctorate degree.
Earlier there were allegations from the faculty and scholars familiar with the content of the minister's thesis that several of its chapters contain long verbatim extracts from papers by various authors without appropriate citations as required under academic protocols. The former minister, however, had said that all the authors name had been properly acknowledged in the citation.