News portal lobs 'Nepal citizen' charge at Anit Thapa
He has condemned the report as fake and called it a "conspiracy"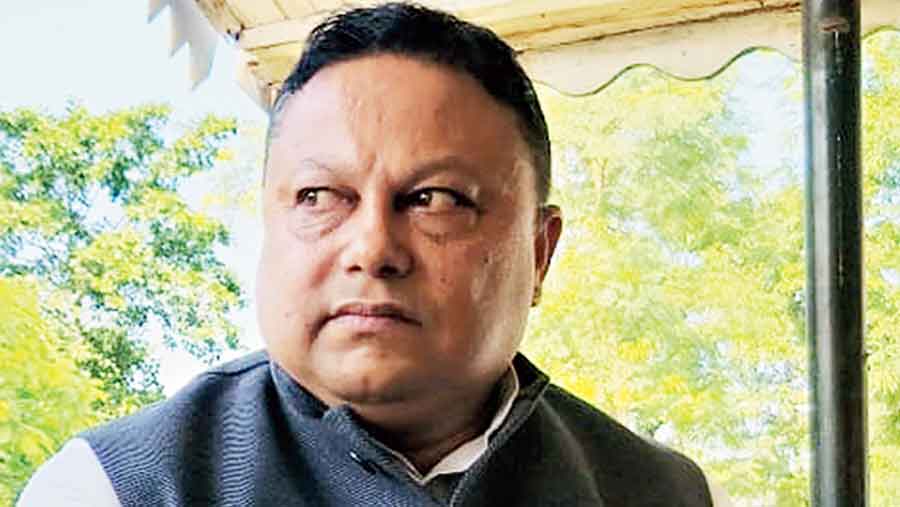 ---
Darjeeling
|
Published 22.01.21, 02:19 AM
|
---
A Kathmandu-based web portal has created a furore in Darjeeling by reporting that Morcha leader Anit Thapa, the chairman of the board of administrators of Gorkhaland Territorial Administration (GTA), is listed as a citizen of Nepal.
Anit Thapa has condemned the report as fake and called it a "conspiracy".
Published by web portal KathmanduKhabar (www.kathmandukhabar.com) — which translates as News from Kathmandu — the report Neta Bharatko, nagarikta Nepal ko! (Leader from India with citizenship from Nepal !) claimed Thapa had gone to Dubai based on a forged Nepal citizenship.
The website also uploaded the alleged citizenship certificate purportedly issued by the assistant chief district officer of Jhapa district, Nepal, to Thapa.
The alleged citizenship certificate names one Binod Thapa as Anit's father and adds that Anit registered himself as a resident of Bhadrapur in Jhapa district of Nepal.
The report goes on to add that Anit is a resident of Kurseong and his real father's name is Shyam Bahadur Thapa. "After completing his education, he entered Nepal seeking a job. However, when he failed to secure a job of his liking, he reached Dubai on a forged citizenship and passport. On his return from Dubai, he started a printing press business in Darjeeling," the report states.
Such was the impact of the story that Anit immediately issued a press statement denying the allegations.
"Whenever issues are raised by Darjeeling hills in the interest of Indian Gorkhas, a political conspiracy comes into play. Questions raised on my citizenship is part of this conspiracy. The published news is fake. I condemn this news," said Anit in a message sent through the party's social media group.
Anit was referring to his party president Binay Tamang raising the demand to review the Indo-Nepal friendship treaty of 1950, which among other things allows citizens of both the countries to move into each other's territory and also conduct business.
Anit has challenged anyone to verify the details by visiting the address mentioned in the purported citizenship certificate.
But the report is significant for Darjeeling region as proponents of Gorkhaland state have been stating that a separate state is needed to clearly distinguish citizens between Nepal and India, among other issues. Moreover, possessing dual citizenship is a crime.
"If anyone can prove (my Nepal citizenship) allegations, they are free to file a case," countered Anit.
Many in the hills said the story could be a selective leak because of the political situation in the hills. Questions were also raised on the portal's authenticity.
Aashish Guragain, chairman of National Media Pvt. Ltd that runs the portal, told The Telegraph over phone from Kathmandu that their story was to question the issue of forged citizenship.
"We did our story based on information provided by our sources. We have uploaded the document we received...The office that issued the document has been mentioned, the document has been stamped and we will also reach out to authorities out here (in Nepal)," said Guragain.
He added: "Maybe we are unknown in Darjeeling... (but) we have been in existence since 2012."