Mukul Roy switch: Beneath BJP brave face lurk jitters over fallout
He was the first important leader who left the Trinamul Congress to join the saffron camp in 2017, became the first important turncoat to return to the TMC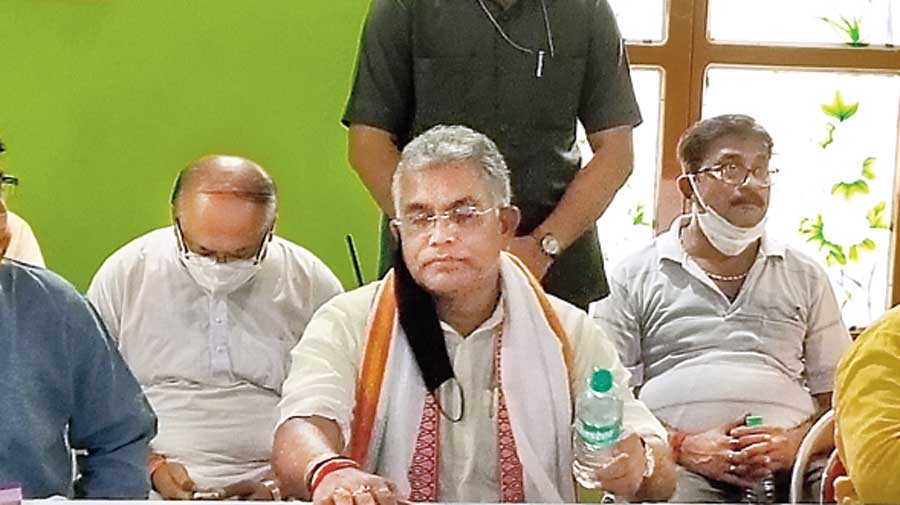 Dilip Ghosh at a BJP meeting in Phulia on Friday, after Mukul Roy rejoined the Trinamul Congress.
Ranjit Sarkar
---
Calcutta
|
Published 12.06.21, 01:15 AM
|
---
Bengal BJP leaders tried to put up a brave face on Friday after the party's national vice-president and MLA Mukul Roy went back to Trinamul, claiming it would not harm the BJP in the state, but insiders confessed to "jitters" over possible fallouts.
Roy, who was the first important leader to make a switch from Trinamul to BJP in 2017, became the first important turncoat to return to Trinamul.
Many BJP leaders apprehend this might mark the start of a reverse exodus.
Many state BJP leaders said Roy's exit meant a horde of MLAs might follow suit. It is being rumoured that at least 30 BJP MLAs are in talks with Trinamul.
"We thought leaders who came with him would go back first and he would follow them. None of us thought the exodus would start with him," a BJP state office-bearer said.
On Friday, the series of events unfolded so fast that most BJP leaders had no clue on how to react to it all.
Union minister Ravi Shankar Prasad avoided questions on Roy's exit. MP Babul Supriyo called it a "personal choice".
State BJP chief Dilip Ghosh said: "I can't say if Mukulbabu's departure will be a loss for the party, but his arrival surely didn't benefit us."
Four other BJP leaders called Roy a traitor. Three of them, MPs Arjun Singh, Saumitra Khan — Trinamul turncoats —and Jagannath Sarkar heaved a sigh of relief at Roy's exit and said the party would function better now.
Sarkar even dubbed Roy as the "main conspirator" of the Ponzi scams.
The fourth, state BJP vice-president Joy Prakash Majumdar said: "We wish Mukulbabu good luck on the second innings in his old camp, but request him to resign from all posts — BJP's national vice-president and Krishnanagar North MLA."
Despite this show of nonchalance, it was evident that Roy's unexpected decision to quit the party has shaken it.
Anupam Hazra, a Trinamul turncoat and a BJP national secretary, erupted against state leaders of his party in a social media post. Hazra alleged that leaders like Roy and himself were not allowed to work during Assembly polls.
Though he did not name anyone in particular, sources said Hazra was unhappy with how the BJP was "overwhelmed" by Trinamul turncoats Suvendu Adhikari and Rajib Banerjee.
"Mukulda had been at the helm of the election committee before the 2018 panchayat and the 2019 Lok Sabha polls. It is because of him that we won 18 seats in the Lok Sabha, even Amit Shah had acknowledged it. Yet he wasn't allowed to work in the 2021 polls," a BJP source said.
In another social media post, senior BJP leader Swapan Dasgupta urged party workers not to be "dispirited and go into a shell".
Dasgupta also added that the BJP would build on the 2.2 crore votes and enlarge its reach.
Several other leaders held BJP's Bengal unit president Ghosh responsible for Roy's exit.
The tussle between Ghosh and Roy was a talking point since the latter's induction to the party. The conflict would at times go out of hand and on several occasions the top leaders of the party had to mediate between the two.
Additional reporting by Subhashis Chaudhuri