Mamata Banerjee greeted with 'Jai Shri Ram' cries at Howrah Station
Bengal CM, however, stays through the programme and delivers a gracious address in the virtual presence of Prime Minister Narendra Modi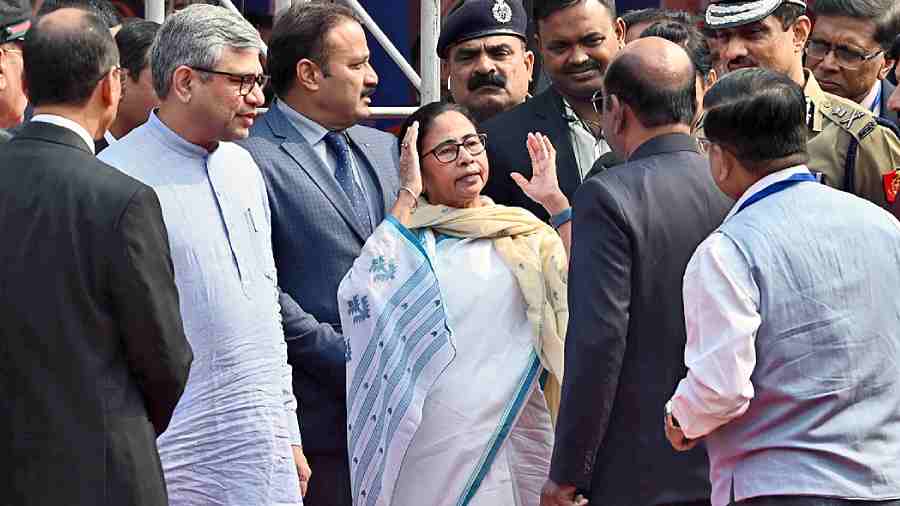 Chief minister Mamata Banerjee declines to sit on the dais after sloganeering broke out at the Vande Bharat Express flag-off ceremony at Howrah station on Friday. Railway minister Ashwini Vaishnaw (in blue kurta) and Bengal governor C.V. Ananda Bose (in bandhgala) try to persuade the chief minister to change her mind.
Sanat Kumar Sinha
---
Calcutta
|
Published 31.12.22, 03:11 AM
|
---
Mamata Banerjee was greeted with belligerent cries of "Jai Shri Ram" by BJP workers from among the audience at a central government event at Howrah station on Friday, leaving her annoyed and unwilling to get onto the dais.
The Bengal chief minister, however, stayed through the programme and delivered a gracious address in the virtual presence of Prime Minister Narendra Modi, her deft handling of the situation causing BJP leaders to wonder if they had scored "an own goal". 
Many among the 1,600-odd BJP workers present at the railway ministry event at Howrah station, held to flag off Bengal's first Vande Bharat Express, had erupted in chants of "Jai Shri Ram" as soon as Mamata arrived. The BJP is known to use the chant variously as a greeting, a war cry and a taunt. Similar "Jai Shri Ram" chants by 400-odd BJP supporters at a Union culture ministry event at Victoria Memorial on January 23 last year, held to commemorate Netaji Subhas Chandra Bose's 125th year, had prompted Mamata to refuse to address the audience.
On Friday, the Trinamul Congress chief — probably mindful that the death of Modi's mother a few hours earlier had lent a solemnity to the occasion — went ahead and delivered her speech.
In her six-minute address, the chief minister thanked the Prime Minister profusely for the initiative and expressed her condolences for his bereavement. "This is a sad day for you (Modi), personally… it's a great loss in your personal life. Please take some rest," Mamata said. "Your mother is our mother. I remember my mother also…. I convey my gratitude for your being present here virtually."
On January 23 last year, when the "Jai Shri Ram" chants broke out, Modi had been present physically but not spoken a word to express disapproval.
Mamata had then reminded the Prime Minister and his administration that it was a government programme and not a political one, and that it was unbecoming of the Centre to invite someone and allow them to be insulted.
As the sloganeering broke out on Friday, railway minister Ashwini Vaishnaw and junior Union education minister Subhas Sarkar, besides senior railway officials, had tried unsuccessfully to pacify the hecklers, who were on the adjacent Platform No. 23. On Platform No. 22, governor C.V. Ananda Bose tried to persuade Mamata to get on the dais. She, however, sat down in a chair, beside state chief secretary H.K. Dwivedi, below the dais.
Trinamul spokespersons said the two instances of heckling with "Jai Shri Ram" chants at central government events — 706 days apart — merely underlined the saffron ecosystem's distaste for basic civilities and its disconnect with the inclusive ethos of a state it remains desperate to conquer.
In January last year, an upbeat BJP, sniffing victory in the Bengal elections just months away, had not only defended but tried to milk the widely criticised chants at the Victoria event. Various Sangh parivar outfits had come forward to argue there was nothing wrong with chanting "Jai Shri Ram" at the event and mocked Mamata.
On Friday, the BJP seemed unsure what line to take in the face of a volley of criticism from Trinamul leaders.
Vaishnaw said Mamata had been invited with a lot of affection and respect, thanked her for "enhancing the moment's glory by being present", and contended that nothing significant had occurred to cause her displeasure. He played down the chants as something "party workers often do".
Even BJP veteran and Burdwan-Durgapur MP S.S. Ahluwalia questioned the appropriateness of the chant at a central government event, suggesting the use of "Bharat Mata ki jai" instead.
Suvendu Adhikari, leader of the Opposition in Bengal, too played down the chanting as a non-event. He claimed Mamata had sought to avoid the dais because of his presence — for he had defeated her from the Nandigram Assembly seat last year — and had used the chants as an excuse.
The BJP's Hooghly MP, Locket Chatterjee, said the slogan was in the "blood" of the saffron ecosystem and was an emotive issue that ought not to be interpreted politically.
Sarkar, the Union minister, said he couldn't see what reason Mamata had to take umbrage and complained that the controversy was diverting attention from the Centre's development initiatives for Bengal.
BJP sources conceded in private that the chants — emerging from among the holders of 1,600-odd cards for ordinary visitors, distributed through the party — may have backfired.
"Had she walked out or refused to speak, there could have been something for us to work with. But given how kind her speech was towards the Prime Minister, we have probably scored an own goal with this one," a state BJP functionary said.
Trinamul sources said the party knew it had drawn blood, mainly on account of Mamata's "grace and calm" in the face of attempts to humiliate her and get her to lose her composure.