Prime Minister Narendra Modi virtually inaugurated the Joka-Taratala stretch of the Joka-Esplanade Metro project, flagged off eastern India's first Vande Bharat Express and announced a slew of other railway projects for West Bengal on Friday.
Joka-Taratala Metro
From Monday, six trains will be operating between Joka and Taratala at an hourly interval. The service will start from Joka at 10am and from Taratala at 10.30am, said Metro officials.
The Metro service will not be available on Saturdays and Sundays, officials said.
The 6.5km-stretch has six elevated stations — Joka, Thakurpukur, Sakher Bazar, Behala Chowrasta, Behala Bazar and Taratala — and has been constructed at a cost of close to Rs 2,475 crore.
"The commercial service will begin from January 2. We have made all necessary arrangements," Arun Arora, general manager of Metro railway told The Telegraph.
The minimum fare on this Metro route will be Rs 5 and the maximum, Rs 20.
Vande Bharat Express
The Vande Bharat Express will connect Howrah and New Jalpaiguri and run six days a week. The train, with an aerodynamic shape of the driver's cabin at the two ends, will cover a distance of 564km in seven-and-a-half hours stopping at three stations on the way — Barsoi, Malda and Kishanganj.
The train will leave Howrah station at 6am and reach New Jalpaiguri station at 1.30pm. After a one-hour stopover, it will leave New Jalpaiguri at 2.30pm and reach Howrah at 10pm. The fare for executive class will be Rs 2,825 and that for chair car, Rs 1,565. The train comes fitted with a train collision avoidance system.
Speaking virtually, Modi recalled West Bengal's connection with the name of the train.
"The land from where the call of Vande Mataram originated saw the flagging off of Vande Bharat today," Modi said.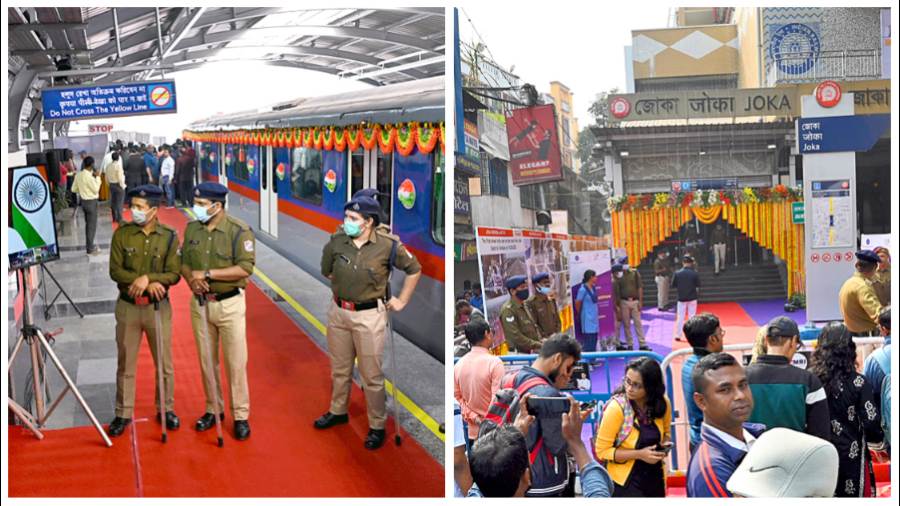 PM Modi virtually inaugurates the Joka-Taratala Metro on Friday; (right) outside the Joka Metro station. Pictures by Bishwarup Dutta
Other railway projects
The Prime Minister announced four other railway projects from the flag-off function. These include:
The Boinchi-Shaktigarh third line developed at a cost of Rs 405 crore
The Dankuni-Chandanpur fourth line developed at a cost of Rs 565 crore
The Nimtita-New Farakka double line built at a cost of Rs 254 crore
The Ambari Falakata-New Maynaguri-Gumanihat Doubling Project developed at a cost of more than Rs 1,080 crore
The Prime Minister also laid the foundation stone for the redevelopment of the New Jalpaiguri Railway Station to be developed at the cost of more than Rs 335 crore.