Malda: Villagers buck migration trend, grab job opportunities
In recent years, the Opposition parties have been blaming the Mamata Banerjee government for its failure to create employment opportunities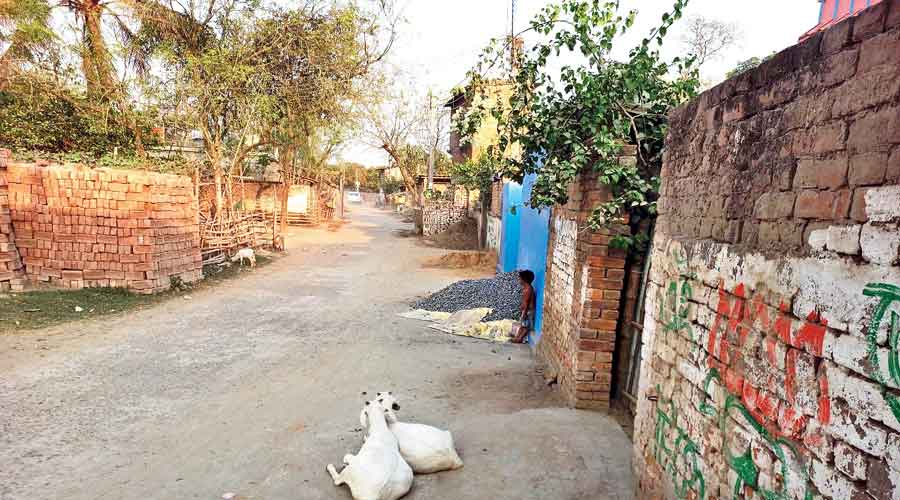 A tidy street of Meghutola village in Kaliachak-II block of Malda district earlier this week.
Soumya De Sarkar
---
Malda
|
Published 21.03.22, 01:32 AM
|
---
Meghutola, a village  in Panchanandapur of Kaliachak-II block of Malda, has drawn the attention of the administration in this backward north Bengal district as  residents here have managed to buck the trend of migration from the village by creating various employment opportunities for youths in the past couple of years.
Migration to other states from Bengal has become a political hot potato in recent years as the Opposition parties have been blaming the Mamata Banerjee government for its failure to create job opportunities in the state, which in turn is forcing youths to leave for southern, western and north Indian states.
"It's a fact that youths from across Bengal are going to other states in search of livelihood... We have learnt the Malda village has kind of bucked the trend by intelligently using the schemes of the state government. We will study what they have done and will prepare a report on how they did it," said a senior district administration official who did not come on record as the process has not formally begun as yet.
Meghutola, located around 35km from the district headquarters, was always known as a steady supplier of migrant workers. However, in the last couple of years, people living here have stopped moving to other states in search of jobs and found alternative vocations with the help of  government schemes.
He said among the 300-odd families of the village, there were one or more people from almost every family who worked in other states till a few years ago, but the scenario had changed.
 "Those who used to work as migrant workers now either have their own small shops or are getting regular wages from the 100-days-scheme. Many youths have come up with new ideas to earn a living which includes setting up self-help groups and selling products, including garments," said villager Sukumar Mahara.
While he gave the credit of low or low migration outside Bengal to the government, some villagers admitted that the Covid-induced uncertainties like sudden job losses in other states and the anxiety of staying away from families were also factors.
A villager, who was earlier a migrant worker in Kerala, said that the uncertainties prompted him to scale down  expectations and stay back at the village with his family. He enrolled in the 100-days job scheme and worked on the family's farmland.
"Whatever be the reason, it is true that now you hardly find a local youth  away. They are back in the village and running their families well," said Ajit Mandal, another resident.
In Bengal, the issue of migrant workers has been flagged time and again by political parties and social organisations, particularly after incidents when such workers have lost their lives in accidents or have been murdered.
On Friday evening, four migrant workers from the state lost their lives in Kerala at an accident at a construction site.
Though unemployment has remained an Achilles' heel for chief minister Mamata Banerjee, she has always maintained that a youth can make a decent living in the state, while underscoring the array of development schemes extended by the state.
"Even five years back, only three to four persons of the village had the privilege of having government jobs. But now, the figure has soared and at least 40 persons of the village are working in different government jobs and an equal number are employed in the private sector," said a resident, while pointing out that the state-run schemes have helped them pull back the youths.
He said villagers had also taken the task to confirm all of them get all possible benefits of the social welfare scheme. While most villagers have availed the housing scheme of the state, students are getting  aids, including the Kanyashree.
Ramal Singh Birdi, the block development officer of Kaliachak-II confirmed a change in the village.
"We arrange to provide all facilities like widow pension, old age pension and other schemes and regularly monitor the number of beneficiaries. Meghutola has received large benefits from various schemes," he said.
He said Meghutola set an example of how proper implementation of social welfare schemes, coupled with local employment opportunities, arrested migration.