Grievances: Madan mocks Partha
Former member of the Mamata Banerjee cabinet says he is willing to accept punishment for wanting to know more about bringing matters to party's attention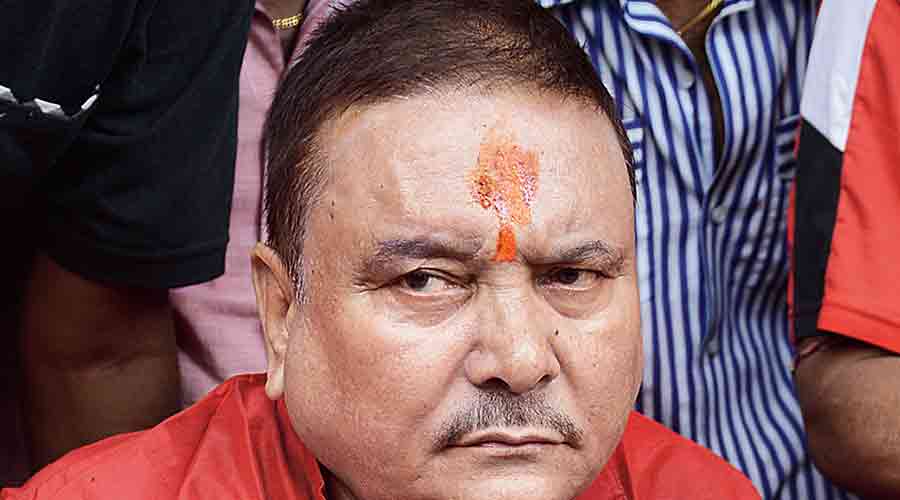 ---
Calcutta
|
Published 17.01.22, 03:06 AM
|
---
Trinamul Congress MLA Madan Mitra on Sunday mocked secretary-general Partha Chatterjee in response to the latter's public warning  against taking grievances or concerns about the party to social or mainstream media instead of seeking resolution internally.
Mitra, a former member of the Mamata Banerjee cabinet, said he was willing to accept punishment for wanting to know more about bringing matters to the party's attention.
"I thank the secretary-general for the statement. He has probably said it about one lakh times already, that these things (concerns and grievances) should go to the disciplinary committee of the party, and that the party won't tolerate it (going public with them). That he continues to say such things, the spirit… I encourage that spirit," said the Kamarhati MLA.
"None of this is against the party. I simply would like to know where to inform, when to inform, whom to inform…. If the party wants to take action against me, over this, let it," he added.
On Saturday, Chatterjee had said "stern action" would be taken against those who would continue to make public comments to the detriment of the party, making it clear that Trinamul was in no mood to let rebellious voices inflict further damage.
A controversy had erupted after Trinamul all-India general secretary Abhishek Banerjee on January 8 let it be known that it was his "personal" stand that crowd-pulling events should be avoided in view of the worsening pandemic situation. 
With a bit of a reputation for shooting from the hip – sometimes to the embarrassment of his own party – Mitra on Sunday claimed Mamata and Abhishek were inaccessible to him.
"Previously, our office used to be 30B Harish Chatterjee Street (Mamata's residence). That is now off-limits over our chief minister's security concerns. Abhishek Banerjee, right now, is busy in such a way that he remains inaccessible… at least to me…. Our party headquarters is being torn down (for renovation)," said the Kamarhati MLA.
"The question, therefore, remains… where will we go (with grievances and concerns)? If asking this is wrong… he (Chatterjee) said the party has to be informed. But I am not getting any scope to inform the party. So, if he (Chatterjee) tells me that I could hand it to the police constable posted outside his residence, I will do so," he added.
In a news conference later in the day, when Chatterjee was asked to respond to Mitra's comments, he got visibly agitated. "Do not bring these things before me…. It is the party's prerogative, the party will figure these things out."