TMC warning for rebels
The comments of the young MP, ruling party's heir apparent, had set tongues wagging on a possible rift with Mamata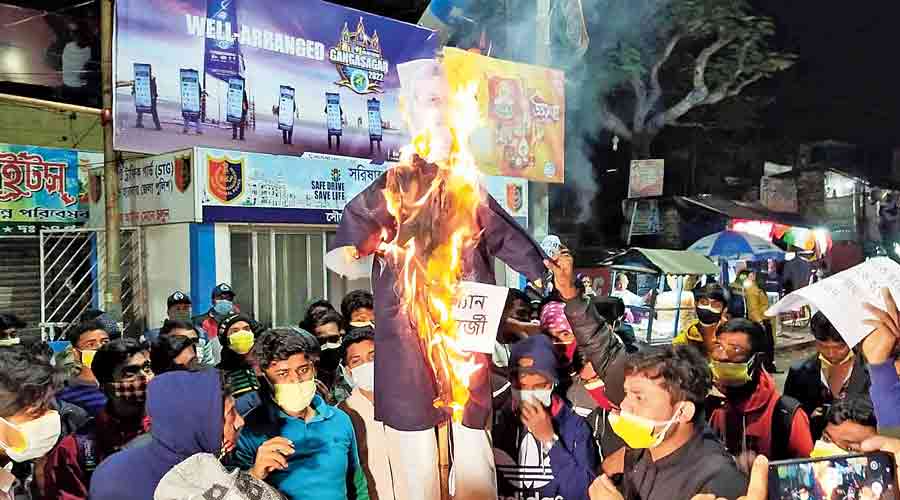 Kalyan Banerjee's effigy is burnt in South 24-Parganas on Saturday.
Mehaboob Gazi
---
Bolpur(Birbhum)
|
Published 16.01.22, 02:05 AM
|
---
Trinamul secretary-general Partha Chatterjee on Saturday said "stern action" would be taken against those who would continue to make public comments against the leadership, making it clear the party was in no mood to let rebellious voices inflict further damage.
A controversy had erupted after Trinamul all-India general secretary Abhishek Banerjee on January 8 let it be known that it was his "personal" stand that crowd-pulling events should be avoided in view of the worsening pandemic situation. Kalyan Banerjee, the Trinamul MP of Hooghly's Serampore, publicly criticised Abhishek, chief minister Mamata Banerjee's nephew, and his "Diamond Harbour model" of tamping down the rising Covid cases.
At a news conference in Calcutta on Saturday, Chatterjee said: "The comments being made against leaders and workers are enough to tarnish the image of the party. On behalf of the party's disciplinary committee, I request them to restrain themselves from making such comments. Those who have any opinion can share it within the party."
"Even after this warning if anyone is found disobeying the directive, the disciplinary committee will ask the party to take stern action against them," he added.
Chatterjee said he was present at the meeting of the disciplinary committee, where the issue was discussed.
Asked about Kalyan's comments, Chatterjee said the matter had been discussed by the disciplinary committee and that he would request "those who love the party" to refrain from going public with their grouse.
Abhishek had said after chairing an administrative meeting that he felt "in the coming two months everything should be stopped, be it a political programme or any festival".
The comments of the young MP, the Trinamul heir apparent, had set tongues wagging on a possible rift with Mamata.
After Kalyan came out firing on all cylinders, several senior Trinamul leaders, including spokesperson Kunal Ghosh, Arambagh MP Aparupa Poddar and Kamarhati MLA Madan Mitra, and scores of middle-rung functionaries owing allegiance to Abhishek took on the Serampore MP. Kalyan hit back by proclaiming that his loyalty was only to Mamata.
Trinamul sources said the party's top brass had been embarrassed by these public exchanges and Chatterjee was asked to convene a news conference to issue a warning.
"The disciplinary committee of the party is observing everything and everyone.… I have personally spoken to everyone as the party's secretary-general," Chatterjee said when asked whether Kalyan's diatribes were discussed at the meeting.
Kalyan's effigies were burnt at various places in Calcutta and the districts on Saturday. Chatterjee denied any link of the party with such incidents.