Leaders of BJP, Congress on way to Bogtui 'stopped'
Saffron party MLAs staged a protest and walkout in the Assembly on Thursday, demanding the resignation of the chief minister over the Bogtui incident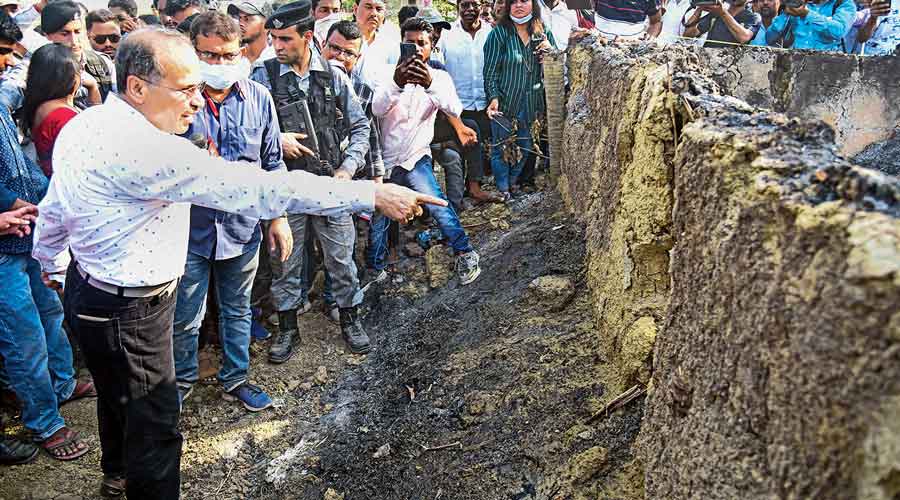 Adhir Ranjan Chowdhury at Bogtui on Thursday.
PTI
---
Calcutta
|
Published 25.03.22, 01:32 AM
|
---
Leaders of the BJP and the Congress alleged that they had been obstructed from reaching the site of carnage at Bogtui village near Rampurhat in Birbhum district on Thursday, a day after chief minister Mamata Banerjee had said her government wouldn't stop Opposition leaders from going to the spot.
Congress's Lok Sabha legislature party leader and Bengal chief Adhir Ranjan Chowdhury was stopped at Sriniketan near Santiniketan while he was on his way to Bogtui on Thursday. Chowdhury, who was accompanied by other Congress leaders, sat down on the road after his convoy was stopped.
"Yesterday (Wednesday), the chief minister had said Bengal is not Uttar Pradesh and they aren't preventing anyone from visiting Bogtui. Why is the Pradesh Congress team being obstructed then?" Chowdhury asked.
A statement issued by the state Congress unit asked if permission to visit Bogtui was meant for the BJP only. The statement also said Chowdhury was stopped when Mamata hadn't even reached the Dumurjola airport in Howrah to board her helicopter to leave for Rampurhat.
Later, Chowdhury reached Bogtui after Mamata had left, where he met some of the villagers. He lashed out at the chief minister alleging that the state was witnessing an unforeseen breakdown of law and order.
On Wednesday, Chowdhury had written to President Ram Nath Kovind demanding invocation of Article 355 in the state.
"Why does she have to direct the police to arrest someone? Is she the police? Then what is the point of the SIT? Her DGP is giving a verdict even before investigation," Chowdhury said, adding that Mamata's visit was just a scripted drama.
The Bogtui issue was raised in Parliament by Congress MP Gaurav Gogoi who informed the House about Chowdhury being stopped from visiting the carnage site.
A BJP "fact-finding" team consisting of state party chief Sukanta Majumdar and four former IPS officers, including Bharati Ghosh, reached Bogtui to meet the villagers. However, the team alleged that they had been stopped by Trinamul "goons" on their way.
Speaking to this correspondent, Majumdar said their convoy was attacked by Trinamul supporters just outside Sainthia.
He alleged that the police were in connivance with Trinamul supporters, since there was no security available for them.
"The convoy had four MPs, three of them former IPS officers. Yet, when we were approaching Sainthia, I suddenly found there were no police around us. Trinamul goons blocked our way and attacked us," Majumdar said.
The BJP team also gheraoed the Sainthia police station. Later, the team was allowed to visit Bogtui, where the MPs spoke to the villagers.
Asked what the fact-finding team had gathered from the place of occurrence, Majumdar said it had become clear that the village was inhabited by people who worked as Trinamul goons. He said those people were involved in illegal sand and stone mining.
"In 2012, about 10 to 12 people were blown away in a bomb blast in Bogtui. The governance of Bengal has gone out of Mamata's hands. The localities are run by goons who are leaders too," Majumdar said.
He added that the report, which the team will submit to BJP's national president J.P. Nadda, will central intervention in the state.
BJP MLAs staged a protest and walkout in the Assembly on Thursday, demanding the resignation of the chief minister over the Bogtui incident.
Though the Left stayed away from Bogtui on Thursday, CPM state secretary Md. Salim took a dig at Mamata for her order to the police to uncover illegal arms and ammunition in the state in 10 days.
"Let the police seal all the Trinamul Congress party offices, one can find out how many revolvers and pistols are uncovered from there. I don't welcome her announcement. I'm saying that it is a badly written script," Salim said in Calcutta on Thursday.