Land losers demonstrate for jobs in Bolpur
They questioned the government's pledge to provide employment to those who would lose land because of the proposed Deocha-Pachami coal mine project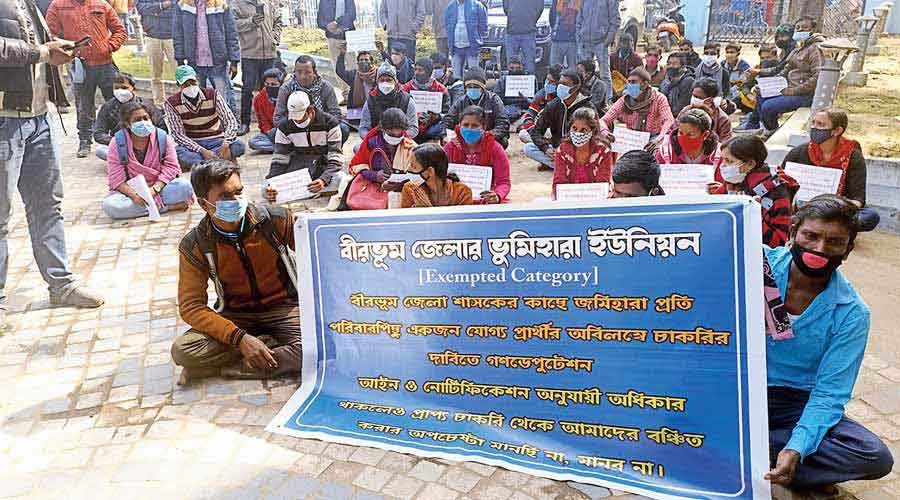 The dharna in front of the Birbhum district magistrate's office in Bolpur on Wednesday.
Picture by Himadri Mondal
---
Bolpur(Birbhum)
|
Published 20.01.22, 02:16 AM
|
---
Members of families, which had donated land to set up various government projects earlier but were yet to get promised government jobs, agitated in front of the Birbhum district magistrate's office on Wednesday.
They were demanding jobs and questioned the government's pledge to provide employment to those who would lose land because of the proposed Deocha-Pachami coal mine project.
"We are around 300 people who are yet to get government jobs despite written promise by the authorities. The land was taken decades ago to set up several projects by the state but it failed to fulfill the promise," said Dilara Parvin, whose family had given land in the 1990s for the Bakreshwar Thermal Power Project.
Parvin is joint secretary of the Birbhum Zelar Bhumihara Union.
"Now, the administration has promised government jobs for hundreds of land loser's families who would be affected by the Deocha-Pachami coal mine. We deserve jobs first and we doubt whether the land losers of upcoming projects would be treated like us."
In their representation to Birbhum district magistrate Bidhan Ray through an additional district magistrate on Wednesday, Parvin claimed that the same West Bengal Power Development Corporation (WBPDCL), which is the implementing agency for the proposed coal mine, had reneged on its earlier commitment to provide government jobs to them.
"A committee was formed earlier to finalise the priority lists to give government jobs to those whose plots had been acquired. But the promise has not been kept," said a member of the committee.
Apart from those affected by the Bakreshwar plant, the protesters included people who parted with plots for the Hinglo dam project and industry near Bolpur.
"We have doubts whether the WBPDCL will fulfill the commitment of jobs for land losers in the Deocha-Pachami coal mine project area. If the government has the will, then it should first employ those affected by previous projects," said Sailen Mishra, CPI-ML's Birbhum secretary and an advisor to the land-loser's union.
Birbhum DM Bidhan Ray said: "We would forward their demand to higher authorities."