Keep going till laws go: Mamata to farmers
Trinamul Rajya Sabha member Derek O'Brien, who went to the Singhu border, spent four hours interacting with groups of the agriculture workers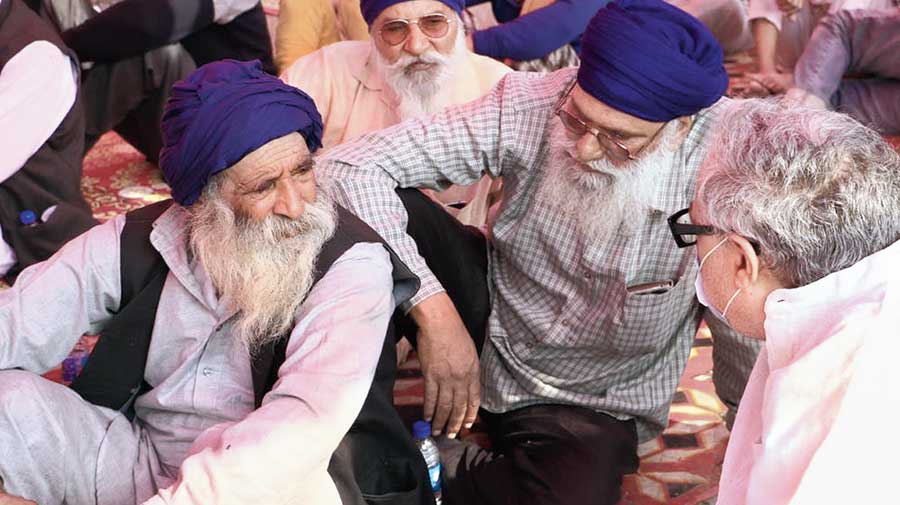 ---
Calcutta
|
Published 05.12.20, 01:29 AM
|
---
Mamata Banerjee on Friday sent a Trinamul delegation to the massive farmer agitation underway at Delhi-Haryana's Singhu border, and spoke to farmers over phone to laud their movement against the Centre's farm laws, urging them not to retreat till the "anti-people" laws are revoked.
Her party's Rajya Sabha member Derek O'Brien, who went to the Singhu border, spent four hours interacting with groups of farmers. O'Brien also used his phone to connect them to Mamata for interactions.
"Do not retreat, do not withdraw your agitation till they repeal these anti-people, anti-farmer laws," she urged protesters on phone.
Referring to her own 26-day hunger strike during the Singur anti-land acquisition movement — which began on this day, 14 years ago — Mamata told farmers she was aware of their sentiments.
"Your movement is our movement, it is India's movement, a movement of all its people. Any help you need from us, from Bengal, just name it…. We are also beginning our own programmes in support of your movement. If you want, we can send our people to join you there," said Mamata during one of the calls on the speaker phone.
On Saturday, she is likely to interact with the Badal family and others in the senior leadership of the Shiromani Akali Dal of Punjab. The Punjab-based party had, till the controversial farm laws were passed, been a BJP ally for decades. Supporting the movement, Mamata has instructed her party to carry out a slew of events this month, including a three-day dharna at the Gandhi statue on Mayo Road in Calcutta, which she would attend.
"So many laws they (the BJP-led Centre) made or changed, forcefully. They think they can get away with anything… with selling off the entire nation. We do not want to let (Prime Minister Narendra) Modiji sell off the nation. A country cannot go on like this," she told protesters on phone.
Mamata thanked farmers for stepping up, asserting they were on the verge of making history. "It is imperative for all of us to work together to protect India. The India of farmers, the India of workers, the India of the youth, the India of mothers and sisters…. Your movement has unconditional support from us. It is destined to succeed," she said, to cheers from the protesters.
Sources in her party said the chief minister sees in the issue and protests, an opportunity to politically corner the BJP and its government in the Centre after the Covid-19 pandemic brought the nationwide protests against the citizenship matrix to a grinding halt.
"She senses the possibility of a historic retreat by the BJP in this case, which she believes would be pivotal not only in national politics but also Bengal, with months left before the crucial Assembly polls," said a Trinamul MP.
Earlier in the day, she also tweeted a statement of support with the hashtag #StandWithFarmers, and reminded people of her 26-day hunger strike 14 years ago starting on December 4 against forcible acquisition of farmland.
"14 years ago on 4 Dec 2006, I began my 26 day hunger strike in Kolkata demanding that agricultural land cannot be forcefully acquired," she posted, expressing her "solidarity with all farmers who are protesting against draconian farm bills passed without consultation by Centre #StandWithFarmers".