Jobs for 17 statehood martyrs' kin announces Anit Thapa
July 27 is observed as Martyrs' Day, 13 people were killed in police firing in 1986 while on their way to burn copies of India-Nepal Friendship Treaty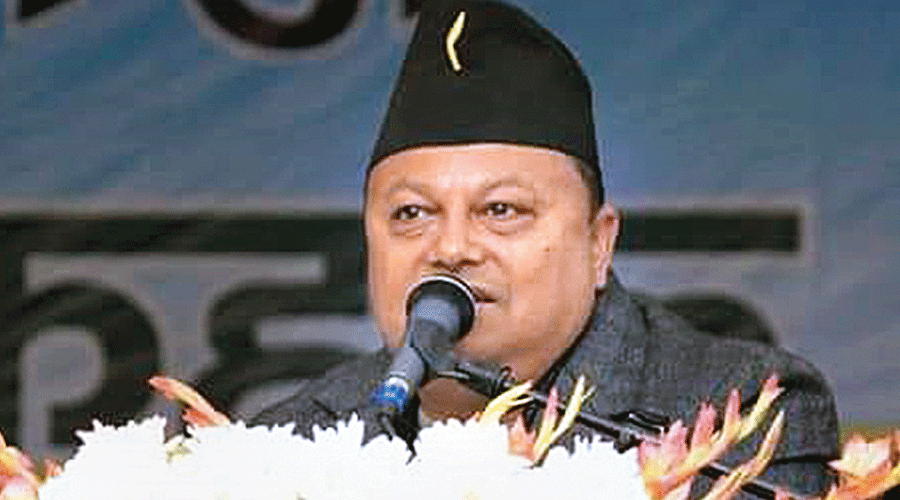 ---
Darjeeling
|
Published 28.07.22, 02:40 AM
|
---
Anit Thapa, the chief executive of the Gorkhaland Territorial Administration (GTA), on Wednesday announced jobs for one family member each of 17 persons who had died for the cause of Gorkhaland state since 2007.
July 27 is observed as Martyrs' Day as 13 people had died in police firing in 1986 while on their way to burn copies of the India-Nepal Friendship Treaty. Subash Ghisingh of GNLF, then spearheading the statehood agitation, said article VII of the treaty, which allowed free movement of citizens of Nepal and India in each other's territory, went against the interest of Indian Gorkhas.
"Apart from inviting members of a martyr's family on this day, leaders in the past probably had no time to reach out to them the rest of the year. Since I am in an administrative role, we want to say we will employ one family member of martyrs since 2007 in the GTA depending on their qualification and workplace convenience," said Thapa,  adding this must be done in a week.
He assigned GTA executive member Ratan Thapa to ensure that the jobs were given within a week.
Sources said that 17 people have lost their lives in the statehood agitation since 2007.
"We will also form a four-member committee. I want the committee to visit all the martyrs' families, look into their problems and place a report before me. We will take appropriate remedial measures depending on the report," said Thapa.
The 1986 Gorkhaland agitation had culminated in the formation of Darjeeling Gorkha Hill Council in 1988. It is said that more than 1,200 people died in the 1986 agitation.
Another round of agitation was started in 2007 by Bimal Gurung's Gorkha Janmukti Morcha which culminated in the formation of the GTA in 2012. Gurung launched two phases of agitation in 2013 and 2017. Eleven persons died in the 2017 agitation.
Khamzung Bhutia, the sister of Tashi Bhutia from Sonada, who died during the 2017 agitation, however, refused to take up the job offer.
"I do not need a job, what we need is Gorkhaland for identity. The martyrs' families have managed without help. Instead of one day, leaders should think of achieving Gorkhaland 365 days a year," said Khamzung, who was present at the Gorkha Rangamanch Bhavan in Darjeeling where the martyrs' families were felicitated by Thapa.
Bengal registers 5 Covid deaths
Bengal on Wednesday reported 1,273 Covid-19 infections, 2,461 recoveries and five deaths.
Currently, Bengal has 20,094 active cases, including 472 at hospitals, according to a state bulletin. The recovery rate was 98.02 per cent and mortality rate 1.02 per cent on Wednesday.
The case positivity rate stood at 8.55 per cent on a day 14, 888 samples were tested.
Since the pandemic broke out in 2020, Bengal has recorded 20,88,988 Covid-19 infections, including 20,47,555 recoveries. 21,339 deaths.
In light of the recent uptick in cases, booster doses being administered in the state have also increased. 79,79,979 booster doses have been administered in Bengal so far. On Wednesday, 3,79,681 booster doses were administered across Bengal.