I am Hindu and I am ashamed: Rasika Agashe in Park Circus
More than 3,000 people were listening to Rasika, who had come to Calcutta to perform at a theatre festival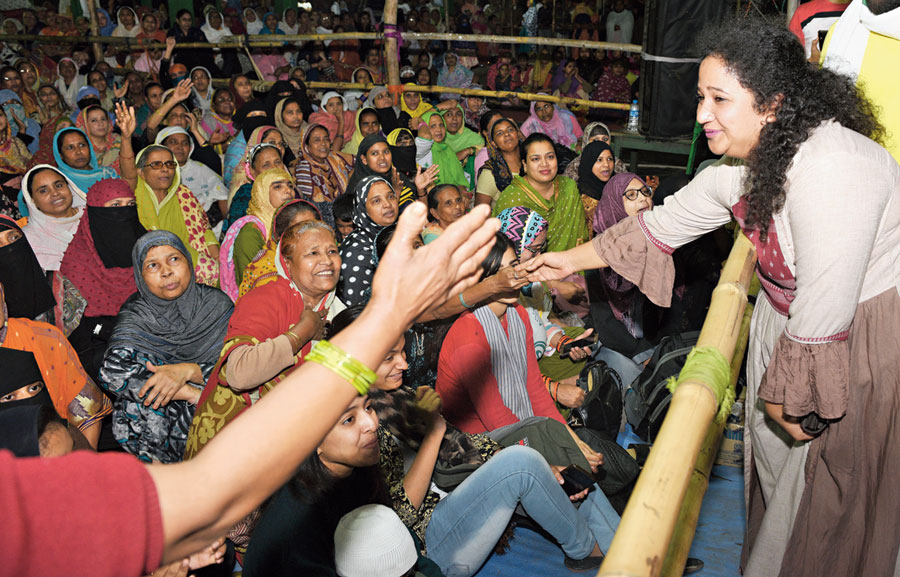 Theatre director-actor Rasika Agashe with the protesters at Park Circus Maidan on Wednesday night.
Pictures by Pradip Sanyal
---
Calcutta
|
Published 20.02.20, 10:43 PM
|
---
A speaker told the women protesting the new citizenship regime at Park Circus Maidan that she was "ashamed" that members of a community were having to endure such pain to demand the rights of a citizen.
Theatre director-actor Rasika Agashe, who is married to film actor Zeeshan Ayyub, said on Wednesday India had changed in the 12 years since she married a young actor in Delhi in 2007.
"Main Mohammad Zeeshan Ayyub ki biwi hoon. Main Hindu hoon. Aur ek kavita hain: 'Main Hindu hoon aur sharminda hoon'. Main yahan par yeh bilkul kahna chahungi ke ek Hindu rashtra mein, Hindu rashtra jise kaha ja raha hain, us mein hum jaise Hindu sharminda hain ke yahan par aise baithna pad raha hain sirf ek dharm ke logon ko (I am the wife of Mohammad Zeeshan Ayyub. I am a Hindu. And there is this poem: 'I am Hindu and I am ashamed'. I want to say that here in this Hindu Rashtra, what is now being called Hindu Rashtra, we the Hindus are ashamed of the fact that the people of a particular religious community are having to sit like this)," Rasika said, to loud applause from the audience.
"'Main Hindu hoon aur sharminda hoon' is the first line of a poem against fanaticism written by Rajesh Joshi," she later told The Telegraph. "I could not think of any other line after I met the courageous ladies."
An alumna of the National School of Drama, Delhi, Rasika, who played Rabia in the film Mere Pyare Prime Minister, told the crowd: "Aap akele nahin ho, hum sab saath main hai yahan par (You are not alone, we are all together with you here)." The vigil led by women against the Citizenship (Amendment) Act and the proposed National Register of Citizens had started on January 7.
Initially, there were only a few dozen women. The count has been rising by the day and Park Circus Maidan has emerged as Calcutta's Shaheen Bagh, the Delhi pocket where women's protest against CAA-NRC has been continuing since December 11.
More than 3,000 people were listening to Rasika, who had come to Calcutta to perform at a theatre festival, around 9.30pm on Wednesday.
Saluting the fight of the women at Park Circus Maidan, Rasika said: "Ab tak hum yeh kehte the sena wahan pe khari hain, is liye Hindustan araam ki neend sota hain. Main kehti hoon desh mein har jagah pe aap log is tarah se baithe hue hain, is liye secular Bharat chain ki neend le sakta hain (So far we would say that the country can sleep in peace because the army is standing guard there; but now I'd say because you are sitting like this across the country, secular India can sleep in peace)."
The dais from where Rasika was speaking was a stone's throw from the place where her husband had addressed a rally against the CAA and NRC on January 31. "Muslims should stop being apologetic.... They should never consider themselves second-class citizens. They must realise that they have equal rights in this country, guaranteed by the Constitution," he had said.
Rasika, who had graduated from Fergusson College, Pune, said: "This is not the India where I had married Zeeshan Ayyub, without bothering to know what community he came from. I know the Narendra Modi government still has four-and-a-half years left. But I think we will live longer than that and will keep fighting."
At the end of her address, Touseef Ahmed Khan, a lawyer at Calcutta High Court, gave a call from the stage: "CAA thukrayenge (reject CAA)." Rasika joined the audience with the response: "Hum kagaz nahi dikhayenge (we will not show our papers)."
The audience joined the chorus when one of the organisers said on the mic: "Rasika-Zeeshan aage barho, hum tumhare saath hain (Rasika-Zeeshan move ahead, we are with you)."
The way a Hindu reached out to Muslims left college and school students at the protest venue enthralled.
"We are so touched by her approach. It really made us feel that we are not alone," said Mehjabi Khatoon, a first-year student of history at South Calcutta Girls College.
"Someone from the majority community said she was ashamed of the harassment of the minorities. She exemplified harmony," said Nazia Rahman, a student of Anjuman Girls' High School. Aisha Rahman, a Class IX student at Vidyapith School, spoke of "the empathy in her voice".