BJP did 'nothing' to stop GTA Sabha polls: GNLF
Saffron part must now deliver. Only promises, fake promises won't work: Neeraj Zimba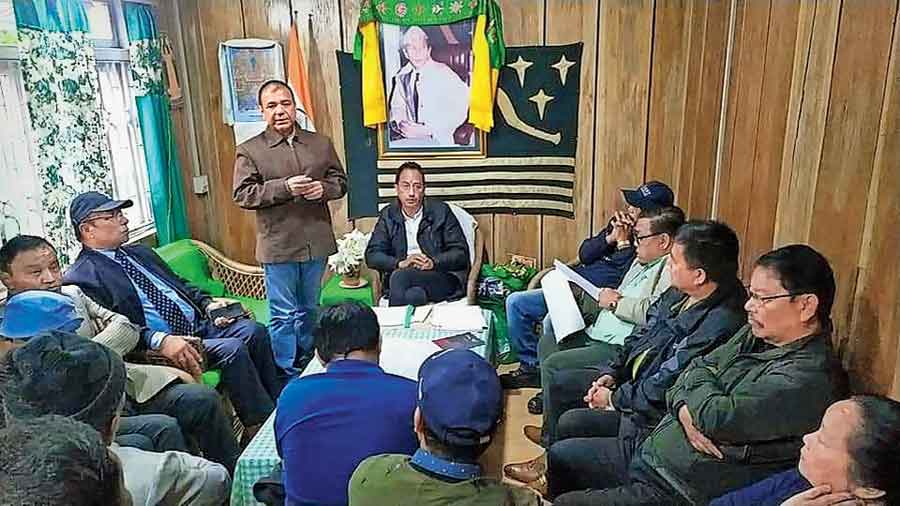 GNLF chief Mann Ghisingh at a party meet on Saturday.
The Telegraph
---
Darjeeling
|
Published 26.06.22, 12:09 AM
|
---
The Gorkha National Liberation Front (GNLF), the largest ally of the BJP in the hills, on Saturday accused the saffron party of doing "nothing" to stop the Gorkhaland Territorial Administration (GTA) Sabha elections, scheduled on Sunday.
Calcutta High Court on Friday rejected a petition by the GNLF seeking a stay on publication of GTA poll results.
Neeraj Zimba, secretary-general of the GNLF and Darjeeling MLA, who had won on a BJP ticket, reacted sharply.
"The BJP must now deliver. Only promises, fake promises won't work," said Zimba.
The BJP and its allies have won almost every election in the hills since 2009, except the recent Darjeeling municipality elections.
Zimba said that the BJP did not take a single step to stop the GTA elections.
"They said they would take every step to stop the elections, that the Centre would intervene, but they did nothing. The BJP failed to take any step. It is not that the BJP took some steps and then failed," said Zimba, adding that it was the GNLF which took the trouble to approach the high court.
The BJP's other partners in the hills include Communist Party of Revolutionary Marxists (CPRM), Akhil Bharatiya Gorkha League (ABGL) and smaller outfits.
The GNLF expressed confidence that the hill people would not vote in the GTA polls. The CPRM urged hill people not to vote on Sunday.
The BJP, however, stated that the party and alliance partners had done their best.
"The BJP and our alliance partners have done our best to put a stop to this farce of an election to GTA that is being imposed on our region by the TMC government purportedly through legal means," read BJP MP from Darjeeling Raju Bista's written statement.
Both Zimba and Bista are of the opinion that the GTA is being made functional to "derail" a permanent political solution for the region.
Earlier, the Centre had called for tripartite talks on hill issues. "But the BJP (at the Centre) invited only their alliance partners to represent the hills. After the GTA polls, it will be difficult to ignore the party that receives the mandate," said an observer.
On Sunday, GTA Sabha elections will take place in 922 polling stations across 45 GTA seats with 4,700 polling personnel on duty. A total of 7,00,326 voters are enlisted.
The total number of candidates stands at 277.